Advanced internet searching skills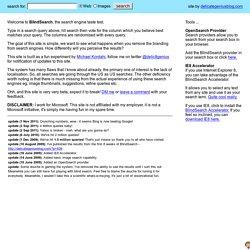 Welcome to BlindSearch, the search engine taste test. Type in a search query above, hit search then vote for the column which you believe best matches your query. The columns are randomised with every query. The goal of this site is simple, we want to see what happens when you remove the branding from search engines.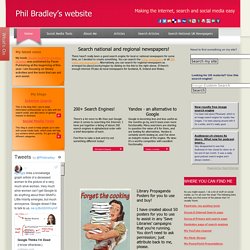 Internet search, search engines, search techniques, Web 2.0 information and resources are all things that I try and cover, with the emphasis being on librarians and librarianship. Regular visitors will see that the site is currently undergoing a make over, so there'll be a little disruption for a while until I get all of my pages ported across to the new version. Hopefully however it won't cause too much of a problem for you. New Articles I always try and add new content on a regular basis.
Search - Web Search
ArtsMovies, Television, Music...GamesVideo Games, RPGs, Gambling...Kids and TeensArts, School Time, Teen Life...ReferenceMaps, Education, Libraries...ShoppingClothing, Food, Gifts... BusinessJobs, Real Estate, Investing...HealthFitness, Medicine, Alternative...NewsMedia, Newspapers, Weather...RegionalUS, Canada, UK, Europe...SocietyPeople, Religion, Issues... ComputersInternet, Software, Hardware...HomeFamily, Consumers, Cooking...RecreationTravel, Food, Outdoors, Humor...ScienceBiology, Psychology, Physics...SportsBaseball, Soccer, Basketball... World Català, Dansk, Deutsch, Español, Français, Italiano, 日本語, Nederlands, Polski, Русский, Svenska...