NTIC/Futures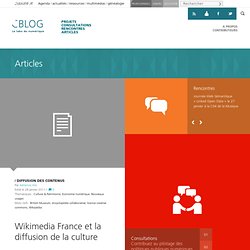 De nombreux partenariats se concluent entre Wikimedia France et les institutions culturelles officielles de tous les pays : ce mouvement témoigne d'une volonté commune de diffuser librement les contenus culturels et d'en démocratiser l'accès. Adrienne Alix, présidente de Wikimedia France. Non seulement œuvrer dans le sens de la diffusion de la culture sur internet mais également la « libérer », telle est la mission que Wikimedia France s'est assignée. Au travers de cette mission, nous entendons proposer tout à la fois une encyclopédie ( Wikipedia ), des corpus littéraires ( Wikisource ), des images et des sons ( Wikimedia Commons ), des manuels ( Wikiversité )…Autant d'éléments de contenus que chacun puisse utiliser et diffuser sans entrave, mais également modifier, adapter, ou améliorer en participant à la production même de la connaissance.
Wikimedia France et la diffusion de la culture
Pour une société du partage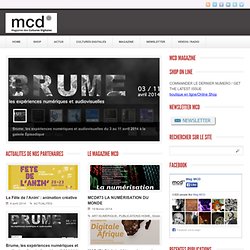 Digital MCD » MCD #62 L'EUROPE DES MEDIA LABS / MEDIA LABS IN EUROPE
(english below) LAB SWEET LAB Que vous soyez nés dans les réseaux ou simplement intéressés par la création numérique, il existe des lieux et des communautés où vous pouvez aujourd'hui apprendre, créer et partager des savoirs. Ces laboratoires (labs) sont des lieux de médiation qui ouvrent un espace de pratique, d'expression et de création autant qu'un engagement critique sur le rôle de la technologie dans l'art et la société. Des usagers et des artistes, ingénieurs, chercheurs, designers s'y retrouvent pour rechercher et produire dans l'esprit de la culture libre. Dans un « lab », le futur n'est pas seulement imaginé, il est vécu !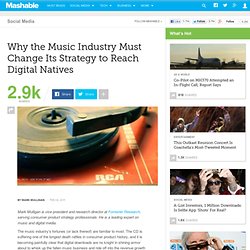 Why the Music Industry Must Change Its Strategy to Reach Digital Natives
Mark Mulligan is vice president and research director at Forrester Research , serving consumer product strategy professionals. He is a leading expert on music and digital media. The music industry's fortunes (or lack thereof) are familiar to most.
Digital MCD » MCDate « Cyber Résistance » le 24 mai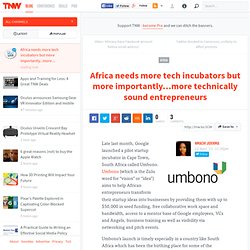 Late last month, Google launched a pilot startup incubator in Cape Town, South Africa called Umbono. Umbono (which is the Zulu word for "vision" or "idea") aims to help African entrepreneurs transform their startup ideas into businesses by providing them with up to $50,000 in seed funding, free collaborative work space and bandwidth, access to a mentor base of Google employees, VCs and Angels, business training as well as visibility via networking and pitch events. Umbono's launch is timely especially in a country like South Africa which has been the birthing place for some of the continent's more successful startups such as free website builder, Yola.com and group buying site, Twangoo (which was recently acquired by Groupon ). The incubator hopes to help solve the access to capital problem that faces most African techpreneurs.
TNW Africa - Technology news, start-ups and culture from all over Africa
Kenya recently launched Sub-Saharan Africa's first Open Data Initiative, and is one of a series of firsts for the East African country this year, which has included the launch of Africa's first mobile apps lab back in June. The Kenya Open Data Initiative ( KODI ) was launched at a high profile event in Nairobi yesterday, with Kenya's President Mwai Kibaki present as well as politicians, government officials and IT professionals. It was launched in partnership with organizations such as The World Bank , Ushahidi and the iHub . The initiative aims to make core government development, demographic, statistical and expenditure data available in a useful digital format for anyone to access. Currently there are over 160 datasets on the platform and already there have been some interesting applications of the datasets by a number of organizations.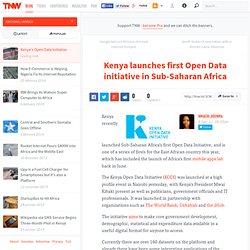 Kenya launches Africa's first Open Data Initiative - TNW Africa
To global search giant, Google, Africa is the next Internet hotspot. Globally, there are 94 domains registered per 10 000 users. However, in Africa, there is only one domain per 10 000 users.
Google bets on Africa as the next internet hotspot
The Business of Theft: The Funny Numbers of the Music Industry « I MiX What I Like!
Geekeries culturelles et prospective, Spectacle vivant et digital : 32 comptes twitter à suivre pour démarrer une veille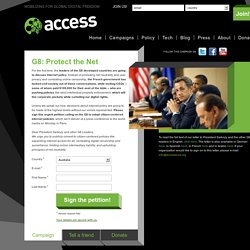 G8: Protect the Net
Privacy Policy Last modified: November 11, 2011 This Privacy Policy is continually under review to ensure your privacy and security. This website, https://www.accessnow.org (the "Site") is operated by Access ("We" or "Us").
The term "curate" is the interactive world's new buzzword. During content creation and governance discussions, client pitches and creative brainstorms, I've watched this word gain traction at almost warp speed. As a transplant from museums and libraries into interactive media, I can't help but ask what is it about this word that deserves redefinition for the web?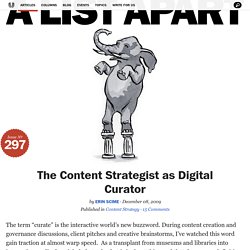 Marketing Strategy Marketing & Innovation Marketing 2.0 and Web 2.0