Instruction
Magic.piktochart. "I need a verysimple technology tool" "I need tech tool that will make some functional improvements" "I need tech tools that will bring significant improvement"
Enzo Silva blog » ADDIE – "The" Instructional Design Process – Explainer Videos. Doing it Differently: Tips for Teaching Vocabulary. Every Monday, my seventh grade English teacher would have us copy a list of 25 words she'd written on the board.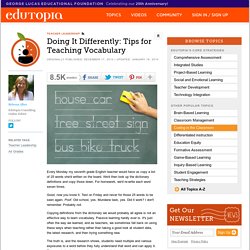 We'd then look up the dictionary definitions and copy those down. For homework, we'd re-write each word seven times. Course: Minnesota Studies. Microsoft Account. Topic:Instructional Design. Instructional Design (also called Instructional Systems Design (ISD)) is the practice of creating instructional experiences which make the acquisition of knowledge and skill more efficient, effective, and appealing.[1] The goal of this learning experience is to develop the skills needed to design instructional material.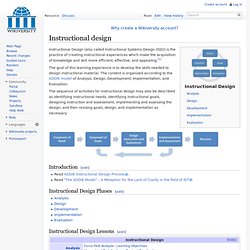 The content is organized according to the ADDIE model of Analysis, Design, Development, Implementation, and Evaluation. The sequence of activities for instructional design may also be described as identifying instructional needs, identifying instructional goals, designing instruction and assessment, implementing and assessing the design, and then revising goals, design, and implementation as necessary: Introduction[edit]
Making Meaning in Literature: A Workshop for Teachers, Grades 6-8. Workshop 1.
Introducing Our Literary Community Meet the eight teachers and their schools featured in the video programs. Learn the guiding principles through which they form their classes into engaged literary communities. Dr. Langer weaves the framework, talking about the ways effective readers interact with text and the ways teachers can foster this kind of learner. Go to this unit. Bloom's Digital Taxonomy. This is the introduction to Bloom's Digital Taxonomy.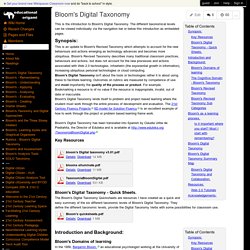 The different taxonomical levels can be viewed individually via the navigation bar or below this introduction as embedded pages. This is an update to Bloom's Revised Taxonomy which attempts to account for the new behaviours and actions emerging as technology advances and becomes more ubiquitous. Bloom's Revised Taxonomy describes many traditional classroom practices, behaviours and actions, but does not account for the new processes and actions associated with Web 2.0 technologies, infowhelm (the exponential growth in information), increasing ubiquitous personal technologies or cloud computing.Bloom's Digital Taxonomy isn't about the tools or technologies rather it is about using these to facilitate learning.
The Jigsaw Classroom: Overview of the Technique. Overview of the Technique The jigsaw classroom is a cooperative learning technique with a three-decade track record of successfully reducing racial conflict and increasing positive educational outcomes.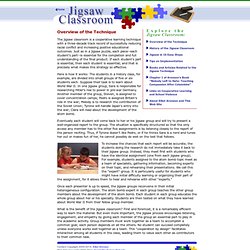 Just as in a jigsaw puzzle, each piece--each student's part--is essential for the completion and full understanding of the final product. If each student's part is essential, then each student is essential; and that is precisely what makes this strategy so effective. Here is how it works: The students in a history class, for example, are divided into small groups of five or six students each. Instructional System Design (ISD) Handbook (ADDIE) Mind Map Branch: Bloom's Taxonomy. OHCHR Knowledge Sharing Online Toolkit.
Curricula
The Standards. Ohio PTA Common Core State Standards Initiative (CCSSI) Committee National PTA (NPTA) announced in December 2009 a three year campaign to mobilize parents to advance the Common Core State Standards Initiative (CCSSI) along with other key education reforms.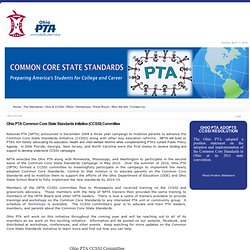 NPTA will build on PTA's rich history advocating for education, health and child welfare reforms while complementing PTA's current Public Policy Agenda. In 2009, Florida, Georgia, New Jersey, and North Carolina were the first states to receive funding and support to develop state-level CCSSI campaigns. Take the Pledge: Stand Up For Bullied Students. NEA's Bully Free: It Starts With Me One caring adult can make all the difference.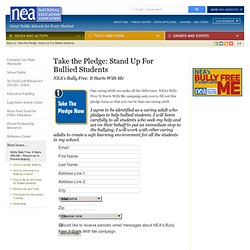 NEA's Bully Free: It Starts With Me campaign asks you to fill out this pledge form so that you can be that one caring adult.
---