Eğlence
Silk – Interactive Generative Art. World's Most Creative and Weird Buildings and Structures. The world is full of wonderful and amazing buildings.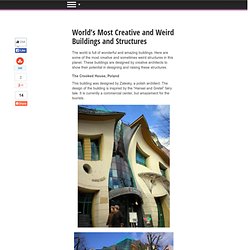 Here are some of the most creative and sometimes weird structures in this planet. These buildings are designed by creative architects to show their potential in designing and raising these structures. The Crooked House, Poland This building was designed by Zalesky, a polish architect. Pointer Pointer by @StudioMoniker. Emergency compliment : A steady supply of Emergency Compliments to be used at times of great insecurity. The magic button — Make Everything OK. Piano (6) Fun Switcher. Coach's Eye | The Ultimate Coaching App for iPhone, iPad and Android. Sometimes all it takes is looking at a specific moment to improve your performance.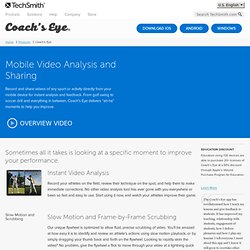 Instant Video Analysis Record your athletes on the field, review their technique on the spot, and help them to make immediate corrections. No other video analysis tool has ever gone with you everywhere or been so fast and easy to use. Start using it now, and watch your athletes improve their game. Slow Motion and Frame-by-Frame Scrubbing. Postable - The easiest way to get people's mailing addresses. Bored Button. Paper flower tutorial. I thought some of you would enjoy a quick tutorial on how to make those little paper flowers I used as part of my table setting a couple weeks ago.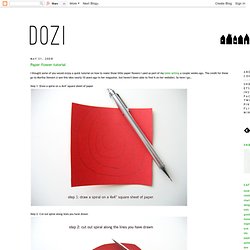 The credit for these go to Martha Stewart (I saw this idea nearly 10 years ago in her magazine, but haven't been able to find it on her website). So here I go.. Step 1: Draw a spiral on a 4x4" square sheet of paper Step 2: Cut out spiral along lines you have drawn Step 3: Begin rolling up the spiral from the outside. Comics. Friends Music Questions. Season 10 Gag Reel - Near the end, when they were showing the set being taken down, what music was used?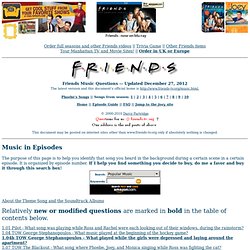 The Theme Song and the Soundtrack Albums The theme song is called "I'll Be There For You. " It is sung by the Rembrandts. The music is by Michael Skloff and the lyrics by Allee Willis. The Soundtrack album has the TV version and the extended version of the song. Hearing Test - high frequency sounds measure hearing loss. We got a lot of positive feedback on our Can You Hear Like a Teenager?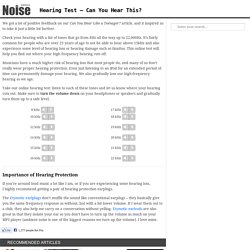 Article, and it inspired us to take it just a little bit further. Check your hearing with a list of tones that go from 8Hz all the way up to 22,000Hz. It's fairly common for people who are over 25 years of age to not be able to hear above 15kHz and also experience some level of hearing loss or hearing damage such as tinnitus. Free Music with Neverending Playlist.
Photo Gallery. 5 Websites To Play Music Matching Your Mood. In movies, music is used intensively to set the stage for a dramatic appearance or a sad goodbye. Just imagine Pretty Woman without Roy Orbison, Wayne's World without Queen, Robin Hood without Bryan Adams, Men in Black without Will Smith, or Kill Bill without the entire soundtrack. These movies wouldn't be the same. Music can be entertaining, bring back memories, trigger strong feelings, distract, and comfort. Music creates moods because it betrays your brain and you can use this little trick in your favor. Apply music for your mood, in order to promote or change it. Royalty Free Sound Effects (FX) Library for Download.
MoodTurn.com - Relax your mind. Enjoy ambient music to lift your mood. // Garden. Stereomood – emotional internet radio - music for my mood and activities. Azer.swf (application/x-shockwave-flash nesnesi) RainyMood.com: Rain makes everything better. Relaxation audio.
Internet Meme Database. Alltime10s's Channel. Upload Suggest a video Subscription preferences.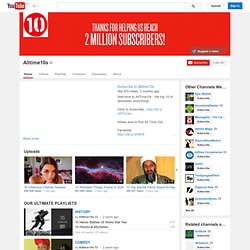 SPAZZCRACK. Okay, so I had mentioned there was a request popping up soon, and HERE IT IS.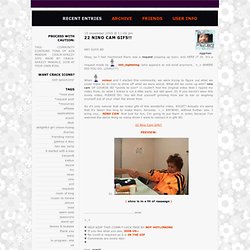 It's a request made by lilli_lightning (who appears to not exist anymore.. >_> WHERE DID YOU GO, LOVELY??) Fizy. Sendables - Disco. 90sHits.com - 90s Music Hits. Pallo.swf (application/x-shockwave-flash nesnesi) Search: 90s. The Design Inspiration - Daily Logo Designs, Illustration Art, Website Showcase, Photos and Patterns. Beautiful Word Clouds. Unhear it - get that damn song out of your head! - StumbleUpon. What the World Eats, Part I - Photo Essays. The Best Celtic Music - The Best Of Celtic Music.
Short Films - Videos » ringling.
---