Cooking
Starbucks Frappucinos. Cupcake Style. « Kim's Kitchen. UDATE: The cupcake tips I used for the frosting on this are on sale on Amazon right now – get the cupcake decorator's set for only $6.06 – down from $8.99!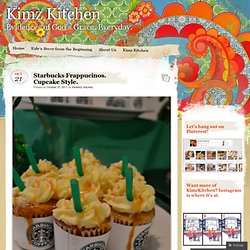 (This price can change anytime though – so look before you buy!) After the many requests for this recipe and how-to, I thought I'd take some pictures and post this recipe. My brother in law is getting married tomorrow, and since he and his lovely bride-to-be met at Starbucks, a Starbucks themed rehearsal dinner – with these cupcakes for dessert – was quite in order. Keep in mind that at the end, you'll see two different kinds of cupcakes – I did Caramel Frappucino ones and Double Chocolate Chip Frappacino ones.
Cinnamon Roll Sugar Cookies? Yes! Have I got a treat for you today right before Valentines day!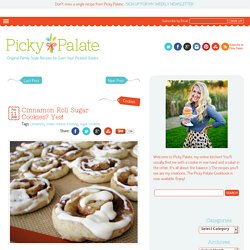 I was getting ready to cut my traditional sugar cookies in the shape of hearts for this post and a little light bulb went off! I don't know if I was craving cinnamon rolls or what, but I thought to myself….I am soooo making these sugar cookies into cinnamon rolls! Brace yourself friends, you will NOT be able to stop eating these, they are that good. My husband and I both agree the only way to enjoy these beauties is after they've chilled in the fridge for at least 30 minutes. - StumbleUpon.
How to Make Pasta from Scratch - In Italy! We arrived at the tiny train station that lies on the borders of Tuscany and Umbria.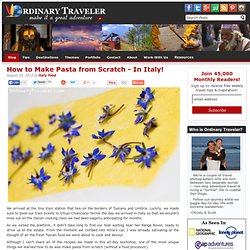 Luckily, we made sure to book our train tickets to Chiusi Chianciano Terme the day we arrived in Italy so that we wouldn't miss out on the Italian cooking class we had been eagerly anticipating for months. As we exited the platform, it didn't take long to find our host waiting near her Range Rover, ready to drive us to the estate. From the moment we climbed into Alina's car, I was already salivating at the thought of all the fresh Tuscan food we were about to cook and devour. Butterbeer Cupcakes. This is part IV in a mini-series of Harry Potter snacks from the books brought to life (part I is on Honeydukes treats, part II is all about the cauldron cakes, and part III features every wizard's favorite drink—butterbeer!).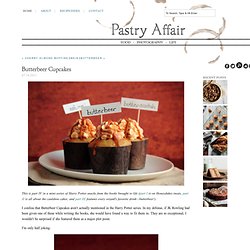 I confess that Butterbeer Cupcakes aren't actually mentioned in the Harry Potter series. In my defense, if JK Rowling had been given one of these while writing the books, she would have found a way to fit them in. Butterbeer. This is part III in a mini-series of Harry Potter snacks from the books brought to life (part I is on Honeydukes treats, part II is all about the cauldron cakes, and part IV showcases decadent butterbeer cupcakes).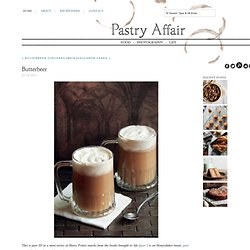 Last August, my family made the two thousand mile journey to the Wizarding World of Harry Potter at Universal Studios. Orlando has always been one of my family's favorite vacation destinations. Add in my love (and obsession) with Harry Potter and we all knew that once the park officially opened I couldn't be kept away for long. On the big day, we woke up at an obscene hour to a bright dawn. Grilled Smore Brownie. Jasons Everlasting Recipes: Cheesecake Stuffed Strawberries. Ingredients:-1 lb large strawberries-8 oz. cream cheese, softened (can use 1/3 less fat)-3-4 tbsp powdered sugar (4 tbsp for a sweeter filling)-1 tsp vanilla extract-graham cracker crumbs Directions:1.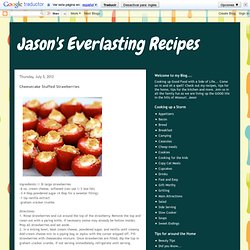 Rinse strawberries and cut around the top of the strawberry. Remove the top and clean out with a paring knife, if necessary (some may already be hollow inside). Pumpkin Cheesecake Recipe. 1 Pulse pecans, flour, sugar, and crumbs in a food processor.
Add butter and egg yolk. Pulse until mixture is homogenous. Garlic Knots Recipe. 1 Sprinkle the yeast on top of the warm water and let it sit for 5 minutes.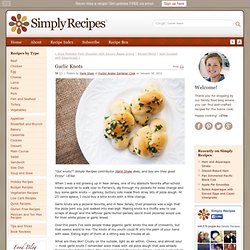 Stir to combine and let sit for another 5-10 minutes, until it begins to froth a bit. 2 In a large bowl, whisk together the flour, salt and sugar. Easy Brazilian Cheese Bread (Pão de Queijo) Recipe. Our tour of Brazil continues.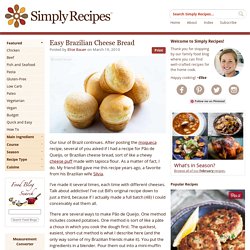 After posting the moqueca recipe, several of you asked if I had a recipe for Pão de Queijo, or Brazilian cheese bread, sort of like a chewy cheese puff made with tapioca flour. As a matter of fact, I do. My friend Bill gave me this recipe years ago, a favorite from his Brazilian wife Silvia. I've made it several times, each time with different cheeses. Talk about addictive! Cinnamon Sticky Buns Recipe. 1 Make the dough.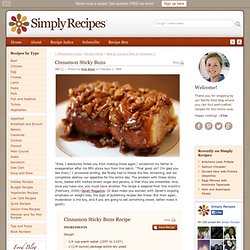 In the bowl of an electric mixer, combine warm water, yeast and 1 tsp. sugar. Stir to dissolve and let sit until foamy, about 5 minutes. Add milk, butter, remaining sugar, egg yolks, orange zest, salt and 3 cups flour. Mix on low speed until blended. Bakery Recipes. An all butter pie crust recipe for sweet and savory pies. Pâte Brisée recipe. With the substitution of almond flour for part of the wheat flour, this recipe makes a truly special pie crust for sweet pies. This recipe make enough pie dough for one 10-inch pie, top and bottom crust.
Buttermilk Biscuits with Goat Cheese and Chives Recipe. Ever wonder what the difference is between scones and biscuits? The light, sweet scones enjoyed in England are nothing like the heavy, somewhat dry scones we usually have here in the states. They are more like our biscuits, but sweet. Of course "biscuit" in England means what we here would call a cookie. So confusing. Chicken and Cheese Lasagna Roll-Ups - iVillage.
---