Cose interessanti
Pasticceria Martesana, la pasticceria artigianale storica di Milano. La Martesana, di proprietà della famiglia Santoro, è una pasticceria artigianale fondata nel 1966, quando ancora il naviglio Martesana scorreva a vista.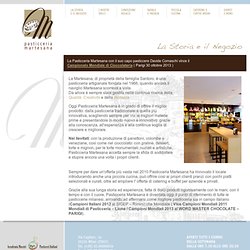 Da allora è sempre stata gestita nella continua ricerca della Qualità, Creatività e della Bellezza. Oggi Pasticceria Martesana è in grado di offrire il miglior prodotto: dalla pasticceria tradizionale a quella più innovativa, scegliendo sempre per Voi le migliori materie prime e presentandole in modo nuovo e innovativo: grazie alla conoscenza, all'esperienza e alla continua voglia di crescere e migliorare. Scan Websites for Exploits, Malware and other Malicious Threats - Security Tools for Webmasters - URLVoid.com BETA. Tizianokdp. Socialbakers ❶ Social media (Facebook, Twitter…) marketing, statistics & monitoring. Optimizely: A/B testing software you'll actually use.
The Store for Entrepreneurs. Get a better resume, online. "...easy to use without any technical expertise; if I did it, anyone can..."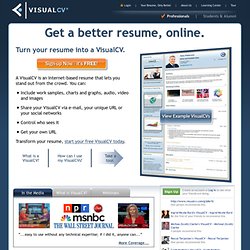 More Coverage... Watch this two-minute video to learn about VisualCV and how it can help you today. Watch full size video here... What Can Video Shadow Do For You? | Video Shadow|VSEO|Video MarketingVideo Shadow|VSEO|Video Marketing | Achieve #1 Video Rankings For You Tube and Google! EdgeRank Checker | Check your Facebook Page's EdgeRank. Y Combinator. Outsource to Freelancers, IT Companies, Programmers, Web Designers from India, Russia, USA, and more.
Work with the best freelancers on oDesk and feel confident that if you aren't 100% satisfied, you will get a 100% refund—guaranteed.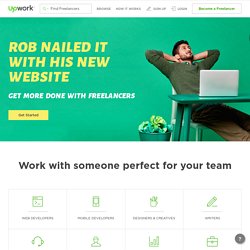 Look for a purple Money-Back Guarantee badge on an applicant's profile. Hire that guaranteed freelancer to an hourly contract, and you will have a two-week billing period to decide if you're happy with the work. If you're not satisfied, just submit a request and receive a full refund within 10 days. Easy peasy. Hire people to do business projects for $5.
---