DIY
DIY : Workout T-Shirt. Every summer for some reason my closet magically seems to be full of unwanted t-shirts.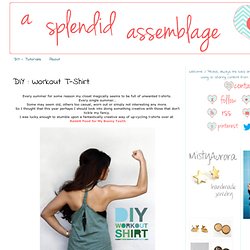 Every single summer... Some may seem old, others too casual, worn out or simply not interesting any more. So I thought that this year perhaps I should look into doing something creative with those that don't tickle my fancy. Flax & twine: A Chunky Moebius Cowl - an easy chunky knit free pattern. So excited to share this free cowl pattern with you all.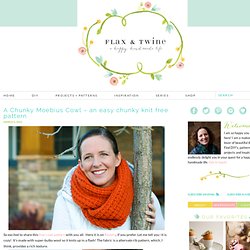 Here it is on Ravelry, if you prefer. Let me tell you–it is cozy! It's made with super-bulky wool so it knits up in a flash! The fabric is a alternate rib pattern, which, I think, provides a rich texture.
Easy 3D Home Design | RoomSketcher. C Dress. 1-Hour Dress. May 31st, 2013 Email 287 users recommend.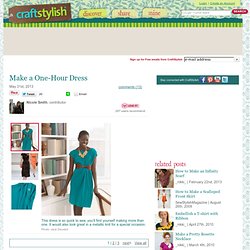 Free Twinkle Sews Dress Pattern - CraftStylish. Love in the Afternoon dress from Twinkle Sews Photo: Kevin O'Brien In the Spring '10 issue of SewStylish, the editors were able to catch up with Wenlan Chia of Twinkle and chat with her about her sewing and design inspirations.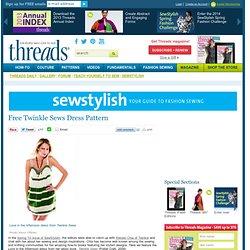 Chia has become well known among the sewing and knitting communities for her amazing how-to books featuring her stylish designs. Here we feature the Love in the Afternoon dress from her latest book, Twinkle Sews (Potter Craft, 2009) Celebrate Summer - Patterns Archive. Please consult our size comparison table, our table of body measurements and the "Patterns" section of our FAQs before you download and print a pattern.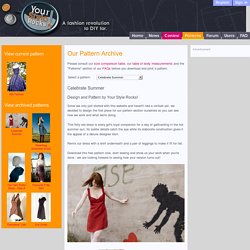 Celebrate Summer Design and Pattern by Your Style Rocks! Since we only just started with this website and haven't had a contest yet, we decided to design the first piece for our pattern section ourselves so you can see how we work and what we're doing. Paperbag Ensemble Dress - Patterns Archive. Please consult our size comparison table, our table of body measurements and the "Patterns" section of our FAQs before you download and print a pattern.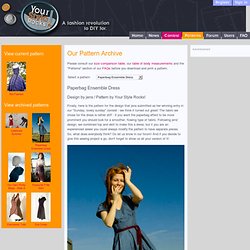 Paperbag Ensemble Dress Design by jens / Pattern by Your Style Rocks! Making a picnic dress. Several people have asked me how to make my Picnic Dress.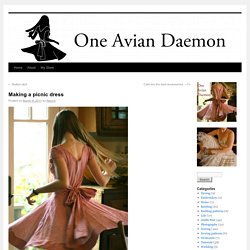 It's a bit too complicated for the step by step instruction on how to draft a pattern I gave for the draped t-shirt, but I hope this will be enough detail for anyone who is familiar with how dresses are made. You will need 4 yards of 45″ fabric and an 18″ zipper. These are the pieces of the pattern. Mark out the measurements listed and the distances between them.
The 1.5 Dress. 1.5 yards + 1.5 hours = One New Dress.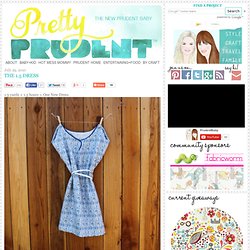 Scarlet and I met the prudent dad for dinner shortly after the completion of this number, and he complimented my new dress! I excitedly exclaimed "Thanks! I made it!" To which he responded: "It's cute!" Empire Sheet Dress Tutorial: Get something a lot nicer out of your extra sheets. I think this might be one of the easiest ways to make a empire waist summer dress.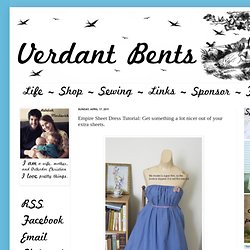 (DISCLAIMER, Honestly, I don't "do" strapless. I like to be more modest. However, I have no problem wearing a strapless with a cardigan. I wanted to add straps, but I haven't since I can't wear it now anyway. Gift Ideas for poor creative souls (1) Posted by: Cathy on Apr 22, 2010 Tagged in: Untagged Having just spent hours in the garden, I thought this idea was perfect for this time of year.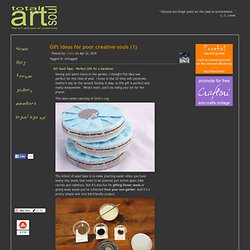 Ten minute no-sew recycled t-shirt bag! Tutorial time! I got a gig teaching a recycled t-shirt project at the library a few months ago, with a request for a recycled tee bag – the only bags I'd made from tees in the past had required sturdy sewing, and I didn't want hand-sewing to be the only thing holding the bottom closed in a class version of the bags, so I started brainstorming about some kind of hand-sewing-friendly or no-sew bag idea…. and here's what I came up with! The simplest version of these bags is great for smaller tees, or the more light-weight kind of girl-tees – just turn the bottom of the shirt into a drawstring and tie it closed!
As you can see, even with a not huge tee, this will still leave a significant hole in the bottom of your bag, but for purposes like grocery shopping, this size hole shouldn't really matter… But to make smaller holes, just make more than one of them! How to Make Paper Pencils (tutorial) I have always wanted to make my own pencils, but the thought of shaping two pieces of wood to allow a piece of lead to sit perfectly inside made me think it wasn't worth the effort. For some reason I was looking at some pieces of lead I have (for a drafting pencil) and "pop" there it was.. a solution to my DIY longing. Here is a tutorial to make pencils that is so ridiculously easy I've made 10 pencils since the idea came to me yesterday! Enjoy. DIY Shift Dress. Pinterest Challenge: AZ Love / Nail and String Tribute to the Grand Canyon State. So I found Curiously Wrought's work through her Etsy on Pinterest the other day--how cute are these?! Click through the link below to check out my step-by-step tutorial: So although mine isn't PERFECT like hers are, I seriously love how it came out!
I chose to go with an orange backdrop keeping the Grand Canyon in mind and how much I love those vibrant, orange sunsets! Which of the states would you make? And then it made it to my wall next to my desk! Brown Slippers « Crochet. (Update: To see more of my patterns, please visit my ONLINE SHOP!) I've just finished making these slippers. Making crocheted slippers is my addiction. Huge addiction. Pop Top Lamp Shade. Update: Lots of folks have been asking about the fancy rainbow-colored shade in the new photo. It was made using the same techniques described in this article. The tabs are not painted; they are all recycled from cans that have factory-anodized color pull tabs. A few of them I collected myself, but most of them I scored by watching eBay for awhile. Yes, you really can get anything from eBay. I made the first one of these back in 2009, and it was later included in Garth Johnson's creative reuse book.
---