Different kinds of art
Mountains of Books Become Mountains. I thought I'd seen every type of book carving imaginable, until I ran across these jaw dropping creations by Guy Laramee.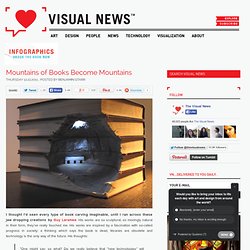 His works are so sculptural, so movingly natural in their form, they've really touched me. His works are inspired by a fascination with so-called progress in society: a thinking which says the book is dead, libraries are obsolete and technology is the only way of the future. His thoughts: Amazing Love Line(s) Art Video. Zoomquilt2.swf (application/x-shockwave-flash Object) Dream Big by Peter Fecteau. Leaf Cut Art by Lorenzo Durán. Untitled. Insaboobpaintingangle.jpg (JPEG Image, 1728x1152 pixels) - Scaled (56%) Epic Super Mario Bead Animation. Awesome Pokemon Jack-o-Lanterns. 3D Drawing Machine.
Vision is a rather unique 3D drawing device created by twins Ryan & Trevor Oakes, allowing almost anyone to draw images in perfect perspective using nothing but your eyes and a pen.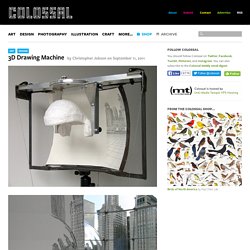 The device MESSES WITH YOUR BRAIN by using a technique that splits the ocular system, creating two images of the subject, allowing the artist to literally trace one directly onto paper. You really need to watch the video to get a clear idea of how it works, and there's also some rather touching remarks about the nature of the twins relationship. Occupy the infinite. Illustrating with Thread and Pins. The images within post are from various art installations and projects by Debbie Smyth.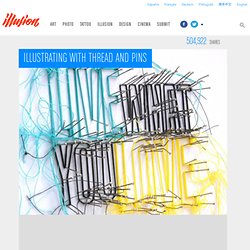 View more of the artist's work at her blog. Notes about Smyth (from bio published at New British Artists): Debbie Smyth graduated with a First Class Honours Degree in Contemporary Textiles in 2008. She has exhibited widely since then, selling her work to the public as well as being commissioned for a number of corporate projects from the New York Times to the Dorchester.Her playful yet sophisticated artworks are created by stretching a network of threads between accurately plotted pins. Leaving loose threads implies movement in the picture and Debbie has a keen eye for storytelling in a simple, contemporary manner. Yuki Matsueda.
---