Web tools
10 Surprising Facts About Students Using E-Textbooks
Turn Any Article Into Cliff Notes With One Click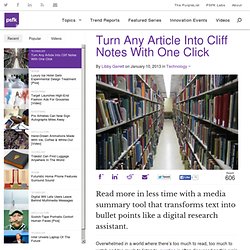 Overwhelmed in a world where there's too much to read, too much to watch and too much to listen to, curation is often discussed as this era's crucial strategy to sort out information "noise" from content that really matters. A second (and complimentary) strategy is to improve tools and systems that extract key points from media we might want to review. Relying on algorithms to deliver a quality summary service, Clipped is a productivity tool that turns online articles and documents into bullet point overviews. Available as a Chrome plugin, iOS or Android application and browser-independent bookmarklet, Clipped's algorithm analyzes sentence structures in text-based material to generate key point summaries.
Only2Clicks
50 Fun, Useful, and Totally Random Resources for Nonprofits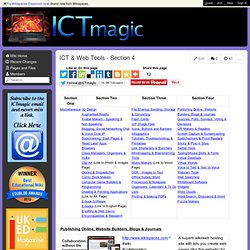 ICT & Web Tools - Section 4
guest | Join | Help | Sign In Add My Button to your Site Click the Button
50 Essential EdTech Tools For 2012
Technology and education are pretty intertwined these days and nearly every teacher has a few favorite tech tools that make doing his or her job and connecting with students a little bit easier and more fun for all involved. Yet as with anything related to technology, new tools are hitting the market constantly and older ones rising to prominence, broadening their scope, or just adding new features that make them better matches for education, which can make it hard to keep up with the newest and most useful tools even for the most tech-savvy teachers. Here, we've compiled a list of some of the tech tools, including some that are becoming increasingly popular and widely used, that should be part of any teacher's tech tool arsenal this year, whether for their own personal use or as educational aids in the classroom. 1. Social Learning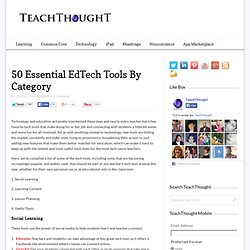 Earlier this week I had the opportunity to attend the first Ozarks Education Research Initiative (OERI) Teacher Technology Conference at Willard High School (MO). The learning sessions I attended were all very good and I am going to share 10 of the FREE tools I learned about below. I will be incorporating them into how I teach and hopefully by using these tools during faculty meetings, PD sessions, and other opportunities as they arise, this will help us all to find ways to incorporate them into the classroom to engage our students even more. This quote from last week has stuck with me ever since it was spoken – "Date the tool. Marry the idea."
Scrumblr is a new site that provides an online space to create and share sticky notes with a group. Scrumblr can be used by anyone to quickly create an online space for sharing stickies. To get started just enter a name for your space.
Scrumblr - Simple Online Sticky Note Sharing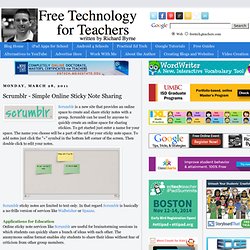 Last time I wrote about the way I organize myself completely changed for the better with Evernote . Really, I can't talk enough about this program and the endless possibilities there are for it. (Just look at the comments from that post.) In that post I gave a few resources for learning about Evernote and even fewer with how to use it in the classroom. Well, lots of people have sent me lots of great resources and I wanted to follow-up and post some more.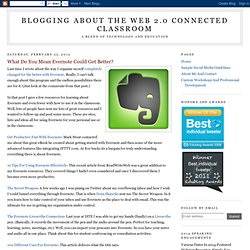 Mindmapping
I'll admit it. I have to be one of the most unorganized people on the planet. I have notebooks in just about every bag I carry. Multiple calendars and I still miss appointments.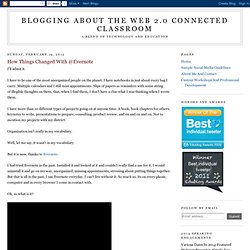 Five Ways to Create Word Clouds
This morning at the Massachusetts School Library Association's conference (a fun conference that I highly recommend) Pam Berger presented some good ideas for working with primary source documents and Web 2.0 tools. One of the ideas that she shared and others elaborated on was the idea of using word clouds to help students analyze documents. By copying the text of a document into a word cloud generator your students can quickly see the words that appear most frequently in that document. Here are five tools that you and your students can use to create word clouds. ABCya!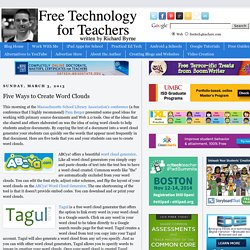 Move over QR codes…
I am quite fond of tweeting and love to use QR codes, but was not aware until last week, that I could chirp too. Yes, thanks to one of my new teachers at Hill Country Middle School, I discovered the power of chirping. It is quite easy: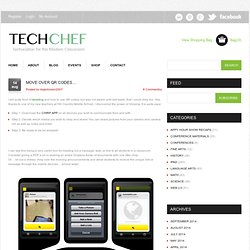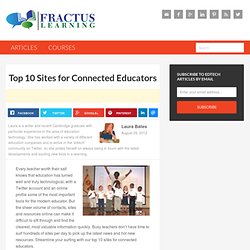 Top 10 Sites for Connected Educators
How to Teach With Technology Learn how to create custom multimedia products for your classroom or ecourse and other great ideas for the classroom. Explore this online course at
Web Seasoning Home » Technology » 20 Best Photo Editing Software For Free Download 20 Best Photo Editing Software For Free Download By Jaspal August 9, 2012 Technology 43 Comments When we talk about editing, resizing, manipulating of pictures/images most of the people use adobe photoshop program and few other softwares.
20 Best Photo Editing Software For Free Download
This collection features free e-books, mostly classics, that you can read on your iPad/iPhone ( purchase ), Kindle ( purchase ), Nook ( purchase ) or other devices . It includes great works of fiction, non-fiction and poetry.
WordPress as a VLE or CMS?
My understanding of WordPress is that it is a blogging tool, but I have also used it to run corporate, commercial, charity, and special interest websites. It also runs some extremely powerful (and large) websites that are much more than a blog or news site. But what of WordPress as a learning management system – whether you call them VLE, CMS, LMS, or something else? Well, I've heard of it, but haven't seen it "in the wild" … yet!
Who's eligible for free membership? All teachers working at educational institutions, K-12, College or University, are eligible for our free membership. Use your school/university email address to register on WizIQ. You'll get features equivalent to our Solo Pro Premium account , completely free! Check if your email address is eligible
Free Virtual Classroom Premium Membership for Academicians on WizIQ
This tool will help you capture a screenshot image of any public web page with a click. To get started, simply paste the URL of the web page in the input box and hit the "Screen Capture" button. You can capture a maximum of 10 screenshots per hour and captured images are cached to reduce server load. Screen Capture - Common Issue Internally, the tool renders the requested web page in a 1024x768 Webkit browser and saves the full page as a PNG image. iPad and iPhone have built-in screen capture , including some Android phones, but they cannot capture full screenshots of web pages.
Groovideo Launches Mobile App To Easily Create Awesome Group Videos
PLE
15 Free Tools for Storing and Sharing Files