iPads
Collated by others - iPads. Team Collections - iPads. Oxford | Education | Tablets and Apps advice center. - Leading Change in Changing Times: EdTechTeacher iPad Summit USA. This Is What Happens When You Deploy Android Tablets In A Classroom. We're constantly hearing chatter about deploying iPads in classrooms.
For good reason, as iPads represent the vast majority of tablets in the market today. However, schools can't always afford these premium devices and instead opt for lower priced Android tablets. You are not doing an iPad project. You are not doing an iPad project.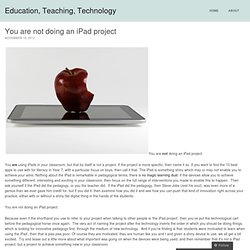 You are using iPads in your classroom, but that by itself is not a project. If the project is more specific, then name it so. If you want to find the 10 best apps to use with for literacy in Year 7, with a particular focus on boys, then call it that. The iPad is something shiny which may or may not enable you to achieve your aims. Nothing about the iPad is remarkable in pedagogical terms, there is no magic learning dust. How the iPad Is Changing Education.
The iPad may only be two years old, but it's already begun to change many things.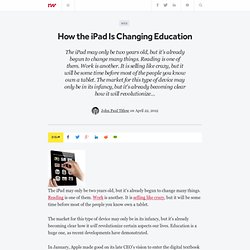 Reading is one of them. Work is another. It is selling like crazy, but it will be some time before most of the people you know own a tablet. Interesting EdTech Finds in iPadLandia by @GreenTeamGazett. 'Tis the season for us teacher-folk to start mentally gearing up and getting back down to business.
Some of my Florida teacher friends even started back up this week. I still have a few more, but the wheels are turning, especially when it comes to Here are some interesting summer finds I've sent my colleagues. Learning In Burlington. Articles. Tried and tested, and proving incredibly successful, these simple ways of integrating iPads into a lesson helps to keep pupils focused, organised, and engaged with their learning.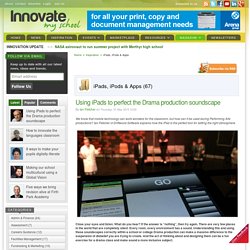 These tips could be used in any lesson with any year group, but I will share examples of contemporary best practice from my role as Upper Key Stage 2 teacher and ICT Coordinator. A teacher does not even need a whole class set of iPads to be able to replicate these methods; one, six, or eight devices will also work well. 1. Controlling: Digital Leaders. iPad and Education – No Longer A Debate! There is no longer a debate!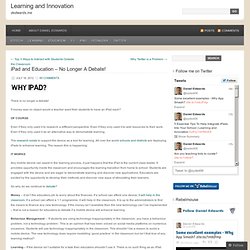 If money was no object would a teacher want their students to have an iPad each? Even if they only used it to research a different perspective. The iPad – What it should and shouldn't be for Education. This blog originally started as a reflection journal as I begun a pilot program for using iPads at my school.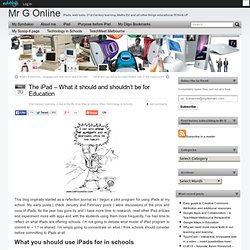 My early posts ( check January and February posts ) were discussions of the pros and cons of iPads. As the year has gone by and I have more time to research, read other iPad articles and experiment more with apps and with the students using them more frequently, I've had time to reflect on what iPads are offering schools. I'm not going to debate what model of iPad program to commit to – 1:1 or shared. The iPad as a Tool For Education - a case study. In the first two terms of implementing an iPad programme, Longfield Academy in Kent have noticed a great impact on teaching and learning.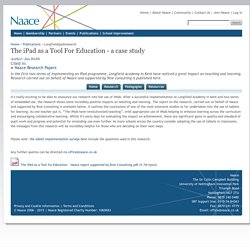 Research carried out on behalf of Naace and supported by 9ine consulting is published here. It's really exciting to be able to announce our research into the use of iPads. Home. Media Advisory: With just one iPad, teachers improve classroom lessons. While K-12 schools around the country search for funding to provide iPads to every student, an education researcher in North Carolina has found that even a single iPad can make a huge difference in the classroom.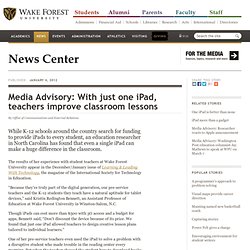 The results of her experience with student teachers at Wake Forest University appear in the December/January issue of Learning & Leading With Technology, the magazine of the International Society for Technology in Education. "Because they're truly part of the digital generation, our pre-service teachers and the K-12 students they teach have a natural aptitude for tablet devices," said Kristin Redington Bennett, an Assistant Professor of Education at Wake Forest University in Winston-Salem, N.C.
Though iPads can cost more than $500 with 3G access and a budget for apps, Bennett said, "Don't discount the device because of its price. We found that just one iPad allowed teachers to design creative lesson plans tailored to individual learners." 10 Important Questions To Ask Before Using iPads in Class. Digital Tools Teaching Strategies Lenny Gonzales By Terry Heick When it comes to deciding how or whether to use iPads, schools typically focus on budget issues, apps, networking logistics, check-in and check-out procedures, school and district tech-use policies, hardware precautions, and aspects of classroom management.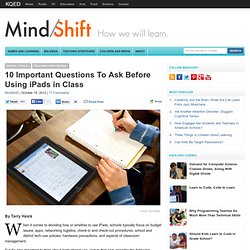 The Single iPad Classroom « Elementary Ed Tech! Both of the schools I serve have "Single iPad Classrooms". The teachers all have iPads, and, on one campus there is a mobile cart of 30 iPads that is shared on a check-out basis. Teachers have had their iPads for a while, so I thought it would be interesting to find out how they are getting these in the hands of students. I created a survey in Google Forms (what did we do before Google Forms???). Below I have summarized the responses. How One Classroom Actually Used iPads To Go Paperless (Part 1: Research) Last year, with a fearless group of 10th graders in Katrina Kennett's English class at Plymouth South High School , we attempted to transform the traditional research process to a completely paperless one using a fresh new cart of iPads.
As I have written previously about iPads in the classroom, our decision to use iPads did not start with iPads, it started with learning goals and objectives. We later determined that iPads would fit into the equation. The 4 Goals A few of the goals that we outlined prior to the research process included: The Paperless Classroom. New York, NY — Many tasks that used to require pen and paper are done in digital form these days. To-do lists are entered in mobile phones, e-tickets replace paper slips, personal finances are sorted on laptops and tablets. One New York City teacher is on a quest to rid her classroom of paper – thousands of pieces per year – and she's doing it with new devices and the adoption of an education-based, social media platform. Rachel Fein, a ninth-grade social studies teacher at the High School for Arts, Imagination and Inquiry in Manhattan, convinced officials there to purchase nearly three dozen devices that enable students to get and complete assignments without touching a pencil or paper.
She says it wasn't easy and took some convincing, but this week her students unboxed 34 Google Chromebooks. The school that gives every student an iPad. Fraser Speirs is talking about changes caused by his school's radical shift in technology deployment. Every pupil at Cedars School of Excellence, in Greenock, Scotland, is now armed with an iPad, creating an environment a world away from the typical 'computer room', and providing the potential for seamless integration of technology and traditional teaching.
The iPad project arose from day-to-day demands within the school. As Head of Computing, a dozen iMacs were fixed in Fraser's classroom, and a dozen MacBooks were available for booking; but with teachers increasingly wanting to provide pupils with web access, pressure and demand grew. "In January 2010, we started looking for answers," recalls Fraser. Long Island University has deployed 16,000 iPads, with more on the way. Long Island University in New York has deployed at least 16,000 iPads to its students, with more on the way, according to George Baroudi, CIO, vice president of IT and chief business process improvement officer at the school.
He said more than 3,000 will be arriving soon. About 275 IT managers attend to what is probably one of the largest deployments of tablets at a university in the world. "We have dealt with it and dealt with it successfully," Baroudi said. A little more than two years, the university had yet to buy a tablet. But Baroudi started seeing students carrying iPads around campus—"it started looking like an impending tsunami," he said—and the idea clicked. 1:1 iPads in Elementary Part 1 – An Unexpected Journey by @DanCallahan. IPAD Activities Examples. 9 Surprising Ways Schools Are Using iPads Around The World. Teachwithyouripad.wikispaces. Mindmapping. 14 Ways To Store And Share Files On The iPad. Is it the iPad, the apps or the user? How to Use iPads for Personal Professional Development.
iPads and Tablets in Education. iPad • iPhone • iPod. iPads and Android tablets on the MSc International Business at Leeds University Business School. iPads in Education | Case Studies. How To Overcome The iPad Learning Curve. Ipadshare | An exciting collaborative project between two 1:1 iPad schools: Alexandra and Casllwchwr Primary schools. Through our journey with iPads we hope to share best practice to support children in their learning.
12 Characteristics Of An iPad-friendly Classroom. iPad Curriculum. Guide to Online Collaborations: Useful Tips, Tools & Apps. 6 Ways Students Can Collaborate With iPads. A Great iPad Manual for Every Teacher. iPad as the Teacher's Pet. The Student Guide to iPads – It's Great for Teachers Too. A Guide to the iPad in Primary Education. 23 Things Every Teacher Should Be Able To Do With An iPad. IPads in the classroom: The right way to use them, demonstrated by a Swiss school.
14 Ways To Store And Share Files On The iPad.
---