Graphics & Physics
<< Lesson 0 Lesson 2 >> Welcome to my first WebGL tutorial! This first lesson is based on number 2 in the NeHe OpenGL tutorials, which are a popular way of learning 3D graphics for game development.
WebGL Lesson 1 – A triangle and a square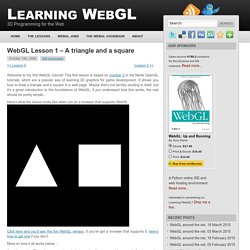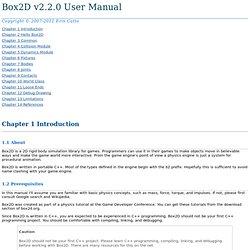 manual.html
Copyright © 2007-2011 Erin Catto Chapter 1 Introduction . 2 Chapter 2 Hello Box2D .. 7
Simulated Articulated Entities
Before going into more detail of the code implementing the simulated arm, look at how joints are specified in the simulation and underlying physics engine. For a more detailed overview, you should download the latest NVIDIA PhysX Technology documentation and review the section for Joints, especially the 6DoF joints.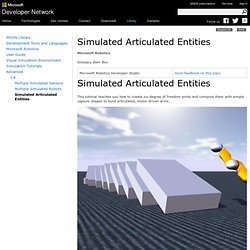 PhysX.Net
Bullet 3.x will feature a 100% GPU accelerated rigid body pipeline with various parallel broad phase algorithms, convex and concave triangle mesh and several parallel solvers. Here is a teaser video for my GPU rigid body talk at GDC 2013 this Thursday March 28, 2.30PM. See http://schedule2013.gdconf.com/session-id/822773 for more details. When will this be available? Soon!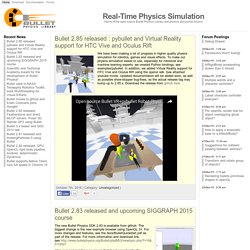 Henge3D Physics Library for XNA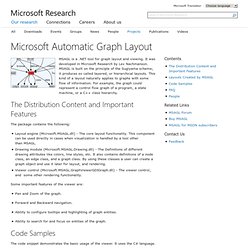 MSAGL is a .NET tool for graph layout and viewing. It was developed in Microsoft Research by Lev Nachmanson.
Automatic Graph Layout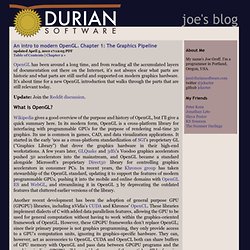 An intro to modern OpenGL. Chapter 1: The Graphics Pipeline
An intro to modern OpenGL. Chapter 1: The Graphics Pipeline updated April 5, 2010 17:12:05 PDT