Web
WHAT'S YOUR STORY? ❤
This is just a short list of different lenses worth making. Just to get you thinking. There are a gaggle of other ideas you should absolutely make lenses about.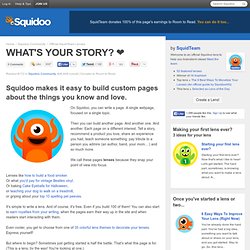 APNG - the animated PNG
open_source_flash_projects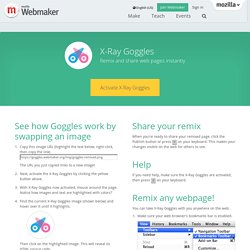 When you're ready to share your remixed page, click the Publish button or press P on your keyboard. This makes your changes visible on the web for others to see. If you need help, make sure the X-Ray Goggles are activated, then press H on your keyboard.
Hackasaurus
Slowcop - Make your website faster
The Secrets To Promoting Your Website Online | Web Hosting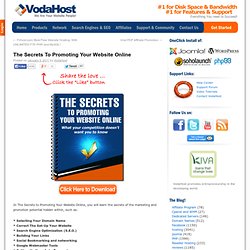 In The Secrets to Promoting Your Website Online, you will learn the secrets of the marketing and promotion potential hidden within, such as: * Selecting Your Domain Name * Correct The Set-Up Your Website * Search Engine Optimization (S.E.O.) * Building Your Links * Social Bookmarking and networking * Google Webmaster Tools * Setting-Up Your Auto-Responder * Plus much, much more… So, make yourself up a pot of coffee … What you're about to download and read will blow you away!!! Click Here to learn how to make serious $$$'s by simply sharing "The Secrets To Promoting Your Website Online" with your friends and colleagues.
Better Than Nothing Security: Part I - The Hacker Factor Blog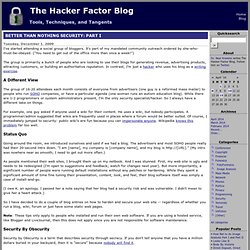 I've started attending a social group of bloggers. It's part of my mandated community outreach ordered by she-who-must-be-obeyed. ("You need to get out of the office more than once a week!") The group is primarily a bunch of people who are looking to use their blogs for generating revenue, advertising products, attracting customers, or building an authoritative reputation.