Open source hardware
DIYROCKETS | 3D ROCKET CHALLENGE
The Electron: Crash Course Chemistry #5
the Tricorder project
Ever wanted to connect your Legos and Tinkertoys together? Now you can — and much more. Announcing the Free Universal Construction Kit : a set of adapters for complete interoperability between 10 popular construction toys. Fig. 1. The Free Universal Construction Kit .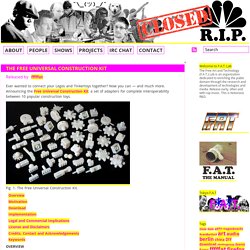 THE Printrbot by abdrumm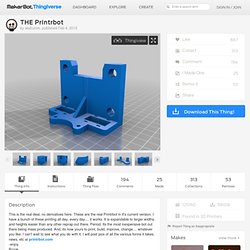 NEW retro-fixes for the base and the x-carriage. NEW v2 Revisions: Base v2, X-Carriage v2, Xtruder-Mount v2, and X-Motor v2 Build Videos are live: printrbot.com/instructions Updated parts list below. Other Pictures Here: flickr.com/photos/printrbot/sets/72157628821699187/ PRINTED PARTS 2 Bases 1 X Motor 1 X Idler 1 X Carriage 1 Xtruder Mount 4 Y BarEnds 2 Belt Clips 1 Y Bearing Guide OTHER PRINTED PARTS 2 Z Couplers 2 Belt Pulleys (we use XL belt) 1 Extruder/hot end assembly (We use Wades Accessible and Herringbone gears)
Make
Introducing The MakerBot Replicator™
January 10, 2012 (Brooklyn, NY) – MakerBot Industries is excited to announce the launch of its latest product, The MakerBot Replicator™, which will debut at CES in Las Vegas, NV on Tuesday, January 10th. Available in the MakerBot store for pre-order today ! The MakerBot Replicator™ is the ultimate personal 3D printer, with MakerBot Dualstrusion™ (2-color printing) and a bigger printing footprint, giving you the superpower to print things BIG! Assembled in Brooklyn by skilled technicians, the MakerBot Replicator™ is ready within minutes to start printing right out of the box.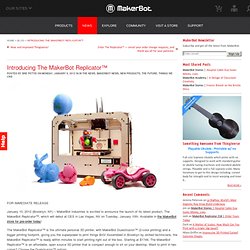 Britta Riley: A garden in my apartment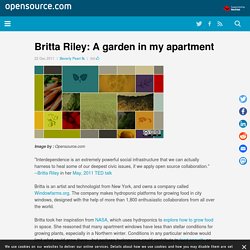 Image credits: Agriculture by Islam, need Flickr attributions "Interdependence is an extremely powerful social infrastructure that we can actually harness to heal some of our deepest civic issues, if we apply open source collaboration." -- Britta Riley in her May, 2011 TED talk Britta is an artist and technologist from New York, and owns a company called Windowfarms.org . The company makes hydroponic platforms for growing food in city windows, designed with the help of more than 1,800 enthusiastic collaborators from all over the world. Britta took her inspiration from NASA , which uses hydroponics to explore how to grow food in space. She reasoned that many apartment windows have less than stellar conditions for growing plants, especially in a Northern winter.
Making silica aerogel at home
I followed instructions in the silica TMOS recipe from http://www.aerogel.org and successfully produced some small pieces of aerogel in my home shop. The two main difficulties are: 1. Getting TMOS or TEOS (the key chemical ingredient), and 2. Building a supercritical drying chamber. The components for the chamber can be bought from http://www.mcmaster.com or another source of industrial pipe fittings.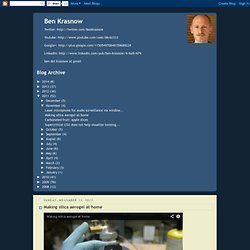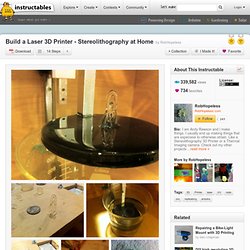 This is a list of the parts I used. General Parts 3 - 16" x 171/2" x 3/4" Plywood for the back and sides of the case 2 - 16" x 16" x 3/4" Plywood for the top and bottom of the case 24 - #6 x 3" wood screws and washers 4 - Rubber Stoppers 1 7/8" x 1 3/4" 4 - 1/4-20 x 2 1/2" Bolts 8 - 1/4-20 Nuts and washers 1 - 4" x 4" x 1/4" Black Acetal sheet (Delrin) 1 - 1 Liter Beaker Linear Rail and Blocks from Automation Overstock 4 - AG Linear Rail 15mm x 200mm 2 - 15mm Bearing Block, 2 Bolt Flange 2 - 15mm Bearing Block, 4 Bolt Flange
unnamed pearl
import bpy import time import serial steps = 0 #steps variable screw = 0 #screw variable (in progress) #variables of each of the four knob dist1 = 1 dist2 = 1 dist3 = 1 dist4 = 1 val = 0 #the value read from the serial port start = True #create a curve object path = bpy. data . curves . new ( 'MyPath' , 'CURVE' ) pathOb = bpy. data . objects . new ( 'Path' , path ) pathOb. location = ( 0 , 0 , 0 )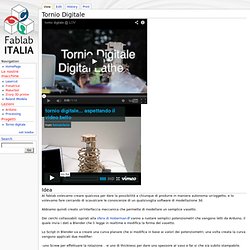 Tornio Digitale — FabLabItalia
In order to understand the preferences of our free software users, PTC utilizes data monitoring technologies to obtain and transmit data on system use and performance and for gathering metrics on users of our free software. We will share this data within PTC, its affiliated companies and our business partners, including within the United States and elsewhere for technical and marketing purposes and will endeavor to ensure that any such data transferred is appropriately protected. Our commercial licenses permit users to opt-out of this data collection. If you are visiting this site or communicating electronically with us from a country other than the United States, various communications will necessarily result in a transfer of information across international boundaries. Accordingly, by visiting this site and communicating electronically with us, including providing information to receive free software, you consent to the transfer of your personal data to the United States.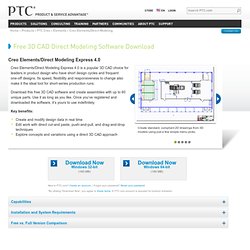 Creo Elements/Direct Modeling Express 4.0
Hi everyone, The eagerly awaited OpenPCR kit is now shipping! UPS picked up the first batch of kits and OpenPCRs are on their way to users in 5 continents and 13 countries around the world. For $512, every OpenPCR kit includes all the parts, tools, and beautiful printed instructions – you ONLY need a set of screwdrivers.
DNA is now DIY: OpenPCR ships worldwide | OpenPCR - Open source, hackable PCR machine
CERN launches Open Hardware initiative – Open Hardware License is here…
Geneva, 7 July 2011. Four months after launching the alpha version, CERN1 has today issued version 1.1 of the Open Hardware Licence (OHL), a legal framework to facilitate knowledge exchange across the electronic design community. In the spirit of knowledge and technology dissemination, the CERN OHL was created to govern the use, copying, modification and distribution of hardware design documentation, and the manufacture and distribution of products. Hardware design documentation includes schematic diagrams, designs, circuit or circuit-board layouts, mechanical drawings, flow charts and descriptive texts, as well as other explanatory material. Version 1.0 of the CERN OHL was published in March 2011 on the Open Hardware Repository (OHR), the creation of electronic designers working in experimental-physics laboratories who felt the need to enable knowledge-exchange across a wide community and in line with the ideals of "open science" being fostered by organizations such as CERN.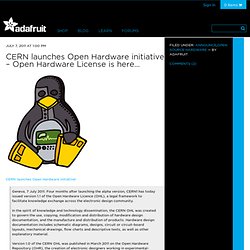 CNC Machines | Sindrian Arts
The 2′x4′ Kikori is out! The MDO parts are available now for just $400 , but hurry; I'm only offering five at that reward level. After that, they'll go up to $500. The reason they aren't cheaper is because only nine pieces actually change between the 4′ version and the 2′ version. However, this also means that the 2′x4′ Kikori gantry has the ability to upgrade itself by making only nine new pieces!
Open Source Architecture (OSArc) - Op-Ed
Brighton Mini Maker Faire | Celebration of Makers in Brighton, 3rd Sept, Dome Foyer
Iris Business Card by clide
InMojo - Make. Share. Live. Open Source Hardware.
Cathal Garvey demonstrating Do-it-Yourself DNA extraction in a tent on Vimeo
As I've gotten more and more into machining, I've found that I often require information about metals and alloys. I've collected a few resources which I've found helpful, and which I'd like to share with you. There are several places where you can find decent metal information — by "information", I don't just mean density or history of human use — I'm referring to information about working with a metal, such as machinability, weldability, heat treatment, and so forth. The standard reference for most alloys used in manufacturing is the Metals Handbook , published by ASM International (formerly the American Society for Metals). This is the Unabridged OED of metal info.
Where to Find Information About Metals and Alloys
The Original Egg-Bot Kit - Evil Mad Science Wiki
This page is the central documentation site for The Original Egg-Bot kit from Evil Mad Scientist . [ edit ] The Original Egg-Bot Kit Main details about the Egg-Bot kit: Announcement article at Evil Mad Scientist Laboratories Product page at Evil Mad Scientist shop egg-bot.com , the official site, featuring the Eggbot FAQ Getting started with Eggbot: Essential documentation Part I: Assembly guide.
Clockwork Variations - MakerBot Industries
Broken gears are a sign of progress I originally called this " Project RoboSpider ," but I've decided " Clockwork Spider " is significantly cooler. Once I had printed the original "RoboSpider" parts , I noticed a few problems. I'm hoping that someone else might be able to make use of the lessons I learn in designing and printing this multi-part mechanism.
Some people may be interested in the lineage of the Mendel parts that I sell. I built HydraRaptor in 2007 as a RepStrap. At first it was a milling machine made from high spec CNC components bought cheaply on eBay. I used it to mill the parts for the RepRap MK2 extruder that Adrian Bowyer designed.
Lineage
Prusa Mendel and the Clonedels
Scientific American: five 3D printers
Here's What A 3D Printed Guitar Sounds Like
Print Your Very Own Open Source Guitar
New video! | FPV, Tricopter | RCExplorer
Small Scale Manufacturing - Practical Resources
Open Source Machine
BFI Challenge & Global Village Construction Set in 2 Minutes
Global Village Construction Set
Have 3D Printing and Mass Customization Reached The Tipping Point?
About « Prometheus Fusion Perfection
RepLab