Food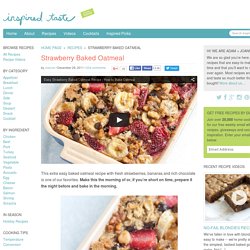 Baked Oatmeal with Strawberries, Banana and Chocolate Recipe
This extra easy baked oatmeal recipe with fresh strawberries, bananas and rich chocolate is one of our favorites Make this in the morning or if you're short on time, prepare it the night before and bake in the morning. Feel free to play with the add-ins to our recipe. We love adding strawberries, banana and chocolate, but add whatever you love. Or, add that odd amount of nuts, raisins or cranberries left in your pantry from another recipe. It's up to you! Easy Baked Oatmeal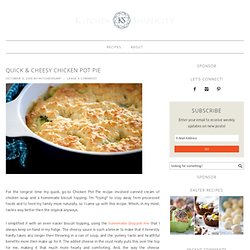 For the longest time my quick, go-to Chicken Pot Pie recipe involved canned cream of chicken soup and a homemade biscuit topping. I'm *trying* to stay away from processed foods and to feed my family more naturally, so I came up with this recipe. Which, in my mind, tastes way better then the original anyways.
Quick & Cheesy Chicken Pot Pie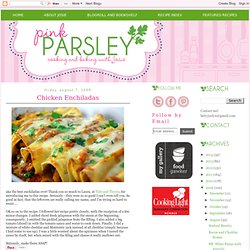 aka the best enchiladas ever! Thank you so much to Laura, at Tide and Thyme, for introducing me to this recipe. Seriously - they were so so good I can't even tell you. So good in fact, that the leftovers are really calling my name, and I'm trying so hard to resist....
Chicken Enchiladas
This is without a doubt my husbands all time favorite dish. I got this recipe from his sister, and made just a few tiny adjustments to it. It is a very mild Mexican dish, and pretty much fail proof. I don't make it often enough though, specially if you ask my hubby.
Enchilada Lasagna | Mogwai Soup
Caramel Apple Cheesecake Bars
I got a little makeover…my blog that is. Thank you to April Showers Design.I'm still tidying up a bit so thank you for your patience. I can't believe it's the end of September and I haven't posted any apple desserts yet. For me, September is all about the apple! I've been making this Paula Deen recipe for a couple of years now and they've always been good but they always needed a little more cheesecake filling in my opinion to match the thick crust and ample streusel topping.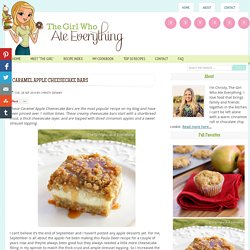 Bulgur with Roasted Red Peppers, Chickpeas, and Spinach
Lately I've been making a thick, cumin and coriander-spiced root vegetable stew. It's a free-wheeling one-pot dinner that attempts to use up whatever winter vegetables I have lingering about, and provides leftovers for a day or two to come. I'm not entirely sure what to call it.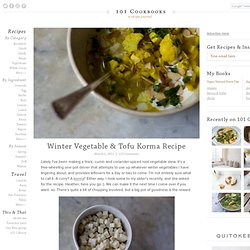 Winter Vegetable & Tofu Korma Recipe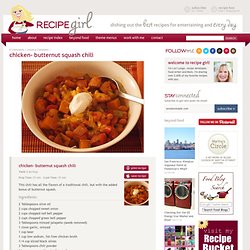 2 Tablespoons olive oil 2 cups chopped sweet onion 2 cups chopped red bell pepper 2 cups chopped green bell pepper 3 Tablespoons minced jalapeño (seeds removed) 1 clove garlic, minced 1 cup beer 1 cup low-sodium, fat-free chicken broth 1/4 cup sliced black olives 3 Tablespoons chili powder 1 teaspoon ground coriander seed 1/2 teaspoon salt 1 (28 ounce) can chopped tomatoes, with juice 1 pound boneless skinless chicken breasts, cut into cubes 2 cups cooked butternut squash, peeled & cubed 2 Tablespoons chopped fresh cilantro 1 Tablespoon cocoa powder 1 (15.75 ounce) can pinto beans, rinsed & drained sliced scallions, cheddar cheese & sour cream, for topping (optional) 1. Heat oil in Dutch oven over medium heat. Sauté onions until lightly browned- about 8 minutes.
Chicken- Butternut Squash Chili
Recipe: Braised Coconut Spinach & Chickpeas with Lemon
But it doesn't stop there. No — this spicy, tangy dish of greens was designed to be served over a sweet potato. Want to see how it looks when all put together? Here you go...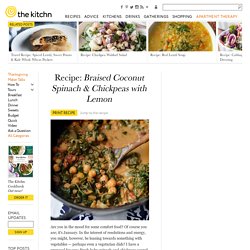 Quick Dinner Recipe: Pumpkin & Ricotta Pasta Casserole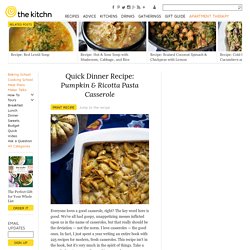 But the real thing I love about casseroles like these is their convenience. I didn't do anything except cook the pasta and mix everything together. A little chopping, a little mincing, and then a quick bake. But this doesn't taste like convenience food — it's delicious, I promise.
This fall has had great weather and beautiful color, I just wish I wasn't so busy that I could have enjoyed it more! However, gone are the long football games, one of my classes, and a lot of the hectic scheduling of marching band. It is smooth sailing to Thanksgiving break! Hopefully now I can catch back up with my blog- I have some great product reviews coming up and tons of recipe ideas I can't wait to try! With the temperatures dipping into the thirties, I have hit that point where getting out of bed is that much harder (I finally caved and turned on my heat.)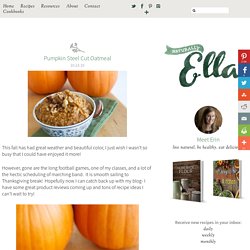 Pumpkin Steel Cut Oatmeal
Pasta with Pumpkin, Sausage, and Cavolo Nero
user reviews made it? RATE IT! by steveftc, 11/19/2013I loved the blend of flavor, and didn't feel a need to add any extra seasoning. I hesitated to make the recipe because I hate peeling winter squash.
A perfect fall chili made with pumpkin puree, ground turkey, white beans, green chili and spices. Top this with chopped fresh cilantro, scallions, jalapeños, light sour cream, and/or reduced fat cheddar and serve it with baked chips on the side for a wonderful lunch or dinner. I am so happy to share this one with you!!! Not all my crock pot experiments get me excited, but when they do they wind up here on Skinnytaste. The pumpkin is not sweet at all, in fact, if you don't mention it, no one would even know it's there but it does add beautiful color to the chili and for picky eaters, a great way to sneak in vegetables. This is pretty mild as far as heat goes, if you want more kick use chipotle chili powder in place of the chili powder and use it according to your taste.
Crock Pot Turkey White Bean Pumpkin Chili
Thai-spiced Pumpkin Soup Recipe
This pumpkin soup recipe is so perfect for this time of year that I can't help sharing it with you. That being said, I've got about 15 minutes of battery left on my laptop (with no power source in sight), so this write-up is going to be quick. The other night after toasting pumpkin seeds the oven was hot so I cut both a small pumpkin and acorn squash in half, slathered them with butter, kissed them with a sprinkling of salt and in they went.
Balsamic Glazed Pumpkin with Walnuts
Is fall around already? But we have just begun to enjoy the lovely summer! The unbearable heat of the summer is hopefully in the past here while we are soaking some truly wonderful weather and also some rain. It feels only like summer until I step into the markets and I can see the slow movement in the shelves.
Does it take a global village to make a pizza? Yes, in the case of this whole wheat pizza with pumpkin, black beans and caramelized onions. The "dough", a piece of whole wheat Indian naan, gets smeared with pumpkin puree (American), sprinkled with black beans (South American), and topped with caramelized onions (French, oui oui) and Italian parmesan or asiago cheese. We added a bit of garlic-and-onion chicken sausage; you could substitute leftover cooked turkey, or omit the meat altogether. The only oil comes with the onions, which you can make days ahead of time. Whole wheat pizza with pumpkin, black beans and caramelized onions
Recipe for whole wheat pizza with pumpkin, black beans and caramelized onions
Sweet and Sour Grilled Pumpkin Recipe
Pumpkin Hummus
Pumpkin Rice Noodles
Pumpkin Shrimp Curry
Pan-Fried Pumpkin Gnocchi with Brown Butter Sage
Dinner Recipe: Barbecue Shredded Chicken from the Oven or Slow Cooker Recipes from The Kitchn
Recipe: Mexican Shredded Chicken
Turkey and Zucchini Green Chili
Quick Chicken Chili
Roast Chicken with Lemon and Rosemary Roast Potatoes
Andrea's Pasta Fagioli Recipe
Bangers and Colcannon with Guinness Onion Gravy
Artisan Bread in Five Minutes a Day
Bread Recipe by thekneadforbread.com
Chocolate Guinness Cake
The Perfect Poach: Recipe
Kitchen Helpers
Food Comparison | TwoFoods
Chicken with Mustard Cream Sauce
Tuscan White Beans with Spinach, Shrimp and Feta
Shrimp with Kale and White Beans
White Bean and Tuna Salad Recipe
Kale with Sausage and White Beans Recipe
Italian Sausage and Cabbage Stew Recipe
Tuscan White Bean Burgers
White Beans and Cabbage
Tuscan Chicken with White Beans and Spinach
Broiled Salmon with a White Bean, Kale & Bacon Ragoût
Turkey Sausage, Kale and White Bean Soup
Tomato Soup with White Beans and Bacon Recipe
White Bean Burgers
Welcome to Eat Live Run