Marketing, Business, Online, Social Media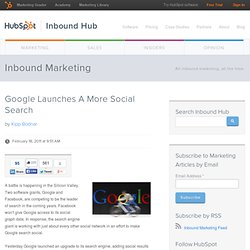 A battle is happening in the Silicon Valley. Two software giants, Google and Facebook, are competing to be the leader of search in the coming years. Facebook won't give Google access to its social graph data. In response, the search engine giant is working with just about every other social network in an effort to make Google search social.
Google Launches A More Social Search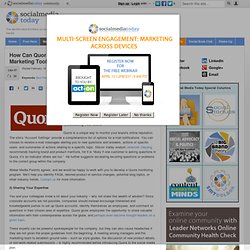 How Can Quora Fit Into Your Social Media Marketing Toolbox?
Now that you know all about Quora and how it works, Weber Media Partners gives you three ways that it can help you and your business manage and build its online reputation. 1) Monitoring Your Brand Quora is a unique way to monitor your brand's online reputation. The site's "Account Settings" provide a comprehensive list of options for e-mail notifications.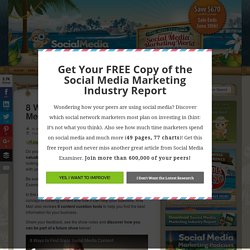 Do you want to know how to find the most valuable social media content? Are you looking for great articles and videos to share with your friends and fans? Be sure to watch this edition of Social Media Examiner TV with our host Mari Smith . In this episode, Mari introduces you to the concept of curating content and how it can help your business. And Mari also reviews 8 content curation tools to help you find the best information for your business.
LinkedIn's Timeless Guide To Small Business Success «
Rob Getzschman , February 16, 2011 We're always looking for creative ways to help our users learn the ins and outs of LinkedIn. Knowing that the average office worker can only watch a screenshot tutorial for a few seconds before the onset of spontaneous narcolepsy, we developed a fun, retro-themed webseries for small and medium business owners with the help of FedEx. We call it " LinkedIn's Timeless Guide To Small Business Success ."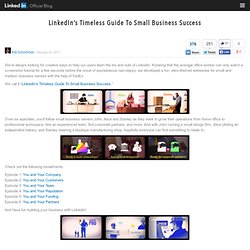 When it comes to Twitter, many consider follower count as the most influential number to make a topic trend but a study by HP shows that's not the case. According to the report by HP , it's not the followers count which sets the 'Trending Topic'. Bernardo Huberman, director of HP Lab's Social Computing Research Group says: We found that mainstream media play a role in most trending topics and actually act as feeders of these trends.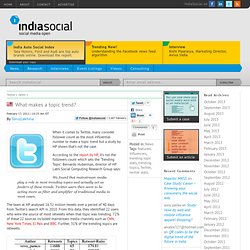 What makes a topic trend? | IndiaSocial – social media open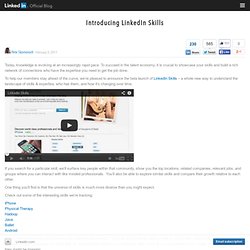 Introducing LinkedIn Skills «
Pete Skomoroch , February 3, 2011 Today, knowledge is evolving at an increasingly rapid pace. To succeed in the talent economy, it is crucial to showcase your skills and build a rich network of connections who have the expertise you need to get the job done.
How to Invite ALL Facebook Friends to a Group, Event or Page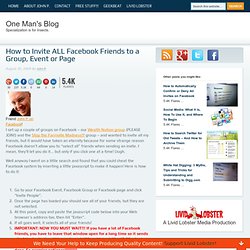 I set up a couple of groups on Facebook – our Wealth Nation group (PLEASE JOIN!) and the Stop the Farmville Madness!!! group – and wanted to invite all my friends, but it would have taken an eternity because for some strange reason Facebook doesn't allow you to "select all" friends when sending an invite. I mean, they'll let you do it… but only if you click one at a time!
Mad Men may depict the ad world of the 1960s, but the lessons of this successful AMC show depicting the Madison Avenue world of 50 years ago still has a lot of relevance in today's digital environment of 2010 and beyond. While Don Draper barely respected the world of the television commercial and certainly couldn't have imagined Wikipedia or Facebook, there is still a lot we can learn — including the mistakes — from the Sterling Cooper team. Apologies but I can't embed most clips that are on YouTube, so check out the links. 7. The Medium is the Message – While a bit anachronistic in the preceding clip, the phrase the medium is the message is even more true over social media.
The Cline Group » Blog Archive » 7 Social Media Marketing Lessons from Mad Men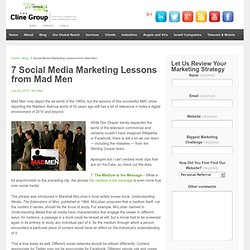 Most people, most of the time, aren't creative, generous or willing to stand up and contribute worthwhile work to the community. At least not the contributions you're hoping for. The myth of wikipedia is that, when given the chance, hordes of people stepped up and built it. In fact, 5,000 people contribute most of the value on the site.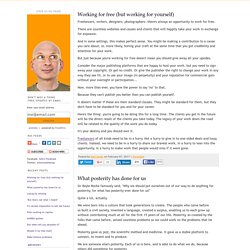 Company names and product names can be a very expensive and time consuming process. It shouldn't be because company names and URLs don't matter . One of the first things you do when starting a company is come up with a name. Most times the name you come up with is already taken for the .com URL. Much angst and frustration follows. Don't sweat it.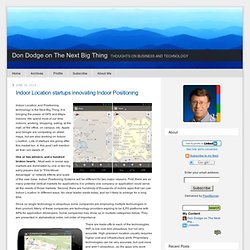 Don Dodge on The Next Big Thing
Which VC invested the most frequently in Silicon Valley Social Networks? Surprise! They're from NY! This is part of my continue industry analysis of the changing digital space (see all posts tagged VC ), but probing which investors are most active –and are bellwethers for finding future growth companies. Ever wonder who's behind the backing of some of the fastest growing technology companies?
The Long Tail
Sun, 08 Nov 2009 00:46:19 " Priced and Unpriced Online Markets " by Harvard Business School professor Benjamin Edelman. Discusses tradeoffs in market such as email, IP addresses, search and dial-up Internet. "Reminiscent of the old adage about losing money on every unit but making it up in volume, online markets challenge norms about who should pay, when, and why." I found this typically academic: dated, dry and pretty unilluminating.
Written by Alex Iskold and edited by Richard MacManus It is no secret that we live in an information overload age. The explosion of new types of information online is a double-edged sword. We both enjoy and drown in news, blogs, podcasts, photos, videos and cool MySpace pages.
Is there any doubt that social media exploded in 2007? The astounding growth of Facebook alone forced everyone – not just marketers, but corporations, investors, academia, and media –to pay attention to social media as a serious business and cultural phenomenon. But the bigger question is how will social media change the way we do business in 2008?
Think Social Influence Marketing in 2008 - Going Social Now
Hulu Discusses Private Beta, Suggests Public Launch Time Frame
Update: Hulu has provided 2,000 more invites for our readers. Get yours here . I had the chance yesterday to sit down with Eric Feng, the CTO of Hulu , to discuss how things have gone during its private beta and where the service is heading in 2008. Here are some of the things I learned: The first line of code was written on August 6th, less than 3 months before Hulu debuted in private beta , and almost five months after the joint venture was first announced . Eric joined Hulu on July 15th, only a few weeks before development began, bringing with him the entire engineering team from Chinese video startup Mojiti (turns out the rumor we reported was correct).
Allan Young's Incoherence: A Latticework of Thought, Action & Jo
Derek Richardson - My Digital Domain Adventures
How fast is Social Media advancing? | Derek Richardson - My Digital Domain Adventures
Deloitte Predictions: the immediate future is… Television.
In Race to Market, It Pays to Be Latecomer