Cartographie
Incredilby Detailed Map Shows Race, Segregation Across America In Beautiful Color (PHOTOS)
Segregation as pointillism? Using data gleaned from the 2010 U.S. Census, Dustin Cable at the University of Virginia's Weldon Cooper Center for Public Service has created what might be the most comprehensive color-coded map of racial segregation in America. Made up of 308,745,538 colored dots representing five major ethnic groups, Cable's map is vivid, highly detailed and oddly beautiful.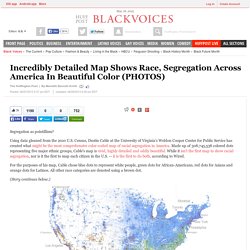 Information graphics in context on Behance
Map Porn
The heatmap shows the places people like, based on the number of panoramio photos at each place in the world. The dark areas have few photos, the red areas have more and the yellow areas have a large number of photos geotagged. The hottest places have markers linking photos, streetview, wikipedia, wikivoyage, foursquare and google plus articles about the site.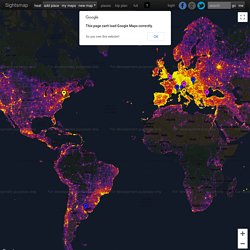 Sightsmap
world subways at scale
World map of Flickr and Twitter locations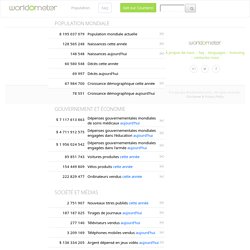 Worldometers
Livres: La population mondiale L'humanité a doublé ses effectifs en 40 ans, passant de 3 à 6 milliards d'habitants mais, alors que la population de nombreux pays pauvres va encore doubler, celle de la plupart des pays d'Europe diminuera dans la prochaine décennie. Cet ouvrage : fait le point sur les situations présentes marquées par de violents contrastes ; analyse les éléments et les mécanismes de la révolution démographique qui bouleverse la planète depuis deux siècles ; examine les principaux défis que pose la démographie aux sociétés d'aujourd'hui. Comment les riches détruisent la planète Nous sommes à un moment de l'histoire qui pose un défi radicalement nouveau à l'espèce humaine : pour la première fois, son prodigieux dynamisme se heurte aux limites de la biosphère et met en danger son avenir. Vivre ce moment signifie que nous devons trouver collectivement les moyens d'orienter différemment cette énergie humaine et cette volonté de progrès.
Transparency: The Most Dangerous Cities for Walking - Transparency - GOOD
TNS Digital Life | Internet Statistics & Social Media Usage | Online Behavior & Trends
Click here to go to the latest Digital Life website, The largest global study into people's attitudes and behaviours online. Click here to watch our new animation about the 6 Digital Lifestyles. Do you have a question about Digital Life?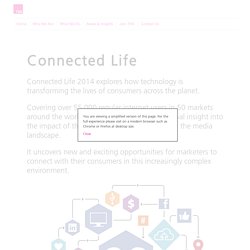 Nearly every day over the past year we've brought you our Infographic of the Day--the best designed, most interesting chart out there (that we saw!), chosen from a brimming sea of thousands. And among the hundreds that have made the cut, several have stood out.
13 of the Year's Best Infographics [Slideshow] | Co.Design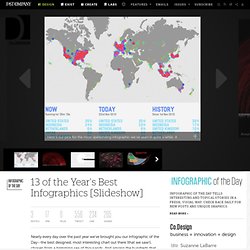 Information Is Beautiful | Ideas, issues, knowledge, data - visualized!
Worldmapper: The world as you've never seen it before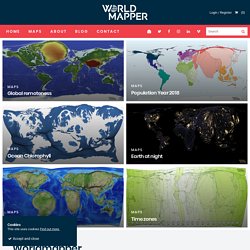 Worldmapper is a collection of world maps, where territories are re-sized on each map according to the subject of interest. There are now nearly 700 maps. Maps 1-366 are also available as PDF posters. Use the menu above to find a map of interest. In 2009 we added a series of maps of the world's population using a gridded cartogram approach: Worldmapper Population Atlas If you are interested in more background on map projections, read the short introductions about Worldmapper and map projections and gridded cartograms as a map projection. Find out more about the world's population in a new interactive map feature and our gridded country cartogram series:
A visual exploration on mapping complex networks
The Geotaggers' World Atlas : un album
Race and ethnicity - a set on Flickr