Wordpress %%µ!**]=)
Afin que vous puissiez découvrir les avantages de wordpress;
sous les amandiers fleurissent les mondes en sourdine! Feb 9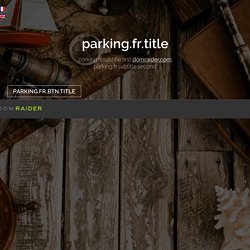 A propos de 4X Plus de 30.000 noms de domaines .FR ne sont pas renouvelés par leur titulaire et redeviennent disponibles chaque mois. Nous listons et qualifions ces domaines jusqu'à 1 mois avant leur libération. Les plus pertinents étant repris en une fraction de seconde, nous sommes spécialisés dans leur récupération, également appelée "Backorder", "Snap" ou "Drop-catching".
Tout savoir sur la gestion des miniatures (thumbnails) avec WordPress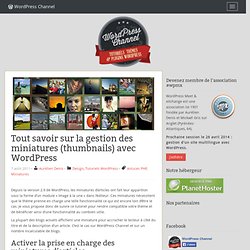 Depuis la version 2.9 de WordPress, les miniatures d'articles ont fait leur apparition sous la forme d'un module « Image à la une » dans l'éditeur. Ces miniatures nécessitent que le thème prenne en charge une telle fonctionnalité ce qui est encore loin d'être le cas. Je vous propose donc de suivre ce tutoriel pour rendre compatible votre thème et de bénéficier ainsi d'une fonctionnalité au combien utile. La plupart des blogs actuels affichent une miniature pour accrocher le lecteur à côté du titre et de la description d'un article. C'est le cas sur WordPress Channel et sur un nombre incalculable de blogs.
In this article, you will be given a detailed explanation of WordPress' shortcode API and learn how to create a shortcode... the right way. You will then be shown some useful examples of more advanced shortcodes and how to code your own custom variations! Ready to add a new skill to your bag of tricks?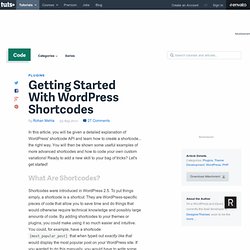 Getting Started With WordPress Shortcodes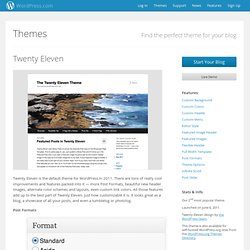 Twenty Eleven is the default theme for WordPress in 2011. There are tons of really cool improvements and features packed into it — more Post Formats, beautiful new header images, alternate color schemes and layouts, even custom link colors. All those features add up to the best part of Twenty Eleven: just how customizable it is. It looks great as a blog, a showcase of all your posts, and even a tumblelog or photolog. Post Formats Twenty Eleven features seven Post Formats that help the look of your blog posts better match what you're publishing.
Twenty Eleven Theme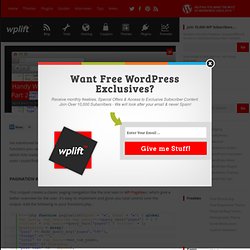 Handy WordPress Code Snippets for Your Themes Part 2
Ive mentioned before abuot the importance of having an army of useful code snippets and functions you can use when coding your WordPress themes, I found this really cool website which lists loads of them so check it out. Today's post is a roundup of some of the most handy ones I could find. Pagination without a Plugin
Displaying Recent posts often helps your users to visit them easily specially on the sidebar of a single post page. But in some designing processes people want to display recent posts in many different ways. In this post, we will show you various different ways you can display the recent posts in WordPress. Displaying Recent Posts in a List Format The list format is mostly used in sidebars of WordPress pages. You can display the recent posts by simply pasting the following code in a template file of your choosing for example sidebar.php: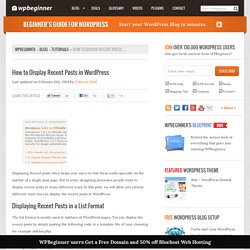 How to Display Recent Posts in WordPress
In this article we have collected 45 fresh WordPress tutorials and techniques, with some hacks, guides and best practices thrown in for good measure. Everyone, not just developers, should take something from this round-up. The growth and popularity of WordPress continues to spiral to a seemingly endless end.
45+ Fresh Wordpress Tutorials, Techniques and Hacks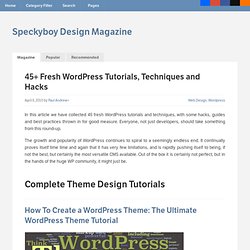 11th January, 2010 Tom Kenny Tutorials Any good website owner knows that they need to be constantly looking at ways to improve their site even through small little tweaks. If you're using WordPress you'll notice that it isn't easy to create a development version without creating a separate installation. Of course, you can make changes directly on a live WordPress site but that isn't recommended for anything other than minor tweaks. With the help of an excellent plugin for WordPress called Theme switch and preview, this tutorial will allow you to easily switch between the live site and development versions using two different themes on the same installation of WordPress.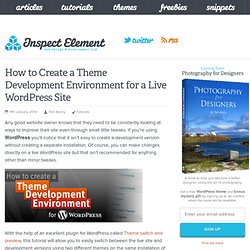 How to Create a Theme Development Environment for a Live WordPress Site – Inspect Element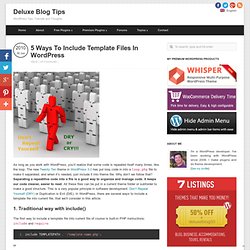 5 Ways To Include Template Files In WordPress
As long as you work with WordPress, you'll realize that some code is repeated itself many times, like the loop. The new Twenty Ten theme in WordPress 3.0 has put loop code in into a loop.php file to make it separated, and when it's needed, just include it into theme file. Why don't we follow that?
10 Exceptional WordPress Hacks
Advertisement One of the reasons people love WordPress so much is its great flexibility. You can change the software's appearance with themes. You can enhance its functionality with plug-ins. And, last but not least, you can totally unleash WordPress' power with hacks. Some time ago, we wrote a post showing 10 Killer WordPress Hacks1.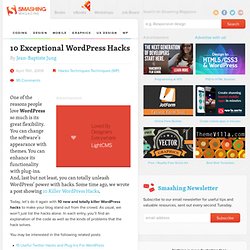 WordPress.org Ready to get started?Download WordPress
Advertisement The loop is a very important aspect of WordPress blogs. In fact, the loop is what allows you to get posts from your WordPress database and print them on the screen.
10 Useful WordPress Loop Hacks
At the heart of the WordPress theme template is the venerable WordPress loop. When you're looking at your index.php file, for example, the loop is the part that typically begins with if(have_posts()) and contains all the tags and markup used to generate the page. The default loop works perfectly well for most single-loop themes, but for more advanced designs with stuff like multiple and custom loops, more looping power is needed. Fortunately, WordPress provides plenty of flexibility with four ways to loop:
Function Reference/query posts Languages: English • Italiano • 日本語 • 中文(简体) • Português do Brasil • (Add your language) Description Note: This function isn't meant to be used by plugins or themes. As explained later, there are better, more performant options to alter the main query. query_posts() is overly simplistic and problematic way to modify main query of a page by replacing it with new instance of the query.
The Loop in Action
Super Loop: Exclude Specific Categories and Display any Number of Posts
Jetpack by WordPress.com
The Welcomizer
125 High Quality Free WordPress Themes Of All Time
Comment utiliser les « shortcodes » de WordPress | Themes et Extensions WordPress - LabWP.com ;)
Shortcodes Ultimate
» WordPress 2.5 Shortcodes » BlueDog
10 Awesome Shortcodes For Your WordPress Blog