Wordpress %%µ!**]=)
Afin que vous puissiez découvrir les avantages de wordpress;
sous les amandiers fleurissent les mondes en sourdine! Feb 9
Tout savoir sur la gestion des miniatures (thumbnails) avec WordPress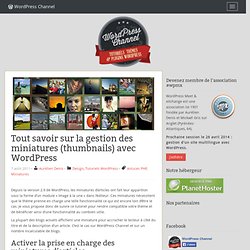 Depuis la version 2.9 de WordPress, les miniatures d'articles ont fait leur apparition sous la forme d'un module « Image à la une » dans l'éditeur.
In this article, you will be given a detailed explanation of WordPress' shortcode API and learn how to create a shortcode… the right way. You will then be shown some useful examples of more advanced shortcodes and how to code your own custom variations! Ready to add a new skill to your bag of tricks?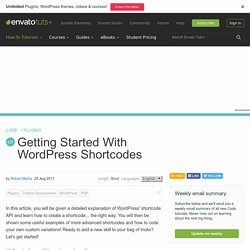 Getting Started With WordPress Shortcodes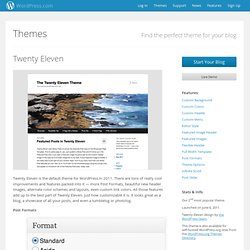 Twenty Eleven is the default theme for WordPress in 2011. There are tons of really cool improvements and features packed into it — more Post Formats, beautiful new header images, alternate color schemes and layouts, even custom link colors.
Twenty Eleven Theme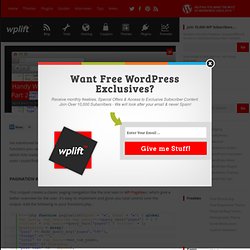 Handy WordPress Code Snippets for Your Themes Part 2
Ive mentioned before abuot the importance of having an army of useful code snippets and functions you can use when coding your WordPress themes, I found this really cool website which lists loads of them so check it out. Today's post is a roundup of some of the most handy ones I could find. Pagination without a Plugin
Displaying Recent posts often helps your users to visit them easily specially on the sidebar of a single post page. But in some designing processes people want to display recent posts in many different ways.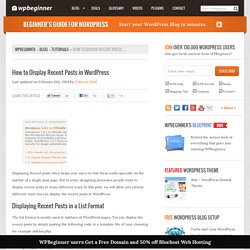 How to Display Recent Posts in WordPress
In this article we have collected 45 fresh WordPress tutorials and techniques, with some hacks, guides and best practices thrown in for good measure. Everyone, not just developers, should take something from this round-up. The growth and popularity of WordPress continues to spiral to a seemingly endless end.
45+ Fresh Wordpress Tutorials, Techniques and Hacks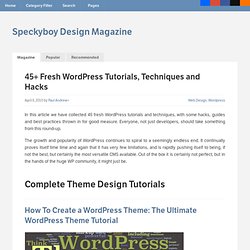 11th January, 2010 Tom Kenny Tutorials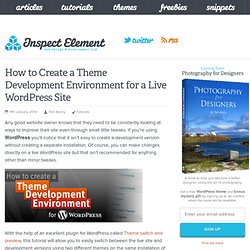 How to Create a Theme Development Environment for a Live WordPress Site – Inspect Element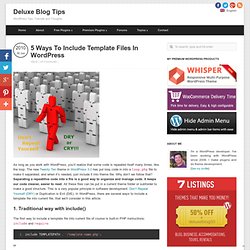 5 Ways To Include Template Files In WordPress
As long as you work with WordPress, you'll realize that some code is repeated itself many times, like the loop. The new Twenty Ten theme in WordPress 3.0 has put loop code in into a loop.php file to make it separated, and when it's needed, just include it into theme file. Why don't we follow that?
10 Exceptional WordPress Hacks
Advertisement One of the reasons people love WordPress so much is its great flexibility. You can change the software's appearance with themes.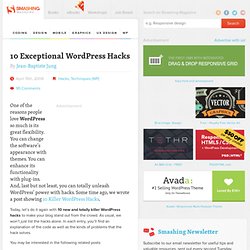 The loop is a very important aspect of WordPress blogs. In fact, the loop is what allows you to get posts from your WordPress database and print them on the screen.
At the heart of the WordPress theme template is the venerable WordPress loop.
Function Reference/query posts
The Loop in Action
The Loop in Action
Super Loop: Exclude Specific Categories and Display any Number of Posts
Readers occasionally ask for help with their WordPress loops.
Avant de se concentrer sur l'aspect technique de WordPress, il est indispensable d'avoir quelques notions théoriques sur le référencement. Aussi, pour les non-initiés, je vous suggère de lire ce Guide SEO – bien référencer son site. Vous pouvez également lire un ou plusieurs livres parmi cette liste de livres blancs.
Jetpack by WordPress.com
The Welcomizer
125 High Quality Free WordPress Themes Of All Time
Comment utiliser les « shortcodes » de WordPress | Themes et Extensions WordPress - LabWP.com ;)
Shortcodes Ultimate
» WordPress 2.5 Shortcodes » BlueDog
10 Awesome Shortcodes For Your WordPress Blog