My Writing
My problem is that I start working on a project, finish chapter one, and decide I'm not happy with it.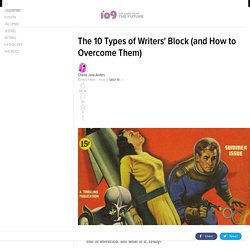 Ernest Hemingway and the highs and lows of Paris | Books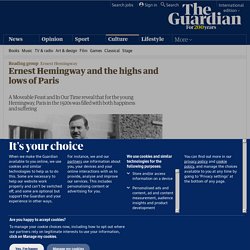 Living in a writer's paradise ... Ernest Hemingway in Paris circa 1928. Photograph: Archivo Castillo Puche/EFE/Corbis Woody Allen's Midnight In Paris is, in most regards, a slight film. It's fun, but it's sentimental, schlocky and as subtle as H-bombs.
i Rate This M Pax watching other worlds Mary has been an amazing blog-friend, always easy-going and supportive, and I'm happy to announce that her long-awaited book, The Backworlds , is here!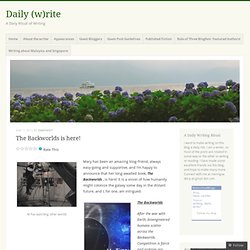 The Backworlds is here! | Daily (w)rite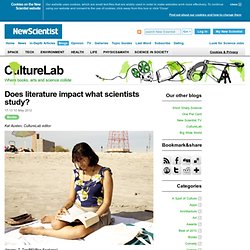 CultureLab: Does literature impact what scientists study?
Kat Austen, CultureLab editor (Image: T. Tan/BEI/Rex Features) How does art inspire science? It may seem a difficult question to answer with any empirical evidence, but in a new research project Scottish scientists aim to do just that.
I recently raved about Alan Sepinwall's The Revolution was Televised here at the EWN, and after reading some more from his website , asked if he'd be willing to answer a few questions. He was kind enough to say yes and do so. Dan : I know you spent some time re-watching episodes (or maybe even entire series) as you wrote the various chapters of this book--did any of the shows seem maybe a little more dated than the others? Are there some within the group you wrote about that you feel have very little chance of ever feeling dated?
Emerging Writers Network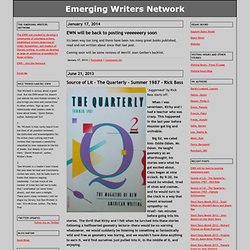 7 Bad Habits of Successful Authors
Posted on May 15th, 2012 | 127 comments One of my favorite blogs is Copyblogger . I've recommended it before and once again I'm suggesting you take a look if you enjoy reading about ways to have a successful website.
Subscribe · LRB
136, Ken Kesey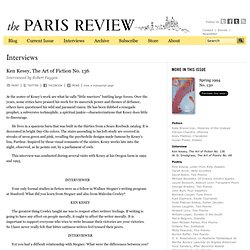 At the center of Kesey's work are what he calls "little warriors" battling large forces. Over the years, some critics have praised his work for its maverick power and themes of defiance; others have questioned his wild and paranoid vision. He has been dubbed a renegade prophet, a subversive technophile, a spiritual junkie—characterizations that Kesey does little to discourage.
For over four decades, the Writer's Chronicle has served as a leading source of articles, news, and information for writers, editors, students, and teachers of writing. Published six times a year, the Chronicle provides diverse insights into the art of writing that are accessible, pragmatic, and idealistic. Each issue features in-depth essays on the craft of writing, as well as extensive interviews with accomplished authors. Readers can also find news on publishing trends and literary controversies; a listing of grants, awards, and publication opportunities available to writers; and a list of upcoming conferences for writers, including AWP's Annual Conference & Bookfair . Our pages are for those who love reading and writing.
AWP- Chronicle Subscriptions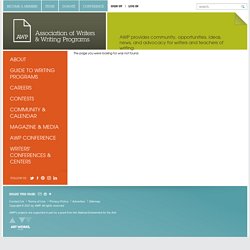 Learn How to Write a Synopsis, Quick & Easy Format Tips & Examples
Once you have finished writing your novel or book, it's time to prepare your work for the submission process. While each literary agent has their own specific guidelines, it's useful to know how to write a synopsis. Presented by Jane Friedman, publisher and editorial director for Writer's Digest, this OnDemand Webinar, The Dreaded Synopsis , takes you through the steps of writing a synopsis, gives helpful tips on what to include, and synopsis examples. 5 Tips on How to Write a Synopsis Before sending your book proposal out to potential literary agents, here are some suggested elements you should include while writing a synopsis: Narrative Arc .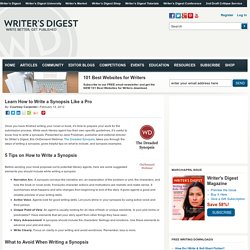 Welcome to YouTube! The location filter shows you popular videos from the selected country or region on lists like Most Viewed and in search results.To change your location filter, please use the links in the footer at the bottom of the page. Click "OK" to accept this setting, or click "Cancel" to set your location filter to "Worldwide".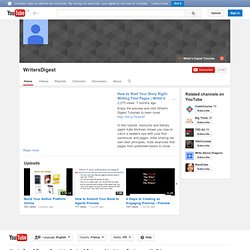 WritersDigest
Log In - The New York Times
Sentences, Volume II by Chris Belden
NOTE: SINCE WE HAVE REACHED (AND EXCEEDED) OUR GOAL OF $600, WE ASK THAT NO MORE DONATIONS BE MADE TO THE PROJECT . If you are excited by the idea of financially supporting the publication of inmate work, please watch for our next Kickstarter project, which will be for the funding of SENTENCES, VOLUME 3 ! Since 2009, Chris Belden has taught a creative writing workshop at Garner Correctional Institution, a maximum security men's prison in Newtown, CT. Last year saw the publication of SENTENCES, VOLUME I: Prose & Poetry by the Inmates of Garner C.I. Now comes VOLUME II , featuring all-new poems, stories & essays. Here are a few haiku:
Hollywonk
Goal-setting research on fantasising, visualisation, goal commitment, procrastination, the dark side of goal-setting and more... We're all familiar with the nuts and bolts of goal-setting. We should set specific, challenging goals, use rewards, record progress and make public commitments (if you're not familiar with these then check out this article on how to reach life goals ).
by Leonard A. Schlesinger, Charles F. Kiefer, and Paul B.
10 Secrets to Creating Unforgettable Supporting Characters
Online Writing Communities
@ brentbent)dense as a neutron star and bright as a super nova( : Crap, that's why I don't like this comment system. This thread has split in two, and now I don't know which one you are replying to. Anyway, I am saying that people that do not write scientifically accurate do so because they are not creative enough.
Science fiction is getting seriously strange
Images as Writing Prompts
Baf's Guide to the Interactive Fiction Archive