iPods/iPads
Tweets from this session are tagged #inhand In project-based learning, students work over an extended period of time answering a driving question.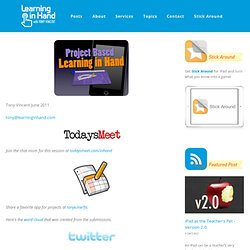 Project Based Learning in Hand - ISTE 2011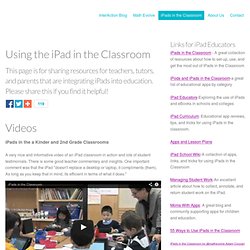 I found this great video over at iPads in Education , and I really love how well it shows the uses of iPads (or tablet computers) in the classroom. You can get some great tips about how to actually utilize the devices in your lessons. Watch how this teacher uses the iPads for so many different subject areas and classroom tasks. He uses the iPad for projects, class communication, collecting work, student exploration, and play. The kids are clearly engaged and empowered by their iPads, and it seems to make this classroom a fun and enriching place for these students.
The Invisible Computer Lab
This talk explores when to start performance testing, how to avoid the common pitfalls, how to profile when the results cause your team to pull a funny face, and what you can do about that funny face. This talk investigate WebSocket and how trading systems can be designed to leverage this new web protocol for reliability,security and performance for desktop,mobile,datacenter and cloud environments. Frank Greco Mar 29, 2013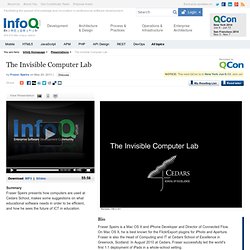 iPad - Lisa Johnson: ITS
iPad Pilot Report 2011 v3.pdf - Powered by Google Docs
iPads/iPods in the Classroom
As teachers one of the most important aspects of our day is the way that we present information. It does not really matter what our pedagogical philosophy is, at one point or another during the day we all need to present. If we are going to use the iPad in our classroom shouldn't we be modelling to our students the appropriate apps or presentation tools. We have earmarked 15 Presentation Apps for the iPad that coupled with a VGA adaptor will allow you to present with ease and elegance.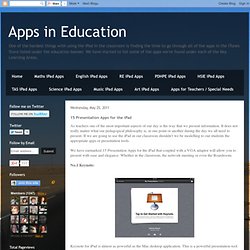 _ipad_report.pdf (application/pdf Object)
Faculty_iPad_Reports_April2011.pdf (application/pdf Object)
iPad Pilots in Higher Education - iPad Pilots
Links and Resources - iPad pilot program @ Oberlin College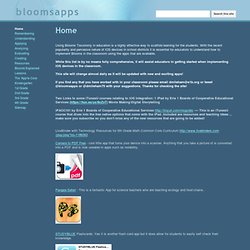 Using Blooms Taxonomy in education is a highly effective way to scaffold learning for the students. With the recent popularity and pervasive nature of iOS devices in school districts it is essential for educators to understand how to implement Blooms in the classroom using the apps that are available. While this list is by no means fully comprehensive, it will assist educators in getting started when implementing iOS devices in the classroom. This site will change almost daily as it will be updated with new and exciting apps! If you find any that you have worked with in your classroom please email dmileham@e1b.org or tweet @bloomsapps or @dmileham75 with your suggestions.
bloomsapps
iPad4Edu
Welcome to the 'iPad in Education' web site - concerned with using Apple's iPad for learning and teaching. Although this is based in the UK, the site's content will reflect practice from other counties and contexts in order to explore and learn from a wide field. I am Ian Wilson, a freelance Apple Professional Development Authorised Trainer based in the north west of England (Twitter: @Ian__Wilson ). I have set up this site as I believe the iPad signals the opportunity for a transformation in how technology is used in schools, colleges and universities. I am interested in looking at all age ranges, all abilities across all areas of the curriculum and keen to see if the iPad makes technology more transparent and cross-curricular as it should be. Of course at this stage, we don't know the true extent of the impact of the iPad on teaching and learning as it is too early to say.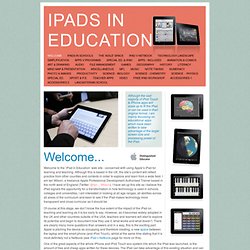 Apple CESA1 iOS Presentation
Camilla Gagliolo @cgagliolo gaglioloc@mac.com Apple Distinguished Educator, Class of 2007 Instructional Technology Coordinator Arlington Public Schools ISTE Board Member @skibtech skibbaca@mac.com