iPods/iPads
Project Based Learning in Hand - ISTE 2011. Tweets from this session are tagged #inhand In project-based learning, students work over an extended period of time answering a driving question.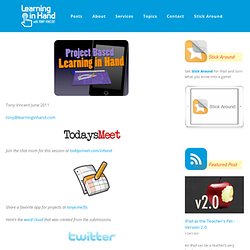 The question is so deep that it requires students to create a project to share their findings with others. Process for learning through projects: QuestionInvestigateShare Video summary of Project Based Learning in Hand.
Tips/Tricks. Using iPads in Education: Resources for teachers using iPads in the classroom. I found this great video over at iPads in Education, and I really love how well it shows the uses of iPads (or tablet computers) in the classroom.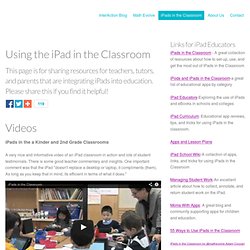 You can get some great tips about how to actually utilize the devices in your lessons. Watch how this teacher uses the iPads for so many different subject areas and classroom tasks. He uses the iPad for projects, class communication, collecting work, student exploration, and play. The kids are clearly engaged and empowered by their iPads, and it seems to make this classroom a fun and enriching place for these students.
The Invisible Computer Lab. Bio Fraser Speirs is a Mac OS X and iPhone Developer and Director of Connected Flow.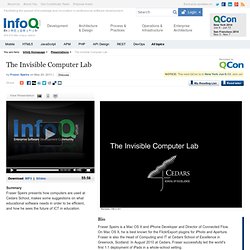 On Mac OS X, he is best known for the FlickrExport plugins for iPhoto and Aperture. iPad - Lisa Johnson: ITS. iPads in the Classroom. iPad Pilot Report 2011 v3.pdf - Powered by Google Docs. iPads/iPods in the Classroom.
The Teacher's Tools: Presentation Apps for the iPad. As teachers one of the most important aspects of our day is the way that we present information.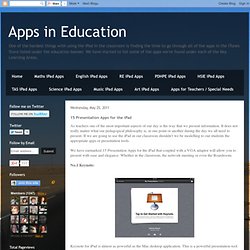 It does not really matter what our pedagogical philosophy is, at one point or another during the day we all need to present. If we are going to use the iPad in our classroom shouldn't we be modelling to our students the appropriate apps or presentation tools. We have earmarked 15 Presentation Apps for the iPad that coupled with a VGA adaptor will allow you to present with ease and elegance. _ipad_report.pdf (application/pdf Object) Faculty_iPad_Reports_April2011.pdf (application/pdf Object)
iPad Pilots in Higher Education - iPad Pilots. Bloomsapps. Using Blooms Taxonomy in education is a highly effective way to scaffold learning for the students.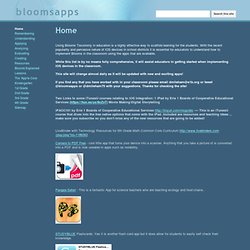 With the recent popularity and pervasive nature of iOS devices in school districts it is essential for educators to understand how to implement Blooms in the classroom using the apps that are available. While this list is by no means fully comprehensive, it will assist educators in getting started when implementing iOS devices in the classroom. This site will change almost daily as it will be updated with new and exciting apps! If you find any that you have worked with in your classroom please email dmileham@e1b.org or tweet @bloomsapps or @dmileham75 with your suggestions. iPad/iPod. iPad4Edu. iPads in Education. 55 Interesting Ways* to use an iPad in the Classroom. Mlearning.
Apple CESA1 iOS Presentation. iPads in Schools. Internet Catalogue. ISTE iPad in Education Webinar.
---