Gephi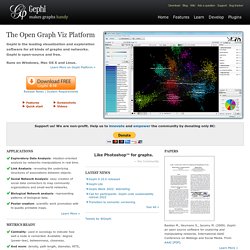 Applications Exploratory Data Analysis: intuition-oriented analysis by networks manipulations in real time. Link Analysis: revealing the underlying structures of associations between objects, in particular in scale-free networks. Social Network Analysis: easy creation of social data connectors to map community organizations and small-world networks. Biological Network analysis: representing patterns of biological data.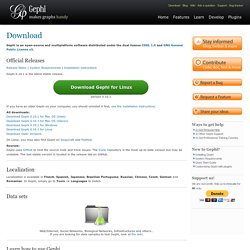 Gephi is an open-source and multiplatform software distributed under the dual license CDDL 1.0 and GNU General Public License v3. Official Releases Release Notes | System Requirements | Installation instructions Gephi 0.8.2-beta is the latest stable release.
(all releases)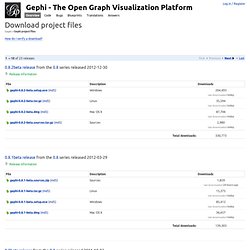 New features ---------------- * New Data Laboratory (Manipulate columns, Search/Replace, Merge, Sparklines...) * Longitudinal network visualization, topology changing over time, as well as attributes * Timeline is now working properly, appears automatically when the graph is dynamic, single button to enable filtering * Show/Hide labels from filters - can be reset by the 'Reset Visible' action (left of graph window) * Display edge weight as labels on visualization * New StAX GEXF importer and exporter, with hierarchy and dynamic support * New List/Arrays attribute types.
The Gephi Plugins Center has moved for the better! Your have landed on an old version, sorry for that. Please click here to access the new Plugins Center.
Plugins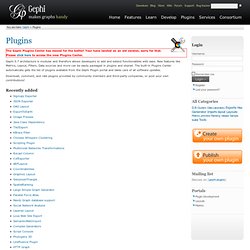 For developers only. If you're looking for Gephi, click on Learn. The Gephi Development Center is a repository of code, collection of builds, and a library of API references all designed to help you extend Gephi's functionalities and build new cool applications upon Gephi Platform. New to Gephi Development? Start here if you are new to Gephi Development.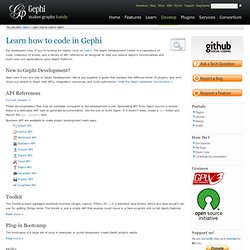 Developers