Web design & programming
Pricing. How many instances do I need?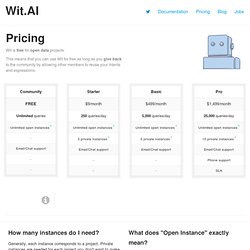 Generally, each instance corresponds to a project. Private instances are needed for each project you don't want to make open and publicly available. Automating Layouts Bring Flipboard's Magazine Style To Web And Windows. Good layout design frames a story and impacts how you are informed by the content.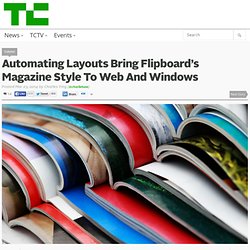 For example, in the hallways of Sports Illustrated, editors hang up every page of the print edition to be reviewed and manually tweaked before publication. When you read Flipboard, articles and photographs are laid out in a series of pages you can flip through, just like in a print magazine. Each magazine page layout feels hand-crafted and beautiful — as if editors and designers created it just for you. How To Build Habits In A Multi-Device World. Editor's Note: This excerpt is authored by Nir Eyal and appears in Michal Levin's new book, Designing Multi-Device Experiences.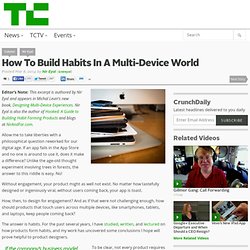 Nir Eyal is also the author of Hooked: A Guide to Building Habit Forming Products and blogs at NirAndFar.com. Allow me to take liberties with a philosophical question reworked for our digital age. If an app fails in the App Store and no one is around to use it, does it make a difference? Unlike the age-old thought experiment involving trees in forests, the answer to this riddle is easy.
Walkaround - Wave on App Engine. Walkaround is a variant of Wave, based on the Apache Wave code base, that runs on App Engine.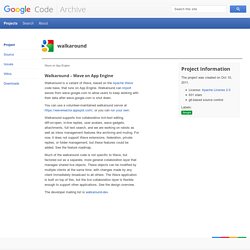 Walkaround can import waves from wave.google.com to allow users to keep working with their data after wave.google.com is shut down. You can use a volunteer-maintained walkaround server at or you can run your own. Walkaround supports live collaborative rich-text editing, diff-on-open, in-line replies, user avatars, wave gadgets, attachments, full text search, and we are working on robots as well as inbox management features like archiving and muting.
For now, it does not support Wave extensions, federation, private replies, or folder management, but these features could be added. See the feature roadmap.
Realtime.co - from world wide web to Realtime Web! Real-time website data for front-line action takers. Icon Search Engine | Iconfinder. Silk Icons. "Silk" is a smooth, free icon set, containing over 700 16-by-16 pixel icons in strokably-soft PNG format.
Containing a large variety of icons, you're sure to find something that tickles your fancy. And all for a low low price of $0.00. You can't say fairer than that. Current version: 1.3. Webfonts.info. Web Fonts. Typekit. Cloud Computing for dummies. Cloud Computing.
Cloud Playground. Social Media.
Website creation. Insoshi's insoshi at master - GitHub. Best Open Source Resources for Web Developers | WebAppers. Web Toolkit - Google Code. GWT (pronounced 'gwit') is the official open source project for GWT releases 2.5 and onwards.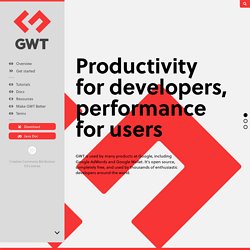 This site houses links to the documentation, source code repository, issues list and information related to GWT roadmap and release. It is intended for developers interested in contributing to GWT, and for keeping people informed on new and upcoming changes to GWT, GWT related events and other news. Test everything — 100+ tools in one! Buildor / Pro. Technical Overview - Native Client. Native Client (NaCl) is an open-source technology for running native compiled code in the browser, with the goal of maintaining the portability and safety that users expect from web applications.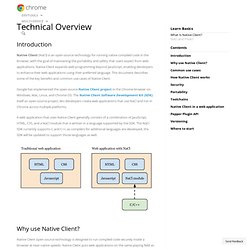 Native Client expands web programming beyond JavaScript, enabling developers to enhance their web applications using their preferred language. This document describes some of the key benefits and common use cases of Native Client. Google has implemented the open-source Native Client project in the Chrome browser on Windows, Mac, Linux, and Chrome OS.
The Native Client Software Development Kit (SDK), itself an open-source project, lets developers create web applications that use NaCl and run in Chrome across multiple platforms. A web application that uses Native Client generally consists of a combination of JavaScript, HTML, CSS, and a NaCl module that is written in a language supported by the SDK. Balsamiq. MyBalsamiq. Versioning Revision history lets you view the decision making process with each iteration and review.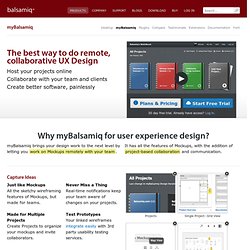 Discussion Groups Every project is also an email list, so you can communicate on and off-site. Skype Integration If your team is on Skype, call them up, or start individual or group chats right from the Project Members Menu. Clients & Contractors Create an extranet and invite staff, contractors, and clients to view and collaborate on projects. Access Control Simple access controls to create private projects, or open them up to guests. Plans for Every Size Org Start with a Personal plan or work your way up to an unlimited Enterprise site. Website Tools. Habitat - Scalable digital publishing for professionals. Webmaster Academy - Webmaster Tools Help. Thinking about creating a website?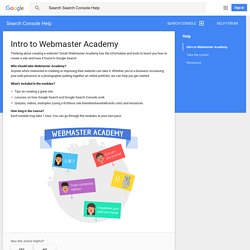 Great! Webmaster Academy has the information and tools to teach you how to create a site and have it found in Google Search. Who should take Webmaster Academy? Anyone who's interested in creating or improving their website can take it. Whether you're a business increasing your web presence or a photographer putting together an online portfolio, we can help you get started. Carriots | Home. Database. Web2.0. The Linking Open Data cloud diagram.
Search. Principles & techniques. Visual Thinking. Data Mining: Text Mining, Visualization and Social Media. Information is Beautiful is a thought provoking labour of love by one of the first true data journalists, David McCandless.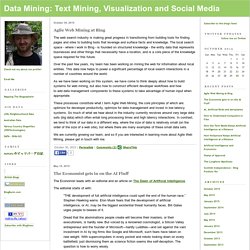 It is a simply structured collection of graphical interpretations of a variety of interesting statistics, factoids and opinions. It is compelling in its ability to provoke exclamations of surprise at the relationships between facts (e.g. the financial crisis costing us almost four times more than the expected total cost of the west's adventurism in Iraq and Afghanistan) as well as generating respect for the creativity and design that has gone in to presenting the information. That being said, the book also illustrates the very tricky position of a data journalist (or whatever we eventually call those individuals who render 'information' visually). Visualization of data in the form of graphics and the expression of facts, opinions, processes, etc. in the form of information visualizations is, essentially, a new language.
Vizualization. Many Eyes. Try out the newest version of IBM Many Eyes! New site design and layout Find visualization by category and industry New visualization expertise and thought leadership section Expertise on the Expert Eyes blog Learn best practices to create beautiful, effective visualizations New, innovative visualizations from the visualizations experts of IBM Research New visualization options.
All The Cheat Sheets An Up To Date Web Designer Needs: CSS3, HTML5 and jQuery. When it comes to CSS, HTML or jQuery codes, you just can't know them all. It's pretty hard but with the help of these cheat sheet you can manage to get pretty close to knowing them all, considering that you have everything in from of you and it is easy to search. It is possible that a few of these cheat sheets have small differences between them but I still gathered them cause you might find easier to follow one of them and you need to have where to choose from.
I don't believe there's any surprise that when it comes to CSS and HTML, the cheat sheets presented here are about CSS3 and HTML5. It is normal to show the new ones instead of the old that you are already familiar with. CSS3 Cheat Sheet (PDF) The Sun is Setting on Rails-style MVC Frameworks « caines.ca/blog. This post is also available in Serbo-Croatian thanks to Jovana Milutinovich from Webhostinggeeks.com Lately I've been thinking a lot about the impact of the move to a thick client architecture for web applications, and I'm becoming more and more certain that this means that Rails-style MVC frameworks on the server-side are going to end up being phased out in favour of leaner and meaner frameworks that better address the new needs of thick-client architecture.
There are a few major reasons for this: The server is no place for view logic. How I Designed CodeYear.com in 1 Hour. Code Year is a great initiative by the folks behind Codecademy. The concept is simple: sign up to Code Year, and each week you'll receive a new coding exercise. By the end of the year, you'll be well on your way to becoming a coder. Did you know Codecademy is hiring designers and developers right now? Take a look if you want to join a great startup! IntenseDebate comments enhance and encourage conversation on your blog or website. Introducing Brafton's Infographic: Why content for SEO?
The Java™ Tutorials. Learn REST: A Tutorial. Webstuffshare – Learn and share. The simplest harmony. The Missing Native/Web App Link: Google Says Native Client Almost Ready To Go. Getting Started with Responsive Web Design - A Dummies Guide.
Open Web Design - Download Free Web Design Templates. EPUB.
HTML. CSS. JavaScript. Semantic Web. Graphs. Graph. Web tools/APIs.
---