Search
Andrea Demo | Wurl. Andrea is a free, open-­source web app.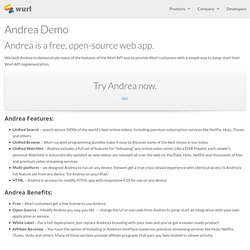 We built Andrea to demon­strate many of the features of the Wurl API and to provide Wurl customers with a simple way to jump-­start their Wurl API implementation. Andrea Features: Unified Search – search across 1000s of the world's best online videos. Including premium subscription services like Netflix, Hulu, iTunes and others. AuthorRank could be bigger than all Panda updates combined. AuthorRank could be more disruptive than all of the Panda updates combined.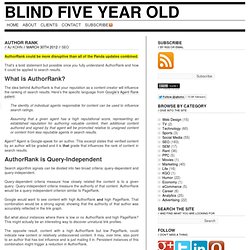 That's a bold statement but possible once you fully understand AuthorRank and how it could be applied to search results. What is AuthorRank? The idea behind AuthorRank is that your reputation as a content creator will influence the ranking of search results. Here's the specific language from Google's Agent Rank patent. Search by Color? A Little-Known Trick to Find the Right Image. Digital Tools Flickr: Richard Morton By Tasha Bergson-Michelson At its heart, clever searching lies at the intersection of critical thinking, imagination, and the savvy use of technical tools.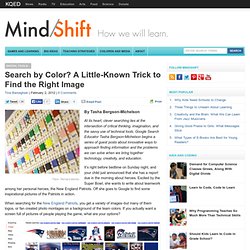 Google Search Educator Tasha Bergson-Michelson begins a series of guest posts about innovative ways to approach finding information and the problems we can solve when we bring together technology, creativity, and education. What happened in my birth year? Multicolr Search Lab - Idée Inc. Google's Wonder Wheel Experiment, and More. Google's Wonder Wheel Experiment, and MoreBy Tony Ruscoe & Philipp Lenssen Google is running an experiment in their search results, apparently shown to a portion of their users.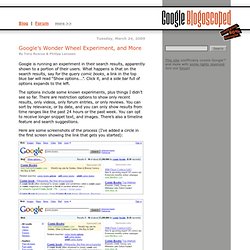 What happens is that on the search results, say for the query comic books, a link in the top blue bar will read "Show options...". Click it, and a side bar full of options expands to the left. Public Data Explorer. Indicadores sobre Desarrollo Humano Informe sobre Desarrollo Humano 2013, Programa de las Naciones Unidas para el Desarrollo Los datos empleados para calcular el Índice de Desarrollo Humano (IDH), y los otros indicadores compuestos que se publican en el Informe Sobre Desarrollo ...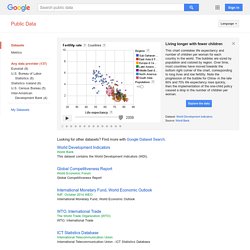 WorldCat.org [OCLC - Reference and Discovery] Página no encontrada.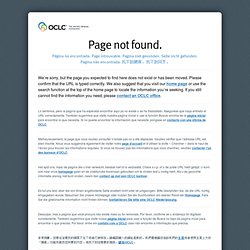 Page introuvable. Pagina niet gevonden. CrunchBase, The Free Tech Company Database. Why We Desperately Need a New (and Better) Google. This semester, my students at the School of Information at UC-Berkeley researched the VC system from the perspective of company founders.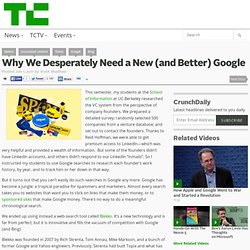 We prepared a detailed survey; randomly selected 500 companies from a venture database; and set out to contact the founders. Thanks to Reid Hoffman, we were able to get premium access to LinkedIn—which was very helpful and provided a wealth of information. But some of the founders didn't have LinkedIn accounts, and others didn't respond to our LinkedIn "inmails". So I instructed my students to use Google searches to research each founder's work history, by year, and to track him or her down in that way. Appinions. Introductory Video | Sciverse.
Eddi-uist2010. How Larry Page Thinks About Search. ERIC – World's largest digital library of education literature. Google Correlate. Ozone. Spearfishers and Netcasters. When it comes to search, there are basically two types of people: spearfishers and netcasters.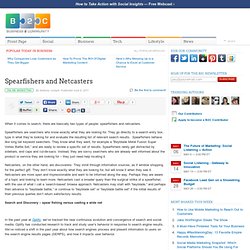 Spearfishers are searchers who know exactly what they are looking for. They go directly to a search entry box, type in what they're looking for and evaluate the resulting list of relevant search results. Spearfishers behave like long tail keyword searchers. They know what they want, for example a "Beyblade Metal Fusion Super Vortex Battle Set," and are ready to review a specific set of results. API Registration - Cortexica. Online Personalization Creates Echo Chamber to Affirm Biases. Gravity. The Filter Bubble.
San Francisco Restaurants, Dentists, Bars, Beauty Salons, Doctors. StumbleUpon. Business solutions. MusicMap - Visual Music Search Application. P2P Search. The idea behind NeuroGrid is to provide a framework for finding information within a distributed environment.
NeuroGrid is based on the idea of automating the process we use in human society to find out things that we want to know, or the locations of things that we need. Imagine that you are trying to find out some information about rock-climbing. You ask your friends if they know of a rock-climbing club. Slashtag search. Search. Explore. Experience – Apture. Search. Explore. Experience – Apture. Find movies, TV shows matching your taste & watch online - Jinni. v2/assets/Web3.0Jan2010.pdf. John Battelle On The Future Of Search: Part Two.
In the first part of my interview with John Battelle, we talked about the actual search experience—the act of searching and our expectations of what the results of that act might be.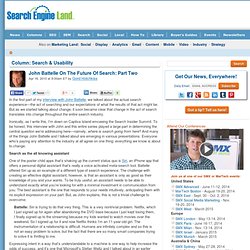 But as we started talking about change, it soon became clear that change in the act of search translates into change throughout the entire search industry. Ironically, as I write this, I'm down on Captiva Island emceeing the Search Insider Summit. To be honest, this interview with John and this entire series played a large part in determining the central question we're addressing here—namely, where is search going from here? And many of the things John Battelle and I talked about are emerging in various presentations. Everyone who's paying any attention to the industry at all agree on one thing: everything we know is about to change. Google Social Search, a Recommendation Engine. Google Social Search is not a new feature, but it wasn't that important until now. Google used to display at the bottom of the search results page a few links to pages created or recommended by your friends and social connections.
The feature automatically obtained data from Google Reader, Google Buzz, Gmail Contacts, Twitter and other sites linked from your Google profile. Jeff's Search Engine Caffè: Open source collaborative filtering and recommendation systems. Update 3/3/2010: Added Mahout Yesterday I posted on open source text mining libraries. Today, I am looking at recommendation systems aka collaborative filtering (CF); mining user behavior and harnessing the "wisdom of the crowds. " In a nutshell, recommendation systems discover new items you might be interested based on your past preferences (such as explicit ratings or implicit click behavior). Their goal is to bring you new and more importantly, interesting, information without you searching for it.
---