Bibliography
GW. Datenbank «Gesamtkatalog der Wiegendrucke» Database | Ludwig Boltzmann Institute Neo-Latin Studies. This is not an all-encompassing Neo-Latin database.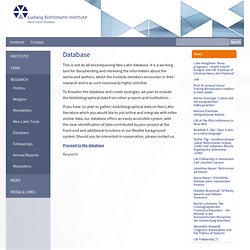 It is a working tool for documenting and retrieving the information about the works and authors, which the institute members encounter in their research and is as such necessarily highly selective. To broaden the database and create synergies, we plan to include the biobibliographical data from other projects and institutions. Medievalist - Ukrainian Latin literature.
Germania latina - Latinitas teutonica: Acta electronica. Kongressbeiträge Herausgeber (edited by): Eckhard Keßer & Heinrich C.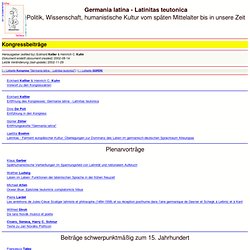 KuhnDokument erstellt (document created): 2002-08-14Letzte Veränderung (last update): 2002-11-29 Eckhard Keßler & Heinrich C. KuhnVorwort zu den Kongressakten. O Polizianu i Cortesiju. Texas Studies in Literature and Language - Against the Vernacular: Ciceronian Formalism and the Problem of the Individual. In lieu of an abstract, here is a brief excerpt of the content: Texas Studies in Literature and Language 46.1 (2004) 107-148 My goal is to show the significance of a family quarrel within Renaissance humanism for the humanism, much more broadly conceived, of current debate.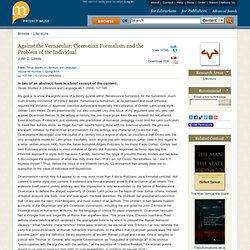 Mozilla Firefox. Modern & Medieval Languages On-line texts Intratext Digital library in various languages, including Latin Poetiditalia Latin works of Italian poets Forumromanum Digital library of Latin literature Gallica Vast corpus of texts in all areas, in original versions Bibliography Analytic bibliography of on-line neo-Latin texts with hyperlinks Thelatinlibrary Classical latin authors Camena Early modern Latin texts in original versions Research instruments.
Bibliographical Aid to the Study of Renaissance Latin Texts. Homepage M.v.d.Poel Last update 8 September 2010 Please note that the URL of this site will be modified shortly from to.
Neulateinisches Jahrbuch — Universität Bonn. Herausgegeben von Marc Laureys und Karl August Neuhausen Production Editor: Astrid Steiner-Weber Georg Olms Verlag Hildesheim - Zürich - New York Während die antike Literatur seit langem in zahlreichen Zeitschriften behandelt und auch die mittelalterliche Latinität schon durch einige Spezialzeitschriften abgedeckt wird, ist das noch größere Gesamtgebiet der neulateinischen Sprache und Literatur, das immerhin von Petrarca bis zur Gegenwart reicht, bisher nur durch die Humanistica Lovaniensia als einziges wissenschaftliches Fachorgan vertreten.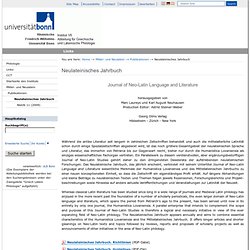 Ein Parallelwerk zu diesem verdienstvollen, aber ergänzungsbedürftigen Journal of Neo-Latin Studies gehört daher zu den dringendsten Desiderata der aufstrebenden neulateinischen Forschungen. Camoenae Hungaricae. We have been planning publication of a new periodical for quite a long time—one that would provide an appropriate international forum to present Hungarian Neo-Latin philology.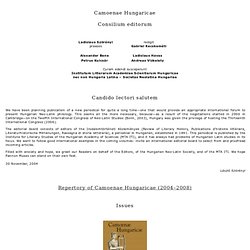 This seems all the more necessary, because—as a result of the negotiations started in 2000 in Cambridge—on the Twelfth International Congress of Neo-Latin Studies (Bonn, 2003), Hungary was given the privilege of hosting the Thirteenth International Congress (2006). The editorial board consists of editors of the Irodalomtörténeti Közlemények (Review of Literary History, Publications d'histoire littéraire, Literaturhistorische Mitteilungen, Rassegna di storia letteraria), a periodical in Hungarian, established in 1891.
AN ANALYTIC BIBLIOGRAPHY OF ON-LINE NEO-LATIN TEXTS. This page was first posted January 1, 1999 and most recently updated on April 13, 2014 .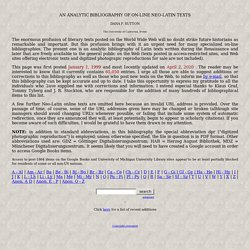 The reader may be interested to know that it currently contains 47,155 records. I urge all those are able to suggest additions or corrections to this bibliograpy as well as those who post new texts on the Web, to inform me by e-mail, so that this bibliography can be kept accurate and up to date. Renæssanceforum. Humanistica Lovaniensia. Description Order Information Editorial Board Notes for Contributors Volumes and Information Contents Description Humanistica Lovaniensia publishes articles on Neo-Latin topics in Latin, English, French, German, Italian, and Spanish, as well as critical editions of Neo-Latin texts with translations and commentaries.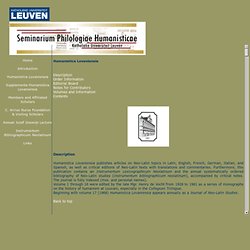 ---