Vegetarian raw vegan
If you're new here, you may want to sign up for FREE weekly updates delivered to your inbox featuring Real Food recipes, nutrition & health articles, and special discounts or promotions. P.S. This post may contain affiliate links to products or services I use, enjoy, or recommend. By making purchases through these links, you are supporting the companies or products I believe in, and you're supporting Food Renegade.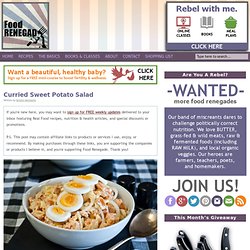 Curried Sweet Potato Salad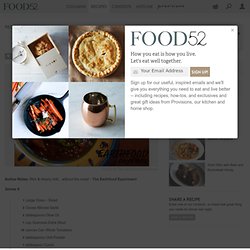 Black Bean, Sweet Potato, and Guinness Chili recipe on Food52
Author Notes: Rich & Hearty chili... without the meat! - The Earthfood Experiment Serves 6
The winter season! (Okay, I live in southern California, so "winter" doesn't actually mean much.) Nonetheless, it's the time of year that temperatures drop…a bit. And so, this marks a fine time for stewin' and brewin' things!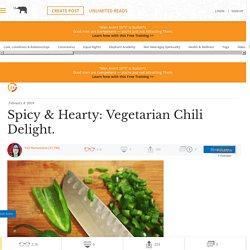 Spicy & Hearty: Vegetarian Chilli Delight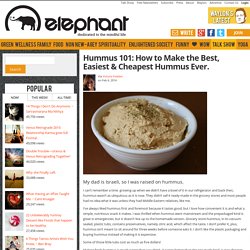 My dad is Israeli, so I was raised on hummus. I can't remember a time growing up when we didn't have a bowl of it in our refrigerator and back then, hummus wasn't as ubiquitous as it is now. They didn't sell it ready-made in the grocery stores and most people had no idea what it was unless they had Middle Eastern relatives, like me. I've always liked hummus first and foremost because it tastes good, but I love how convenient it is and what a simple, nutritious snack it makes. I was thrilled when hummus went mainstream and the prepackaged kind is great in emergencies, but it doesn't live up to the homemade version.
Hummus 101: How to Make the Best, Easiest & Cheapest Hummus Ever
Baking in the Dairy-Free Revolution: Rustic German Sacher Torte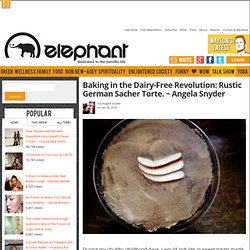 Via Angela Snyderon Jan 26, 2014 During my chubby childhood days, I would indulge in sweet treats made with sticks of butter, heavy cream and everything else from the local dairy farm. I fell in love with the decadent desserts my grandmother would prepare for my many siblings and me: rich and creamy vanilla pudding, lemon meringue pies, blueberry cobbler, spiced pumpkin cookies, peanut butter fudge. You get the idea. So now imagine my young heart breaking upon discovering the painful truth, that I am and will forever be lactose-intolerant. This made my sweet dream of becoming a pastry chef more of a challenge.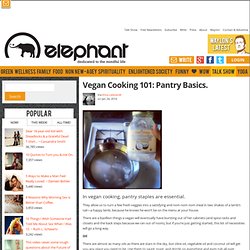 In vegan cooking, pantry staples are essential. They allow us to turn a few fresh veggies into a satisfying and nom nom nom meal in two shakes of a lamb's tail—a happy lamb, because he knows he won't be on the menu at your house. There are a bazillion things a vegan will eventually have bursting out of her cabinets (and spice racks and closets and the back steps because we ran out of room), but if you're just getting started, this list of necessities will go a long way. Oil There are almost as many oils as there are stars in the sky, but olive oil, vegetable oil and coconut oil will get you any place you need to be. Use them to sauté, roast, and drizzle on everything and even rub all over yourself for smooth supple skin.
Vegan Cooking 101: Pantry Basics
Christmas Lima Bean Salad Recipe
Homemade Sauerkraut
Living and Raw Foods: Recipe - 20 Simple Juice Recipes
3 Vegetable Recipes to Put Meat on Your Bones
Candied Sweet Potatoes (Daigaku Imo)
Avocados usually get a bad rap for being "high in fat," but that negative perception is of course undeserved. To put things in perspective, avocados have less fat than lean beef per ounce, and a whole Haas avocado has less fat than 3 tablespoons of Italian salad dressing (and no GMOs for that matter!). Avoiding fats in your diet too much can be unhealthy. It is still important to keep your daily intake of fats below 30% but the right kinds of fat in the diet are essential for cell function, formation of cell membranes and for providing energy for the heart.
Get Your Health Up (and your Cholesterol Down) with These 3 Simple Guacamole Recipe Ideas | AltHealthWorks.com
Sweet Potato Salads and Other Joyful Things
Well, we still have power, and the irs.gov website still indicates its advanced warning of many pages' inaccessibility due to "a power outage" from 4:00 p.m. November 9 – 7:00 a.m. November 12.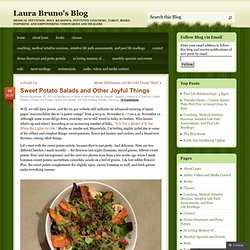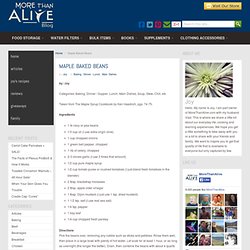 by: Joy Categories: Baking, Dinner / Supper, Lunch, Main Dishes, Soup, Stew, Chili, etc Taken from The Maple Syrup Cookbook by Ken Haedrich, pgs. 74-75. Ingredients 1 lb navy or pea beans1/3 cup oil (I use extra-virgin olive)1 cup chopped onions1 green bell pepper, chopped1 rib of celery, chopped2-3 cloves garlic (I use 3 times that amount)1/2 cup pure maple syrup1/2 cup tomato puree or crushed tomatoes (I just blend fresh tomatoes in the blender)2 tbsp. blackstrap molasses2 tbsp. apple cider vinegar1 tbsp.
Maple Baked Beans
Okonomiyaki literally means 'grilled as you like it', it is a delicious savoury pancake that is simple and quick to make on a teppan plate or in a frying pan. Very versatile, it can be made with many different ingredients to suit your own tastes. Usually made with cabbage, spring onion and seafood you can add yakisoba, bacon and other ingredients depending on your inclination and even your hometown! Osakan's like their Okonomiyaki ingredients mixed together, whereas Hiroshima folk like it layered with extra cabbage and yakisoba noodles. You can buy your okonomiyaki recipe ingredients online from Japan Centre, just click on the links to add it to your basket! 1 person
Okonomiyaki Savoury Pancake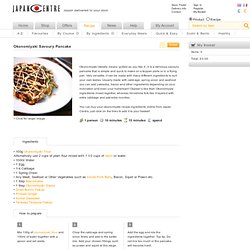 This week I had a bit of a Mexican craving. We have some really great fast food type Mexican places popping up in Australia at the moment, with some of them even having brown rice burritos! However, they still always come covered in cheese and sour cream so I generally try and avoid them for that reason. While on the hunt for some take-away type food during the week I came across sweet potato and black bean burrito recipes.
Tali's Tomatoes: Spicy Bean and Sweet Potato Burritos
Saltbakt selleri med relish - Mat
Hele selleriroten pakkes inn i fuktig salt før den bakes i ovnen. Når saltet tas av skal den stekes i skiver en kort stund i pannen. En stor sellerirot bakes i ovnen, godt innpakket i salt. Det gir den en ny smak og konsistens.
10 great recipes for eating local and vegetarian in February
It can be hard to be a vegetarian in February, particularly if you cook local food. Kelly Rossiter has been eating (mostly) local in Toronto, Canada for a number of years, digging kale out of the snow and yams out of the bottom of her pantry. Here are some February recipes, with her very personal take on cooking. For her latest (not all vegetarian recipes), Kelly now writes for MNN.com here. Kelly Rossiter/CC BY 2.0 Red Mjadara
Polenta with savory tomato chickpea sauce [Vegan]
Jaymi's Notes: With plenty of polenta left from cooking the baked polenta with roasted vegetables recipe , I was looking forward to making this dish. There is a lot of room for flexibility with this recipe. For instance, you can choose what herbs, and how much, you'd like to use in the sauce. While Kelly had chives, basil and parsley on hand, I had fresh chives, basil, tarragon, rosemary and thyme in the fridge. The rich, earthy flavor of the tarragon added an unexpected depth to what would have been a fairly traditional tasting Italian sauce.
Baked polenta with roasted vegetables [Vegetarian]
Baked mushroom risotto with caramelized onions [Vegan]
Carrot and celeriac root salad with lemon sauce [Vegan]
In Erika's Kitchen: Zucchini gratin
Soft Polenta with Chicory and Cannellini Ragu
Laura Bruno – It's Pizza Kale Chip Time Again – 6 September 2013
Can't Give Up Cheese? This One's For You
po' man meals - cheesy roasted broccoli patties
25 Vegetarian recipes you can cook in under 30 minutes
Low-Carb Roasted Butternut Squash "Risotto"
Savory bite-sized quinoa and kale patties [Vegetarian]
Veggie Burgers, Masters of Disguise - Multimedia Feature
Love That Quinoa Burger! |
Jamaican Burgers Recipe
Black Bean Pizza Recipe
unnamed pearl
Archive » Falafel
Chickpea Fritters with Bocconcini Salsa -DK
Meatless balls with spaghetti
Vegetarian Tacos