Vegetarian raw vegan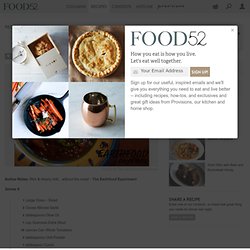 Black Bean, Sweet Potato, and Guinness Chili recipe on Food52
Author Notes: Rich & Hearty chili... without the meat! - The Earthfood Experiment Serves 6
The winter season!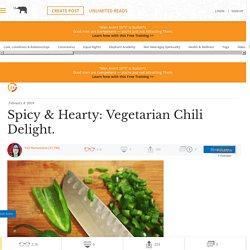 Spicy & Hearty: Vegetarian Chilli Delight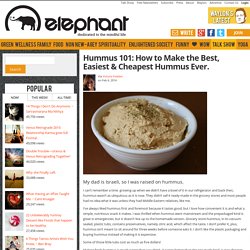 My dad is Israeli, so I was raised on hummus.
Hummus 101: How to Make the Best, Easiest & Cheapest Hummus Ever
Baking in the Dairy-Free Revolution: Rustic German Sacher Torte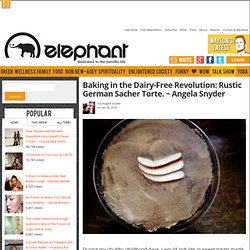 Via Angela Snyderon Jan 26, 2014 During my chubby childhood days, I would indulge in sweet treats made with sticks of butter, heavy cream and everything else from the local dairy farm.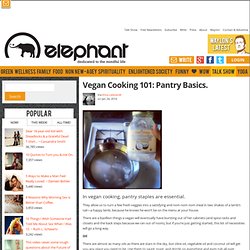 In vegan cooking, pantry staples are essential. They allow us to turn a few fresh veggies into a satisfying and nom nom nom meal in two shakes of a lamb's tail—a happy lamb, because he knows he won't be on the menu at your house.
Vegan Cooking 101: Pantry Basics
Christmas Lima Bean Salad Recipe
Homemade Sauerkraut
Living and Raw Foods: Recipe - 20 Simple Juice Recipes
3 Vegetable Recipes to Put Meat on Your Bones
Candied Sweet Potatoes (Daigaku Imo)
Avocados usually get a bad rap for being "high in fat," but that negative perception is of course undeserved.
Get Your Health Up (and your Cholesterol Down) with These 3 Simple Guacamole Recipe Ideas | AltHealthWorks.com
Sweet Potato Salads and Other Joyful Things
Well, we still have power, and the irs.gov website still indicates its advanced warning of many pages' inaccessibility due to "a power outage" from 4:00 p.m. November 9 – 7:00 a.m. November 12.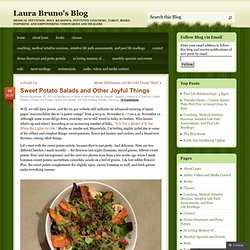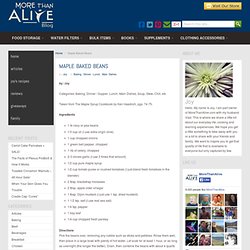 by: Joy
Maple Baked Beans
Okonomiyaki literally means 'grilled as you like it', it is a delicious savoury pancake that is simple and quick to make on a teppan plate or in a frying pan. Very versatile, it can be made with many different ingredients to suit your own tastes.
Okonomiyaki Savoury Pancake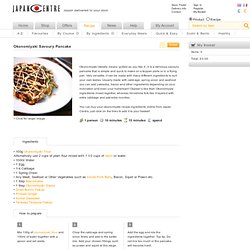 This week I had a bit of a Mexican craving.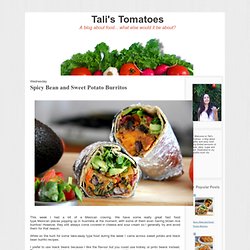 Tali's Tomatoes: Spicy Bean and Sweet Potato Burritos
Saltbakt selleri med relish - Mat
Hele selleriroten pakkes inn i fuktig salt før den bakes i ovnen.
10 great recipes for eating local and vegetarian in February
It can be hard to be a vegetarian in February, particularly if you cook local food. Kelly Rossiter has been eating (mostly) local in Toronto, Canada for a number of years, digging kale out of the snow and yams out of the bottom of her pantry.
Polenta with savory tomato chickpea sauce [Vegan]
Jaymi's Notes: With plenty of polenta left from cooking the baked polenta with roasted vegetables recipe , I was looking forward to making this dish.
Jaymi's Notes: I've been looking for ways to cut back on wheat and eat more gluten-free options, so this baked polenta seemed like a great option as a substitute for a traditional lasagna, a favorite in this house.
Baked polenta with roasted vegetables [Vegetarian]
Baked mushroom risotto with caramelized onions [Vegan]
Carrot and celeriac root salad with lemon sauce [Vegan]
In Erika's Kitchen: Zucchini gratin
Soft Polenta with Chicory and Cannellini Ragu
Laura Bruno – It's Pizza Kale Chip Time Again – 6 September 2013
Can't Give Up Cheese? This One's For You
po' man meals - cheesy roasted broccoli patties
25 Vegetarian recipes you can cook in under 30 minutes
Low-Carb Roasted Butternut Squash "Risotto"
Savory bite-sized quinoa and kale patties [Vegetarian]
Veggie Burgers, Masters of Disguise - Multimedia Feature
Love That Quinoa Burger! |
Jamaican Burgers Recipe
Black Bean Pizza Recipe
unnamed pearl
Archive » Falafel
Chickpea Fritters with Bocconcini Salsa -DK
Meatless balls with spaghetti
Vegetarian Tacos