Vegetarian raw vegan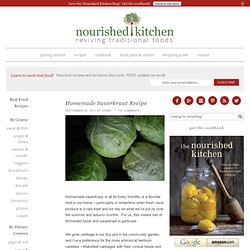 Homemade sauerkraut, in all its funky humility, is a favorite food in our home – particularly in wintertime when fresh, local produce is a rare treat and we rely on what we've put by over the summer and autumn months. For us, this means lots of fermented foods and sauerkraut in particular. We grow cabbage in our tiny plot in the community garden, and I've a preference for the more whimsical heirloom varieties – Wakefield cabbages with their conical heads and Shoshudori cabbages with their wide and flat ones.
Homemade Sauerkraut
Living and Raw Foods: Recipe - 20 Simple Juice Recipes
3 Vegetable Recipes to Put Meat on Your Bones
Candied Sweet Potatoes (Daigaku Imo)
Avocados usually get a bad rap for being "high in fat," but that negative perception is of course undeserved.
Get Your Health Up (and your Cholesterol Down) with These 3 Simple Guacamole Recipe Ideas | AltHealthWorks.com
Sweet Potato Salads and Other Joyful Things
Well, we still have power, and the irs.gov website still indicates its advanced warning of many pages' inaccessibility due to "a power outage" from 4:00 p.m. November 9 – 7:00 a.m. November 12.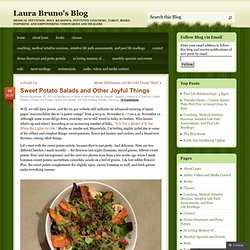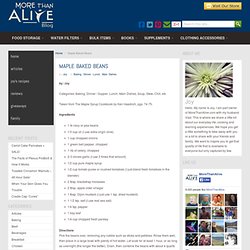 by: Joy
Maple Baked Beans
Okonomiyaki literally means 'grilled as you like it', it is a delicious savoury pancake that is simple and quick to make on a teppan plate or in a frying pan. Very versatile, it can be made with many different ingredients to suit your own tastes.
Okonomiyaki Savoury Pancake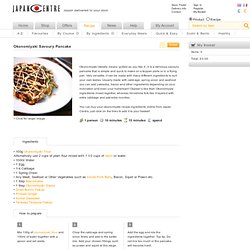 This week I had a bit of a Mexican craving.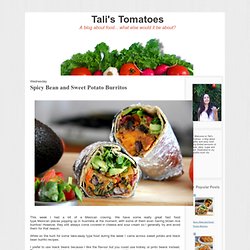 Tali's Tomatoes: Spicy Bean and Sweet Potato Burritos
Saltbakt selleri med relish - Mat
Hele selleriroten pakkes inn i fuktig salt før den bakes i ovnen.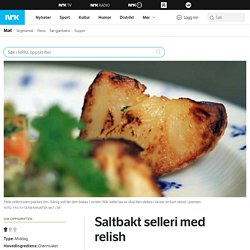 infographicVeganBaking_5F00_PETA_5F00_REVISED.jpg (JPEG-bilde, 900x3000 punkter)
10 great recipes for eating local and vegetarian in February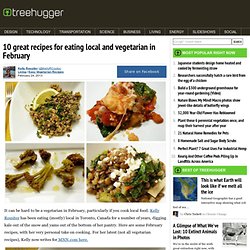 It can be hard to be a vegetarian in February, particularly if you cook local food. Kelly Rossiter has been eating (mostly) local in Toronto, Canada for a number of years, digging kale out of the snow and yams out of the bottom of her pantry.
Polenta with savory tomato chickpea sauce [Vegan]
Jaymi's Notes: With plenty of polenta left from cooking the baked polenta with roasted vegetables recipe , I was looking forward to making this dish.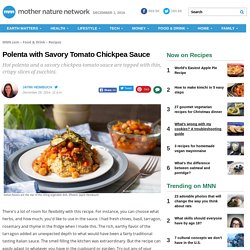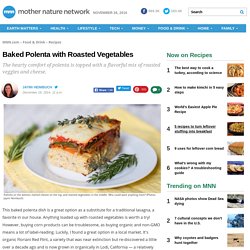 Jaymi's Notes: I've been looking for ways to cut back on wheat and eat more gluten-free options, so this baked polenta seemed like a great option as a substitute for a traditional lasagna, a favorite in this house.
Baked polenta with roasted vegetables [Vegetarian]
Baked mushroom risotto with caramelized onions [Vegan]
Jaymi's Notes: I love a good risotto but had never made one myself from scratch until trying this recipe. Now this might just be my go-to recipe when I'm craving a deliciously savory version, now that I know how easy it is to create. To do caramelized onions right means giving them at least 40 minutes on the stove over a very low heat, so I started the onions as soon as I put the risotto in the oven.
Jaymi's Notes: This is one very simple side dish with an unusual flavor. Though I know plenty of people with an aversion to cooked carrots, these vegetables are cooked until tender but not over done.
Carrot and celeriac root salad with lemon sauce [Vegan]
In Erika's Kitchen: Zucchini gratin
This is the first year in a long time that my garden has actually produced a decent amount of zucchini. I know it grows like a weed for everyone else.
Soft Polenta with Chicory and Cannellini Ragu
All five of my kale plants are huge and ready for harvest! Time for some dehydrating yum:
Laura Bruno – It's Pizza Kale Chip Time Again – 6 September 2013
Can't Give Up Cheese? This One's For You
po' man meals - cheesy roasted broccoli patties
25 Vegetarian recipes you can cook in under 30 minutes
Vegan Recipes from Oh My Veggies
Low-Carb Roasted Butternut Squash "Risotto"
Savory bite-sized quinoa and kale patties [Vegetarian]
, Quinoa Veggie "Fried Rice" and a Giveaway! (GIVEAWAY CLOSED)
Veggie Burgers, Masters of Disguise - Multimedia Feature
Love That Quinoa Burger! |
Jamaican Burgers Recipe
Black Bean Pizza Recipe
unnamed pearl
Archive » Falafel
Chickpea Fritters with Bocconcini Salsa -DK
Meatless balls with spaghetti
Vegetarian Tacos