Cats
- StumbleUpon
▶ Yoga with Hayward and cat
The cat traps worked…
Pets (Ask Teal Episode with Teal Scott about Domesticated Animals)
CATS - Cat Facts
Man has always been intrigued and fascinated with the cat so it's not surprising that there are so many cat-related quotes throughout time. This is a selection of some of my favourite quotes that I have collected over the years that I know all feline lovers will enjoy. This page will be updated with new quotes from time to time so please feel free to come back again soon! "In the beginning, God created man, but seeing him so feeble, He gave him the cat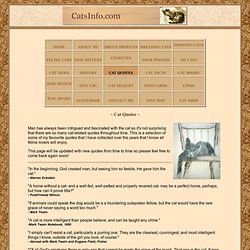 Favourite Cat Quotes through Time
Simon's Cat in 'Double Touble' - Video Dailymotion
Baker Cat!
Take two cats at bedtime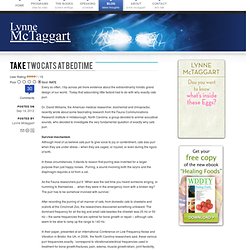 Every so often, I trip across yet more evidence about the extraordinarily holistic grand design of our world. Today that astounding little factoid had to do with why exactly cats purr. Dr. David Williams, the American medical researcher, biochemist and chiropractor, recently wrote about some fascinating research from the Fauna Communications Research Institute in Hillsborough, North Carolina, a group devoted to animal acoustical sounds, who decided to investigate the very fundamental question of exactly why cats purr.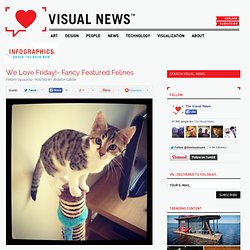 We Love Friday!- Fancy Featured Felines
When I was a little girl, my mom got me the best birthday present ever: a newborn long-haired Persian kitten. Although my parents referred to her as "The Cat from Hell" since she gave us and our entire neighborhood ringworm- to the point that my dad and I got our rashes photographed for medical books- on top of being deaf, having an over-production of eye gunk in her 2 different colored eyes, chronically peeing on my mom's new carpet, and having ear mites, I loved that cat to pieces. So much so that I still associate the entire Mariah Carey Christmas album ("Miss You Most at Christmastime", "Christmas (Baby Please Come Home)," "All I Want For Christmas Is You", etc) and "Always" by Bon Jovi with crying in my room in hopes that she would return after she ran away.
WTF Cats
For All You Cat Lovers: How My Late Cat, Puss, Taught Me The Secret Of Life And Death | Stirring Trouble Internationally - A humorous take on news and current affairs | Stirring Trouble Internationally provides an witty, alternative viewpoint on todays ne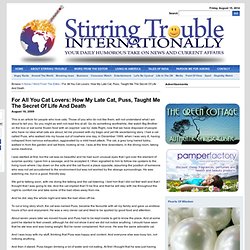 This is an article for people who love cats. Those of you who do not like them, will not understand what I am about to tell you. So you might as well not read this at all. Go do something worthwhile, like watch Big Brother on the box or eat some frozen food with an expired 'use by' date.Right, now that we have disposed of people who have no idea what cats are about, let me proceed with my tragic and yet life ascertaining story. I had a cat called Puss, who walked into my house out of nowhere one day, in December 1999, when I was very ill, having collapsed from nervous exhaustion, aggravated by a mild heart attack.
The 20 Best Cat Towers
We Love Cats!:
Pet Project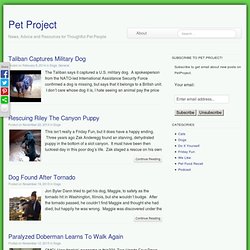 This isn't really a Friday Fun, but it does have a happy ending. Three years ago Zak Anderegg found an starving, dehydrated puppy in the bottom of a slot canyon. It must have been then luckiest day in this poor dog's life. Zak staged a rescue on his own and saved Riley-the-puppy's life. Zak has… Continue Reading Jon Byler Dann tried to get his dog, Maggie, to safety as the tornado hit in Washington, Illinois, but she wouldn't budge.
Best Of Cats Chillin'
CatStuff: The Mapping of a Cat's Brain
The dog may be wonderful prose, but only the cat is poetry.
Jason's Everlasting Recipes: Tips for the Pets
AsthmaIf your dog or cat has asthma and if they are on the heavy side, time to put your pet on a diet! Yep, that extra weight is making it harder for your pet to breath. Ask your vet to suggest a good low fat pet food. Next, get a humidifier. This will help your pet to breath easier. If your kitty has asthma, don't use the clumping kitty litter.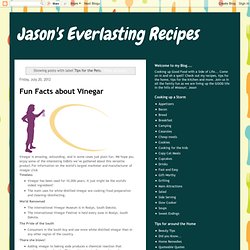 Cats Don't Care
Ninja Kittehs!
cat versus human
Cat Yoga
Turkish Van "Tater" in Tub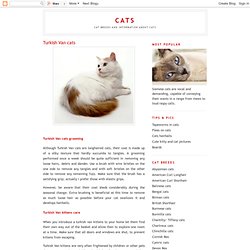 Turkish Van cats grooming Although Turkish Van cats are longhaired cats, their coat is made up of a silky texture that hardly succumbs to tangles. A grooming performed once a week should be quite sufficient in removing any loose hairs, debris and dander. Use a brush with wire bristles on the one side to remove any tangles and with soft bristles on the other side to remove any remaining fuzz. Make sure that the brush has a satisfying grip; actually I prefer those with elastic grips. However, be aware that their coat sheds considerably during the seasonal change.
Turkish Van cats
Idag ska jag lägga upp lite bilder! Visserligen är de någon vecka gamla så jag behöver ta nya igen... De små växer som ogräs de små liven!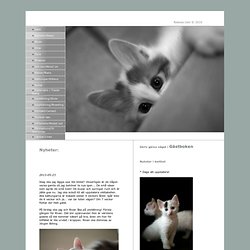 rytorps.com
The 25 Most Awkward Cat Sleeping Positions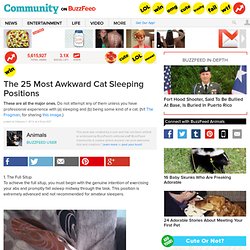 1. The Full Situp To achieve the full situp, you must begin with the genuine intention of exercising your abs and promptly fall asleep midway through the task. This position is extremely advanced and not recommended for amateur sleepers. 2. The Awkward Spoon The goal here is not so much intimacy as it is the socially uncomfortable sharing of a physical space with someone. Bonus points if your arm falls asleep but you're too embarrassed to move it.
Cats | StumbleUpon.com
Page 7
Ninja cats
15 Flat Cats
e203281a661bc2444adc89f9ee027985.jpg (JPEG-bilde, 750x750 punkter) - Skalert (88 %)
cats-kitten-sink.jpg (JPEG-bilde, 397x300 punkter)
Video