The Daily Visits
Genieo - Your Personal Homepage. Pew Research Center. Big Think. Regator - Curated Blog Search and Discovery. : Flavors.me. By Allan NairnThe case against General Rios Montt has included vast amounts of evidence.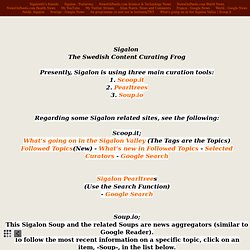 My notes for my own scheduled testimony (for what happened see post of April 18) included the following observations: When Rios Montt seized power on March 23, 1982, he immediately seized control of and transformed army operations. He cut back on the urban assassinations, which had become counterproductive, and increased the massacres of the rural Mayans, the army's main "internal enemy. " Newser | Headline News Summaries, World News, Breaking News, and Local News. Lifehacker, tips and downloads for getting things done. Amplify.com. Lazyfeed. Sigalon. Chinese High-Tech Investment: NY Report Launch NEW YORK, April 17, 2014 - Daniel H.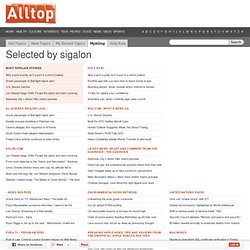 Rosen and Thilo Hanemann introduce Asia Society and Rhodium Group's new report on the Chinese investment surge in U.S. high tech, followed by a discussion among Gary Coleman, Mark Horn, Kenneth J. Petrilla, William Plummer, Huoy-Ming Yeh, and moderator Jonathan Landreth. (1 hr., 28 min.) Date: Thu, 17 Apr 2014 03:00:00 -0700 Location: New York, NY, , Asia Society Program and discussion: Democracy Now!
Facebook. All Facebook - The Unofficial Facebook Blog - Facebook News, Facebook Marketing, Facebook Business, and More! Facebook Readers. Twitter. Twitter Readers. Feedly | Cover - Google Reader. Blogs.com. The Daily Minimum.
---