Digital storytelling
Digital Storytelling with Mobile Devices. Sharing Stories: Powerful Lessons in Digital Storytelling GAETC. Video Storytelling.
Ebook Creation. Inspiring Writing. Image Sites. Mobile Learning Digital Storytelling Apps. Voicethread Resources. Teaching with Storybook Tools. Engaging Learners through Digital Storytelling: 40+ Resources & Tips. Currently, I am moderating a free online course, Digital Storytelling for Young Learners, with a dream team of moderators who are phenomenal at working with young learners, Esra Girgin, Barbara Sakamoto, Özge Karaoglu, Jennifer Verschoor, David Dodgson, and Michelle Worgan.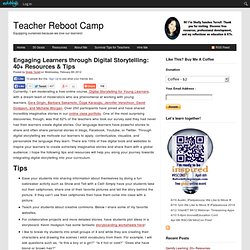 Over 250 participants have joined and have shared incredibly imaginative stories in our online class portfolio. One of the most surprising discoveries, though, was that 62% of the teachers who took our survey said they had never had their learners create digital stories. Our language learners have powerful stories to share and often share personal stories in blogs, Facebook, Youtube, or Twitter. Through digital storytelling we motivate our learners to apply, contextualize, visualize, and personalize the language they learn. There are 100s of free digital tools and websites to inspire your learners to create extremely imaginative stories and share them with a global audience. Digital Storytelling. Digital Storytelling Tools for Educators by Silvia Rosenthal Tolisano (eBook) Your notification has been sent Lulu Staff has been notified of a possible violation of the terms of our Membership Agreement.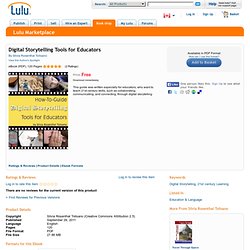 Our agents will determine if the content reported is inappropriate or not based on the guidelines provided and will then take action where needed. Thank you for notifying us. We will email you with the results and/or actions taken as a result of the investigation if you chose to receive confirmation. We were unable to complete your request. StoryKeepers - home. Kurt Vonnegut on the Shapes of Stories and Good News vs. Bad News. "The truth is, we know so little about life, we don't really know what the good news is and what the bad news is."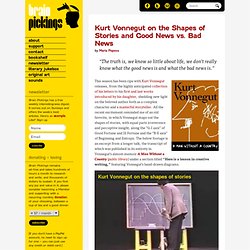 This season has been ripe with Kurt Vonnegut releases, from the highly anticipated collection of his letters to his first and last works introduced by his daughter, shedding new light on the beloved author both as a complex character and a masterful storyteller. All the recent excitement reminded me of an old favorite, in which Vonnegut maps out the shapes of stories, with equal parts irreverence and perceptive insight, along the "G-I axis" of Good Fortune and Ill Fortune and the "B-E axis" of Beginning and Entropy. The Future Of Storytelling Is About To Get Wild. Guest author Kim Gaskins is the director of content development and lead writer for Latitude, an international research consultancy.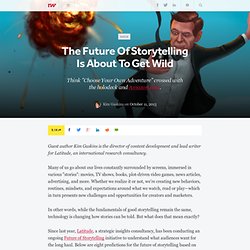 Many of us go about our lives constantly surrounded by screens, immersed in various "stories": movies, TV shows, books, plot-driven video games, news articles, advertising, and more. Whether we realize it or not, we're creating new behaviors, routines, mindsets, and expectations around what we watch, read or play—which in turn presents new challenges and opportunities for creators and marketers. In other words, while the fundamentals of good storytelling remain the same, technology is changing how stories can be told.
Www.jasonohler.com/pdfs/storyboard_template.pdf. Book Creator Free. Description The simple way to create your own beautiful iBooks, right on the iPad.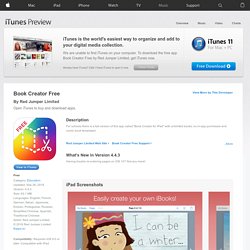 Read them in iBooks, send them to your friends, or submit them to the iBooks Store. Ideal for children's picture books, photo books, art books, cook books, manuals, textbooks, and the list goes on. * The no #1 Book app for the iPad in over 60 countries * "Book Creator makes e-book publishing easy" - wired.com * Over 1 million books already made with Book Creator* One of the Top 50 Apps for the iPad - The Guardian * Winner of a Parents' Choice Gold Award Try it free to create your first book (with in-app purchase for unlimited books). Digital Storytelling Kit - Thank you! The resources in this kit will help you implement the exciting process of digital storytelling with your students.

Right- or ctrl-click to download each file below or download a single PDF on the right. Articles Sample Digital Stories Bookmark this page to use to set expectations for student work. Lesson Plans. Ping Pong Story - Where Storytelling Meets Magic. English Language Learners and the Power of Personal Stories. We've asked Larry Ferlazzo, a prolific blogger and Twitter user who has written a recent book called "English Language Learners: Teaching Strategies That Work," to do a guest post for us today.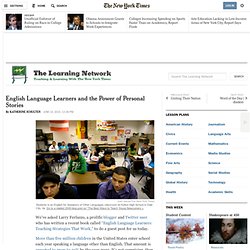 More than five million children in the United States enter school each year speaking a language other than English. That amount is expected to grow to 25% by the year 2025. 9 Web 2.0 Sites to Publish Student Work. Written by Mark Brumley Publish and Share Student Work Publishing educational technology enhanced content online, in eye-catching formats, is easier than ever.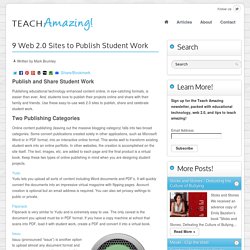 And, students love to publish their projects online and share with their family and friends. Use these easy-to-use web 2.0 sites to publish, share and celebrate student work. Video Dictionary: Vidtionary. Muvizu | Animation software. Essential Web Resources - Creating Online Story Books. Sites for Creating Online Storybooks Presentation Handout (.pdf)Story Map Template (.doc) My Storymaker Very simple to use, and students do not need an account to create stories here.
The Art Of Storytelling » Tell A Story. Get inspired by featured artwork from the Delaware Art Museum and write a story through the interactive Tell a Story activity.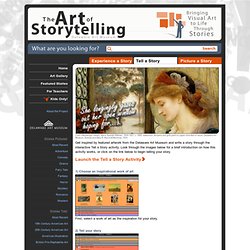 Look through the images below for a brief introduction on how this activity works, or click on the link below to begin telling your story. Launch the Tell a Story Activity 1) Choose an inspirational work of art First, select a work of art as the inspiration for your story. 2) Tell your story. Write About This. Web20-21stcentury-tools - home.
StoryKeepers - Audio Media Sources. Even though these resources are offered as starting places for finding best available music / sound with minimal expense - creating your own music / sound effects is the optimal strategy for ensuring copyright friendly products. However, IF you do select music / sounds from from the internet - check copyrights AND collect full citation of source. Use a citation program like BibME.org or . . . a word document. Either way taking note of the resource at the time you collect it will save stress and time later when giving credits to the music / sounds finally chosen for your work. BEST Royalty-Licensing Resource. StoryKeepers - iPad StoryTelling APPS.
Storytelling continues to gain popularity as an educational activity. As it stimulates a deep thinking, creativity and basic literacies, it also enhances and enriches the learning experience for student voices. Storytelling is an art form that uses a story ARC regardless of digital tools used while modernizing the traditional oral storytelling. It is more than "tell about" or "explain something" - a rich, powerful storytelling unfolds a dilemma - a struggle and a resolution organized around a story point or lesson learned.
The emotional journey very powerful way of communicating [supported by research] with our audiences be they peers and portraying to others who we are and what our own stories are. It also provides an opportunity to connect with a group by creating a shared experience. Welcome - ThingLink. BJP's Books & Articles | Digitales. Books Articles I-imagine: Taking MY Place in the World ~ A Scrapbooking Journey PLUS Teacher's Guide (PDF Books) In life you have two choices. You either create a future for yourself, or adapt to a future created for you by others.- Larry Quick I-imagine™: Taking MY Place in the World is a personal, scrapbooking journey grounded in new research showing significant gains that comes from inspiring hope, joy and action in learners.
Visual storytelling: 14 tools for journalists. Credit: Image by TapiF on Flickr. Some rights reserved Over the past year here at Journalism.co.uk we have reported on a number of new tools and platforms which have been launched or updated, which offer journalists different ways of telling stories visually. Our news:rewired events have also highlighted a number of those tools, most recently in a dedicated session on visual storytelling at news:rewired - digital stories, which was held last Thursday (6 December). Here is a list of just 14 tools that journalists might find useful. Some launched this year, while others have been around for some time now but continue to be used by news outlets today. School AUP 2.0 | Main / AUPGuides browse. DigitalStorytelling. 17 Stop Motion Video Examples & Resources. DigitalStorytelling4Kids [licensed for non-commercial use only] / Sandbox. Create a PicLit.
VUVOX - slideshows, photo, video and music sharing, Myspace codes. Open Thinking Wiki. CBBC - Blue Peter. The Museum of Me. Welcome to Muzy - Sign up or sign in here. Evaluating Projects | Digitales. Scoring Guides | Digitales.
Making Stopmotion Movies. Character Development. Elements of the Story. Sock Puppets. Storybird - Artful storytelling. Create Video Slideshows - Style Selector. Five Card Flickr. Lessons Specifically for Writer's Notebooks. Picture Prompt Story Starters. 100 Word Story. Journal Jar - Free Journal Topic App for iPhone / iPod touch / iPad / Android.
Audacity: Free Audio Editor and Recorder. Story Starters. By Jamie Keddie » Lying on the pavement. Lightning Bug. Homepage | 7 billion Others. Google Search Stories.
---
inmitacs Feb 20 2013

Simply brilliant! Thanks 4 sharing!
---