Cake and cupcakes
Tennessee Mountain Stack Cake Recipe | Epicurious. 1.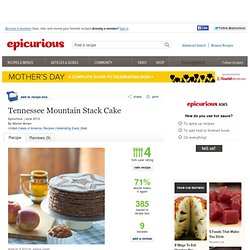 Preheat the oven to 350°F and place the rack in the middle position. 2. Raspberry Cheesecake Cupcakes. If you enjoy cheesecake, then you will love these cupcakes.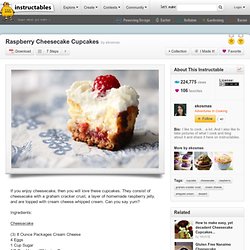 They consist of cheesecake with a graham cracker crust, a layer of homemade raspberry jelly, and are topped with cream cheese whipped cream. Can you say yum? Easy Apple Cake. [ Close Privacy Policy ] Privacy Policy / Your California Privacy Rights Revised and posted as of March 4, 2013.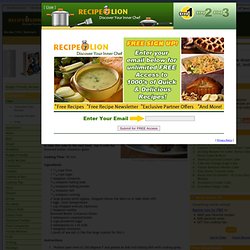 Prime Publishing, LLC ("Company," "we" or "us") reserves the right to revise this Privacy Policy at any time simply by posting such revision, so we encourage you to review it periodically. Buttermilk Cake with Blackberries | Shine Food. By Food & Wine Light and moist, with an irresistible crispy top, this buttermilk cake from chef-couple Amelia O'Reilly and Nico Monday has sweet-tart berries in every bite and takes just 20 minutes to prep.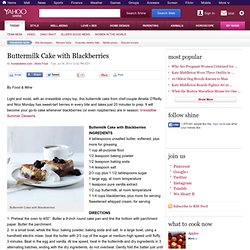 It will become your go-to cake whenever blackberries (or even raspberries) are in season. Irresistible Summer Desserts Buttermilk Cake with BlackberriesButtermilk Cake with BlackberriesINGREDIENTS 4 tablespoons unsalted butter, softened, plus more for greasing 1 cup all-purpose flour 1/2 teaspoon baking powder 1/2 teaspoon baking soda 1/4 teaspoon salt 2/3 cup plus 1 1/2 tablespoons sugar 1 large egg, at room temperature 1 teaspoon pure vanilla extract 1/2 cup buttermilk, at room temperature 1 1/4 cups blackberries, plus more for serving Sweetened whipped cream, for serving. Cinnamon Cream Cheese Coffee Cake  How great is coffee cake?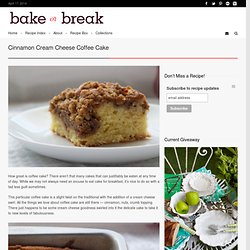 There aren't that many cakes that can justifiably be eaten at any time of day. While we may not always need an excuse to eat cake for breakfast, it's nice to do so with a tad less guilt sometimes. This particular coffee cake is a slight twist on the traditional with the addition of a cream cheese swirl. 3 ingredient cakes. "K-I-S-S: Keep It Stupid Simple" is a mantra that should pop in my head more often.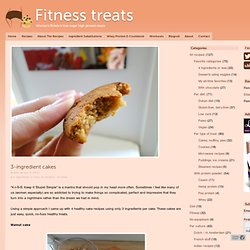 Sometimes I feel like many of us (women especially) are so addicted to trying to make things so complicated, perfect and impressive that they turn into a nightmare rather than the dream we had in mind. Using a simple approach I came up with 4 healthy cake recipes using only 3 ingredients per cake. Gastronomer's Guide: Simple Tiramisu. For a lazy summer afternoon, tiramisu is the perfect pick-me-up.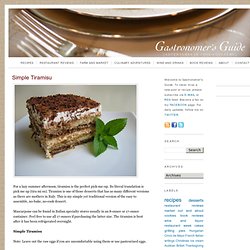 Its literal translation is pick me up (tira mi su). Tiramisu is one of those desserts that has as many different versions as there are mothers in Italy. This is my simple yet traditional version of the easy to assemble, no-bake, no-cook dessert. Mascarpone can be found in Italian specialty stores usually in an 8-ounce or 17-ounce container. Feel free to use all 17 ounces if purchasing the latter size. Chocolate Cake with Raspberry White Chocolate Cream Cheese Frosting. As good as the cake I shared with you yesterday was (and it was mighty good), I simply could not resist pairing that heavenly white chocolate cream cheese frosting with some real chocolate.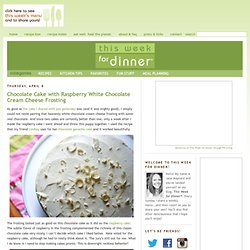 And since two cakes are certainly better than one, only a week after I made the raspberry cake I went ahead and threw this puppy together. I used the recipe that my friend Lindsay uses for her chocolate ganache cake and it worked beautifully. The frosting tasted just as good on this chocolate cake as it did on the raspberry cake. The subtle flavor of raspberry in the frosting complemented the richness of this classic chocolate cake very nicely. Big Red Kitchen: Little Peach Cakes. More Food Crafts:Chocolate Covered Strawberry Mallow CandiesRainbow Cupcakes with Rainbow FrostingCandy Cake The title of this post sounds like a term of endearment someone may bestow on a cute little child, but no, the photo is a shot of my Little Peach Cakes made this morning for when my niece and nephew come over to play.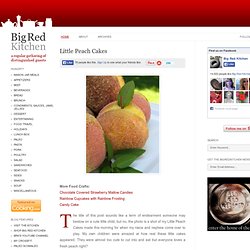 My own children were amazed at how real these little cakes appeared. Zebra Cake | The Whimsical Cupcake. Animal prints is something I never really got behind.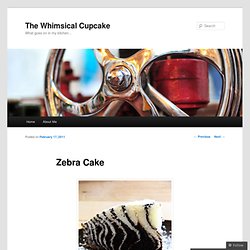 It was something that I only saw on 75 year old blue-haired ladies that are way cooler than me or on kids who looked like walking cheetahs. Not really the look I go for. Root Beer Float Cake. Before I made this cake on Sunday afternoon, I sat down with a nice, tall root beer float. Sure, it was 10:30 in the morning. I suppose that technically that means I had a root beer float for breakfast. That's one of the great thing about being an adult, you can have a float for breakfast with no resistance.
Something about a root beet float puts me on a conveyor belt back to some really random childhood memories. The taste, the bubbles, the increasingly creamy soda… it take me back to constantly skinned knees, playing in a beat-up old red wagon with my sister, and sitting in front of an old black and white television watching baseball with my grandfather. Cheesecake. Cupcakes. Lemon Olive Oil Cake with Zesty Lemon Rosemary Glaze. Mariel here. Last week, I cooked dinner for an editor friend of mine from Epicurious, no pressure or anything. I whipped up Halibut with a Hazelnut Romesco, which was to-die-for – thank God – but it was much pricier than most of my any-given-Monday meals (you can check out her recap of the dish here). Strawberry Torte. This beautiful swirled torte is almost too pretty to eat.
Almost. Photography: Flour Child | For the love of dessert. Wednesday Baking-Ice Cream Crunch Cake. This is yet another no-bake recipe for you to use when it's just too hot to turn on your oven. I found this recipe years ago when I signed up for a Recipe-A-Day email list. It's not the most frugal recipe ever (brownies or some other baked good will usually be cheaper), but it's a lot cheaper than a prepared ice cream cake is, especially if you manage to find ice cream on a good sale.
Makes » recipe: ice cream cake (but not like you think) If you've been following along, you're probably aware that I collect cookbooks. Specifically, cookbooks created by New England civic organizations between 1950 and 1980 for fundraising purposes. With yard sale season in full swing, I find myself solvent with new recipe ideas, among them one I found in this vandalized and water-damaged collection.
The picture on the cover somewhat suggests the architecture of Calvary Baptist Church in Easthampton, but I bought the book in Millbury and it has no date (I've never been to that Church, I just tried to do some due diligence in my googling). Nevertheless, it *does* include a chocolate cake recipe with a secret ingredient: ice cream. Five-Minute Chocolate Mug Cake. Chocolate Cake In 5 Minutes! — Dizzy Dee. Sweet saturday: one minute peanut butter cake. Buttered Up: Microcupcake: Technologic. Thirty Top-Rated Cake Recipes at Epicurious. Best Carrot Cake Recipe - Food.com - 9280. Easy Apple Cake.
---