Arts
Learn to draw. Clever Illustrations: Copywriter vs. Art Director. The Machine Ready for a set of clever illustrations?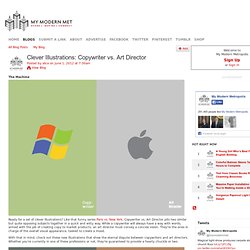 Like that funny series Paris vs. New York, Copywriter vs. Art Director pits two similar but quite opposing subjects together in a quick and witty way. ZOMBIE PORTRAIT a drawing of a drawing of a drawing... Drawing Board - The New Hive. Brilliant Stairs photos. Hilariously Clever Illustrations, Part 2. Known as Flying Mouse, Chow Hon Lam is the brilliant man behind some of the cleverest and coolest illustrations we've ever featured on theMET!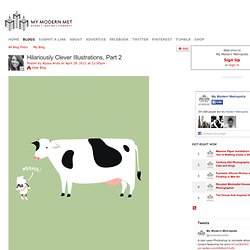 (See 15 Clever, Witty Illustrations.) He's back with a whole new set of work that's just as simple but smart as before. TetraBox Light by Ed Chew. Liquid to Light Designer Ed Chew takes a green step in the right direction with the TetraBox lamp, a light object made from discarded drink packets that would have otherwise ended up in landfills already packed to the brim.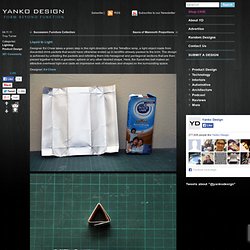 The design is achieved by unfolding the packets and refolding them into hexagonal and pentagonal sections that are then pieced together to form a geodesic sphere or any other desired shape. Here, the Epcot-like ball makes an attractive overhead light and casts an impressive web of shadows and shapes on the surrounding space. Designer: Ed Chew. Insanely Detailed Artwork Created in 10 Months! Imagine taking your 0.5 mechanical pencil and drawing on a large piece of white paper for 10 hours a day, seven days a week, over a course of 10 full months.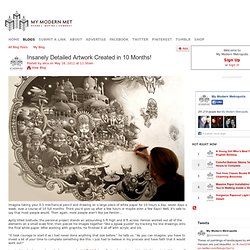 Think you'd give up after a few hours or maybe even a few days? Well, it's safe to say that most people would. Then again, most people aren't like Joe Fenton... Aptly titled Solitude, the personal project stands an astounding 5 ft high and 8 ft across. My Modern Metropolis. Art of Recycled Skateboard Decks (11 pics) Keira Rathbone's Typewriter Art. Basilica of St. Paul Outside-The-Walls - Cloister. Sistine Chapel. Rashad Alakbarov Paints with Shadows and Light. This is kind of flying all over the internet right now, but I couldn't resist sharing.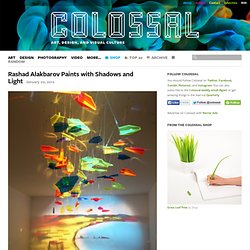 Artist Rashad Alakbarov from Azerbaijan uses suspended translucent objects and other found materials to create light and shadow paintings on walls. The jaw-dropping light painting above, made with an array of colored airplanes is currently on view at the Fly to Baku exhibition at De Pury Gallery in London through January 29th. (via art wednesday, fasels suppe) How To Draw A Wave | Club Of The Waves. This art tutorial, kindly donated by surfing comic strip illustrator and surf artist Bob Penuelas covers how to draw a wave the Wilbur Kookmeyer way!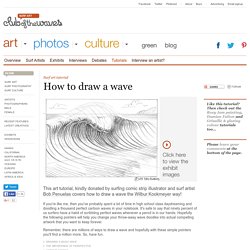 If you're like me, then you've probably spent a lot of time in high school class daydreaming and doodling a thousand perfect cartoon waves in your notebook. It's safe to say that ninety percent of us surfers have a habit of scribbling perfect waves whenever a pencil is in our hands. Hopefully the following pointers will help you change your throw-away wave doodles into actual compelling artwork that you want to keep forever. Remember, there are millions of ways to draw a wave and hopefully with these simple pointers you'll find a million more.
So, have fun. Colossal | An art and design blog. Riusuke Fukahori Paints Three-Dimensional Goldfish Embedded in Layers of Resin. First: watch the video.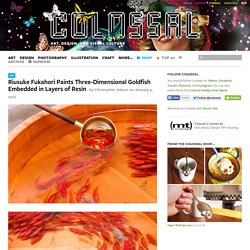 Japanese artist Riusuke Fukahori paints three-dimensional goldfish using a complex process of poured resin. The fish are painted meticulously, layer by layer, the sandwiched slices revealing slightly more about each creature, similar to the function of a 3D printer. I really enjoy the rich depth of the pieces and the optical illusion aspect, it's such an odd process that results in something that's both a painting and sculptural.
Wonderful. Art 1. Optical Design. Oil paintings by Esao Andrews. Ghostly International - Of Art & Artifice since 1999. L'Histoire par l'image. Matthew Cusick : Paintings & Collage : Map Works. Koikoikoi | Be Creative. Visual Inspiration - AaronWeissArt.com.
---