Dashboards
Tornado-Tracks-Full
Business reporting software - NextReports Designer, Engine and Server
RLIB: An XML-based tool for automated report generation.
Style Chart - Free Ajax Visualization Charting Service
Free Dashboard Software
Free Visualization Software | Free Analysis Software | Free Analytics
Web-Based Ad Hoc Reporting, Self-Service Reporting/Business Intelligence (BI), Report Designer - Home - ActiveReports Server | GrapeCity
The web based WYSIWYG XML editor — Xopus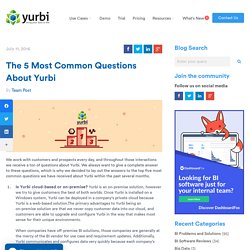 Solutions - From Large to Small Businesses, Yurbi Simply Works
Are You Data Rich and Information Starved? We find that most organizations have a lot of applications, systems, and data in their environment but very little ability to connect the data within those systems to the people who need them to help drive the business.
Our Product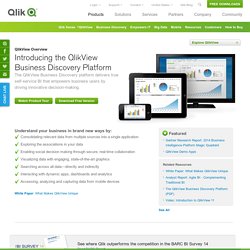 Easily Create and Customize BI Apps for Data Visualization and Analysis
Selected Data Visualization Tools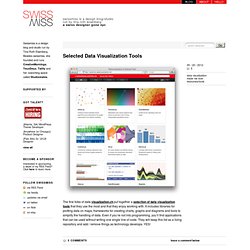 The fine folks of data visualization.ch put together a selection of data visualization tools that they use the most and that they enjoy working with.
How do I use iFormBuilder as my data source? – Feedback & Ideas for Klipfolio Dashboard
Balanced Scorecard Software | Performance Management Software | Performance Measurement | ActiveStrategy
Is the iPad the new normal for data visualization?
Last weekmonth, Gartner released its "Critical Capabilities for Mobile BI" report and the results were interesting indeed.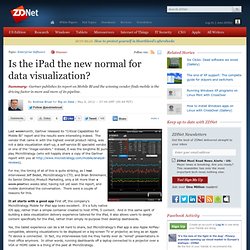 SharePoint Integration with MicroStrategy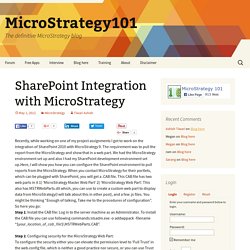 Recently, while working on one of my project assignments I got to work on the integration of SharePoint 2010 with MicroStrategy 9. The requirement was to pull the report from the MicroStrategy and show that in a web part. We had the MicroStrategy environment set up and also I had my SharePoint development environment set up.Here, I will show you how you can configure the SharePoint environment to pull reports from the MicroStrategy.
Download Tableau Public
Cloud Personal - Free Business Intelligence for Everyone
Analytics Express is a self-service solution built on MicroStrategy's world-class cloud infrastructure.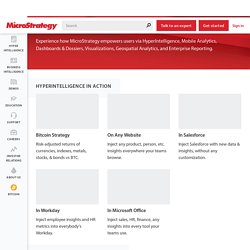 Welcome to Yurbi - Affordable Enterprise Business Intelligence
www.hablamosjuntos.org/signage/PDF/SymbolPoster_Sep10.pdf
www.logixml.com/sites/default/files/04_Dashboards.pdf
Mobile Dashboard Server
Business Intelligence Software, Dashboards & Reporting | LogiXML