Dashboards
Tornado-Tracks-Full
Business reporting software - NextReports Designer, Engine and Server
RLIB: An XML-based tool for automated report generation.
Style Chart - Free Ajax Visualization Charting Service
Free Dashboard Software
Free Visualization Software | Free Analysis Software | Free Analytics
Web-Based Ad Hoc Reporting, Self-Service Reporting/Business Intelligence (BI), Report Designer - Home - ActiveReports Server | GrapeCity
The web based WYSIWYG XML editor — Xopus
Solutions - From Large to Small Businesses, Yurbi Simply Works
Our Product Creating QlikView Apps Watch VideoDownload Free Version Related See All The QlikView Business Discovery platform offers a whole new take on BI that lets developers and business analysts build relevant apps rapidly and easily for business users—and enables business users to participate in the application creation process.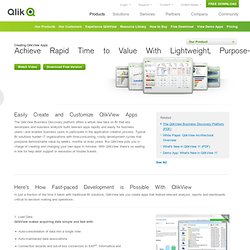 Easily Create and Customize BI Apps for Data Visualization and Analysis
Selected Data Visualization Tools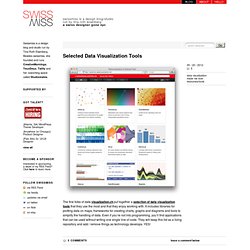 The fine folks of data visualization.ch put together a selection of data visualization tools that they use the most and that they enjoy working with. It includes libraries for plotting data on maps, frameworks for creating charts, graphs and diagrams and tools to simplify the handling of data. Even if you're not into programming, you'll find applications that can be used without writing one single line of code. They will keep this list as a living repository and add / remove things as technology develops.
How do I use iFormBuilder as my data source? – Feedback & Ideas for Klipfolio Dashboard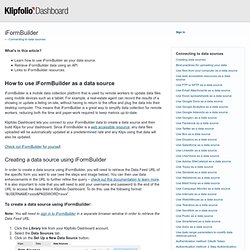 What's in this article? Learn how to use iFormBuilder as your data source.Retrieve iFormBuilder data using an API.Links to iFormBuilder resources. How to use iFormBuilder as a data source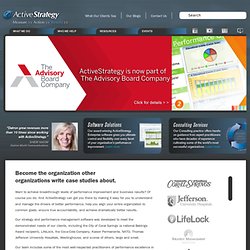 Want to achieve breakthrough levels of performance improvement and business results? Of course you do. And ActiveStrategy can get you there by making it easy for you to understand and manage the drivers of better performance, help you align your entire organization to common goals, ensure true accountability, and achieve dramatically better results. Our strategy and performance management software was developed to meet the demonstrated needs of our clients, including the City of Coral Springs (a national Baldrige Award recipient), LifeLock, the Coca-Cola Company, Kaiser Permanente, NATO, Thomas Jefferson University Hospitals, Westinghouse, and scores of others, large and small. Our team includes some of the most well-respected practitioners of performance excellence in the world, who can help you along the way—to refine your strategy, select the right performance measures, or cascade strategic objectives, for example.
Balanced Scorecard Software | Performance Management Software | Performance Measurement | ActiveStrategy
Is the iPad the new normal for data visualization?
Last weekmonth, Gartner released its "Critical Capabilities for Mobile BI" report and the results were interesting indeed. The vendor that came in with the highest overall product rating, was not a data visualization start-up, a self-service BI specialist vendor, or one of the "mega-vendors." instead, it was the longtime BI pure play MicroStrategy (who will happily share a copy of the Gartner report with you at http://www.microstrategy.com/mobile/analyst-reviews). For me, the timing of all of this is quite striking, as I had interviewed Jeff Bedell, MicroStrategy's CTO, and Brian Brinkmann, its Senior Director, Product Marketing, only a bit more than a week priortwo weeks later, having not yet seen the report, and mobile dominated the conversation. There were a couple of reasons for this.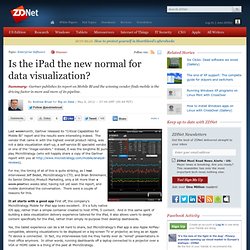 SharePoint Integration with MicroStrategy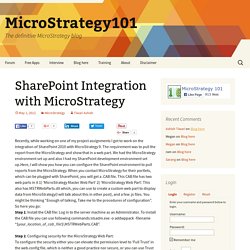 Recently, while working on one of my project assignments I got to work on the integration of SharePoint 2010 with MicroStrategy 9. The requirement was to pull the report from the MicroStrategy and show that in a web part. We had the MicroStrategy environment set up and also I had my SharePoint development environment set up.Here, I will show you how you can configure the SharePoint environment to pull reports from the MicroStrategy.
Download Tableau Public
Cloud Personal - Free Business Intelligence for Everyone
Analytics Express is a self-service solution built on MicroStrategy's world-class cloud infrastructure. In just a few easy steps, you may connect to your data from anywhere, effortlessly discover insights hidden in your data using interactive dashboards, and then publish and share those insights with anyone. Access Analytics Express from anywhere using an internet browser or an iPad.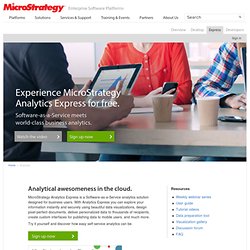 Welcome to Yurbi - Affordable Enterprise Business Intelligence
www.hablamosjuntos.org/signage/PDF/SymbolPoster_Sep10.pdf
www.logixml.com/sites/default/files/04_Dashboards.pdf
Mobile Dashboard Server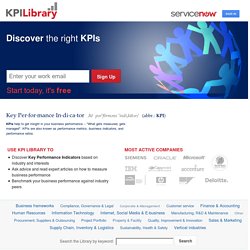 As key performance indicators form the basis for business performance management, executives need to be able to access their sales, crm, finance, hr or it performance indicators in real time. Up to date through a mobile cloud service, without human interference. KPI's visualized according to best practices and accessible at any time with any Internet connected device: smart-phone, tablet, laptop or desktop.
Business Intelligence Software, Dashboards & Reporting | LogiXML
Press "The design is sleek and the workflow is easy. With a couple flicks and taps, a manager can get a good sense of the performance of a business department or product line. Also, it is fairly easy to implement – taking as little as a day. That's unheard of in the enterprise space."