LENR & Rossi E-Cat
20140225_ARMD NARI Seedling Technical Seminar_Doug Wells. National Instruments signs to do E-Cat controls. Today, Andrea Rossi signed an agreement with National Instruments to have them make all of the instrumentation for the E-Cat cold fusion plants, which began to be sold commercially on October 28 with the first 1 MW plant successfully tested in Bologna.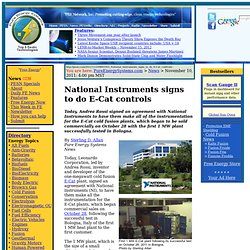 By Sterling D. Allan Pure Energy Systems News. Dr. George Miley Replicates Patterson, Names Rossi. There is an interesting discussion on Vortex about whether Rossi is using deuterium.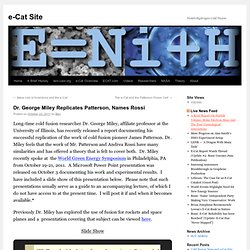 Slide #48 seems to indicate that the Miley group got good results with it and a tank of deuterium was seen at one of Rossi's demos, which Rossi claimed was used to quench the reaction (??). See discussion at below link. Rossi Blog Reader. Journal of Nuclear Physics. More Uncertainty as Ni-H Cold Fusion Launches Near. As the launch of Andrea Rossi's E-Cat (Energy Catalyzer) and Defkalion's Hyperion Ni-H cold fusion technology nears, a lack of information is causing uncertainty to grow, and more questions are emerging.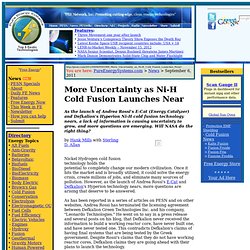 Will NASA do the right thing? By Hank Mills with Sterling D. Allan Nickel Hydrogen cold fusion technology holds the potential to completely change our modern civilization. AmpEnergo – U.S. E-cat Partnership Announced « nickel+hydrogen=energy. Posted: May 16, 2011 in Andrea Rossi, cold fusion, E-cat, E-cat partner, energy catalyzer, LENR, Mats Lewan, NyTeknik, renewable energy, The Andrea Rossi Energy Catalyzer Tags: Ampenergo, Andrea Rossi, Bologna, clean energy, cold fusion, E-cat, energy catalyzer, fusione a freddo, Giuseppe Levi, LENR, Mats Lewan, nickel-hydrogen, nuclear physics, Nyteknik, renewable energy, Sergio Focardi, Swedish Skeptic's Society, The Andrea Rossi Energy Catalyzer by: Mats Lewan, Nyteknik Andrea Rossi, the energy catalyzer inventor, has reached an agreement with a new company in the United States.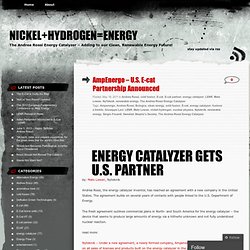 The agreement builds on several years of contacts with people linked to the U.S. Department of Energy. The fresh agreement outlines commercial plans in North- and South America for the energy catalyzer – the device that seems to produce large amounts of energy via a hitherto unknown and not fully understood nuclear reaction. The E-Cat Buzz.
Cold Fusion "Andrea Rossi" Method. NUCAT Energy LLC. Cold Fusion School: Now Open | eCat Now! – Energy Catalyzer News. LENR Supremos, Nagel, McKubre and Hagelstein To Run 2 Day LENR Course in October.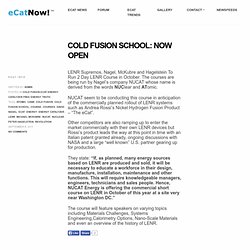 The courses are being run by Nagel's company NUCAT whose name is derived from the words NUClear and ATomic. NUCAT seem to be conducting this course in anticipation of the commercially planned rollout of LENR systems such as Andrea Rossi's Nickel Hydrogen Fusion Product – "The eCat". Other competitors are also ramping up to enter the market commercially with their own LENR devices but Rossi's product leads the way at this point in time with an Italian patent granted already, ongoing discussions with NASA and a large "well known" U.S. partner gearing up for production.
They state: "If, as planned, many energy sources based on LENR are produced and sold, it will be necessary to educate a workforce in their design, manufacture, installation, maintenance and other functions. This will require knowledgeable managers, engineers, technicians and sales people. The Secret Power Beneath (Free Energy World, Book 1) eBook: Frank Acland. Uncategorized | E-Cat News. Coldfire - the Rossi E-CAT.
E-Cat World. Andrea Rossi Could Just As Well Be The Prometheus Of Today - Rossi Energy Catalyzers. Remember Prometheus and the fire that he brought to people against the will of the gods?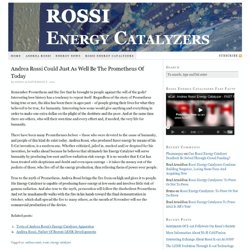 Interesting how history has a tendency to repeat itself. Regardless of the story of Prometheus being true or not, the idea has been there in ages past – of people giving their lives for what they believed to be true, for humanity. Interesting how some would give anything and everything in order to make one extra dollar on the plight of the destitute and the poor. And at the same time there are others, who will their own time and every effort and, if needed, the very life for humanity.
Power energy - ecatinfo.com | ecatinfo.com. Should Google Go Nuclear? Clean, cheap, nuclear power (no, reall. eCat: Andrea Rossi Energy Catalyzer – FAST FACTS | eCat.
Other pearltrees
Steam Quality in the eCAT : NOTE: This is a working draft, and may be updated frequently.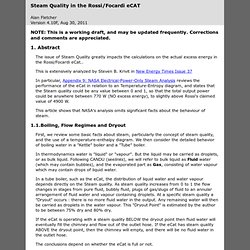 Corrections and comments are appreciated. The issue of Steam Quality greatly impacts the calculations on the actual excess energy in the Rossi/Focardi eCat.. This is extensively analyzed by Steven B. Krivit in New Energy Times Issue 37. Rossi's Home Sacrificed for Cold Fusion E-Cat Launch. Only several days ago, Andrea Rossi stated on his blog that he had big financial problems.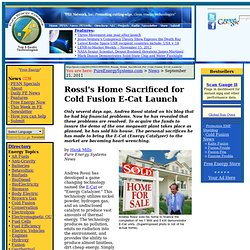 Now he has revealed that these problems are resolved. To acquire the funds to insure the demo of the one megawatt plant takes place as planned, he has sold his house. The personal sacrifices he has made to bring the E-Cat (Energy Catalyzer) to the market are becoming heart wrenching. by Hank MillsPure Energy Systems News Andrea Rossi has developed a game changing technology named the E-Cat or "Energy Catalyzer. " Www.nainorwoodgroup.com/propdocs/116 South River Road Building A.pdf. 116 South River Road Bedford, N.H. 03110 - USA. [Vo]:Rossi: SECOND 1MW Plant in the US !!!! Well, well .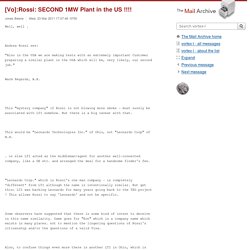 Andrea Rossi sez: "Also in the USA we are making tests with an extremely important Customer preparing a similar plant in the USA which will be, very likely, our second job. " Warm Regards, A.R. Unraveling The Mystery of Dr. Rossi's Company. The address of corp.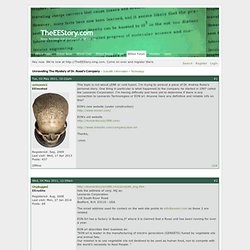 HQ as: Leonardo Corporation 116 South River Road Bedford, N.H. 03110 - USA The email address used for contact on the web site points to info@eonsrl.com so those 2 are related. EON Srl has a factory in Bodena,IT where it is claimed that a Rossi unit has been running for over a year. EON srl describes their business as: "EON srl is leader in the manufacturing of electric generators (GENSETS) fueled by vegetable oils and animal fats. TIZIANA ELENA L.
Company. Enrico Billi. AmpEnergo. Leonardo Technologies, Inc. Leonardo Technologies in Morgantown, West Virginia company profile. On behalf of the National Energy Technology Laboratory, LTI's Christopher Munson attended the Coal USA 2007 Conference in New York City. This conference was organized by The McCloskey Group, Hill & Associates, Doyle Trading Consultants, and Energy Publishing. The conference focused on factors that will determine future supply and demand of U.S. coal, including production, transportation, clean coal technology and market dynamics. Conference presenters included high-level representatives of coal producing firms, coal buyers and traders, and representatives from the financial community. Robert Gentile | Leonardo Technologies | Email CEO @lti-global.com CFO. Number of Employees: Not Available Yearly Revenues: Available Jobs (As Listed on Company Website): Energy catalyzer gets U.S. partner.
Andrea Rossi, the energy catalyzer inventor, has reached an agreement with a new company in the United States. The agreement builds on several years of contacts with people linked to the U.S. Department of Energy. (Swedish version here). AmpEnergo is the name of the US company. A new US company named "AmpEnergo" with members tied to the US DOD and DOE will partner with Rossi for the development and marketing of the E-Cats in America. AmpEnergo was founded by 4 individuals – Karl Norwood, Richard Noceti, Robert Gentile and Graig Cassarino and based at 116-G South River Road, Bedford, New Hampshire 03110.
Gentile was past Assistant Secretary of Energy at the US Dept of Energy in the 1990's. They plan to produce a 1-mega watt power generation plant similar to the one expected to be built in Greece and possibly, mobile or off-grid units. They filed with the state of New Hampshire for their business creation on April 6, 2011. Ampenergo - fusorenergy.com | fusorenergy.com. Www.nyteknik.se/incoming/article3179056.ece/BINARY/Ampenergo+Certificate+of+Organization--.pdf. George Bush: Nomination of Robert H. Gentile To Be an Assistant Secretary of Energy. The President today announced his intention to nominate Robert H. Gentile to be an Assistant Secretary of Energy for Fossil Energy at the Department of Energy.
He would succeed James Allan Wampler. Biography of RICHARD P. NOCETI | energycatalyzernews.com. Swedish physicists on the E-cat: "It's a nuclear reaction" Cold Fusion: 18 hour test excludes combustion. Www.nyteknik.se/incoming/article3144960.ece/BINARY/Download+the+report+by+Kullander+and+Essén+%28pdf%29. Www.nyteknik.se/incoming/article3229673.ece/BINARY/Letter+fr+Prof+Christos+Stremmenos+%28pdf%29. Www.nyteknik.se/incoming/article3166567.ece/BINARY/Report+test+of+E-cat+19+April+2011.pdf. Www.nyteknik.se/incoming/article3166569.ece/BINARY/Report+test+of+E-cat+28+April+2011.pdf. Defkalion Responds in Support of Rossi. Greek Production Rights of Andrea Rossi's E-Cat Terminated. FE_updates : Message: Rossi Terminates Defkalion's E-Cat Rights and License; Better than Fire. Defkalion claims they have an Energy Catalyzer that will commercialized as planned.
Energy Catalyzer. E-cat. (WO/2009/125444) METHOD AND APPARATUS FOR CARRYING OUT NICKEL AND HYDROGEN EXOTHERMAL REACTIONS. Thermolytic distillation of ... - Google Patents. Thermoelectric generators - Google Patents. METHOD AND APPARATUS FOR CARRYING ... - Google Patents. Assignments on the Web. Thermoelectric generators - Google Patents. Andrea Rossi's 'E-cat' nuclear reactor: a video FAQ. Energy catalyzer - Defkalion Green Technologies on NET tv HD.
Italian scientists claim to have demonstrated cold fusion (w/ Video) Rossi E-Cat Theory. E-Cat: Rossi's Cornucopia. Andrea Rossi - LENR - June 2011 Update on ECAT Cold Fusion Generator (English Subtitles) Part 3. See the E-cat run in self-sustained mode. Ecat - Steam Heat. Prof. Focardi - This is an energy revolution. Professor Stremmenos talks about the E-cat. 2011 - Andrea Rossi Interview (Energy Catalyzer) Part 1/4. eCat: Tour Andrea Rossi's 1MW Fusion Plant. A Brief Interview with Andrea Rossi, Inventor of the E cat HEB. Andrea Rossi Ecat Test Bologna October 6.
2011 - Andrea Rossi Explains His Energy Catalyzer. Rossi Energy Catalyzer: Media Maintain Their Silence On Historic Discovery. 2011 - Sergio Focardi Interview (Energy Catalyzer) Part 2. Giuseppe Levi goes on Record to Discuss E-cat « Cold Fusion News. LENR-CANR.org. Www.physics.purdue.edu/people/faculty/yekim/Kim_BECNF.pdf. News Page. Www.lenr-canr.org/acrobat/FocardiSlargeexces.pdf. Www.lenr-canr.org/acrobat/BarnhartBtechnology.pdf.
Www.physics.purdue.edu/people/faculty/yekim/naturwis-printed-pub.pdf. Vo]:Radio24 live forum about E-cat: Focardi, Celani, Bagnasco on Ra.
---