LENR & Rossi E-Cat
20140225_ARMD NARI Seedling Technical Seminar_Doug Wells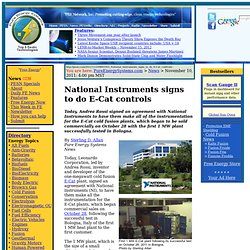 Today, Andrea Rossi signed an agreement with National Instruments to have them make all of the instrumentation for the E-Cat cold fusion plants, which began to be sold commercially on October 28 with the first 1 MW plant successfully tested in Bologna. By Sterling D. Allan Pure Energy Systems News
National Instruments signs to do E-Cat controls
Dr. George Miley Replicates Patterson, Names Rossi
Rossi Blog Reader
by U.V.S.Seshavatharam Honorary Faculty, Institute of Scientific Research on Vedas(I-SERVE) Hyderabad-35, India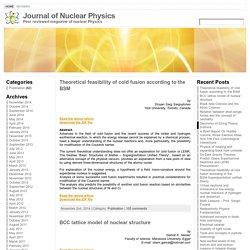 Journal of Nuclear Physics
As the launch of Andrea Rossi's E-Cat (Energy Catalyzer) and Defkalion's Hyperion Ni-H cold fusion technology nears, a lack of information is causing uncertainty to grow, and more questions are emerging. Will NASA do the right thing? by Hank Mills with Sterling D. Allan Nickel Hydrogen cold fusion technology holds the potential to completely change our modern civilization.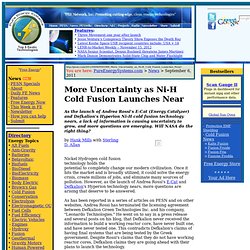 More Uncertainty as Ni-H Cold Fusion Launches Near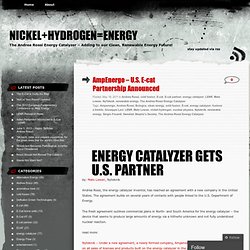 Posted: May 16, 2011 in Andrea Rossi, cold fusion, E-cat, E-cat partner, energy catalyzer, LENR, Mats Lewan, NyTeknik, renewable energy, The Andrea Rossi Energy Catalyzer Tags: Ampenergo, Andrea Rossi, Bologna, clean energy, cold fusion, E-cat, energy catalyzer, fusione a freddo, Giuseppe Levi, LENR, Mats Lewan, nickel-hydrogen, nuclear physics, Nyteknik, renewable energy, Sergio Focardi, Swedish Skeptic's Society, The Andrea Rossi Energy Catalyzer by: Mats Lewan, Nyteknik Andrea Rossi, the energy catalyzer inventor, has reached an agreement with a new company in the United States. The agreement builds on several years of contacts with people linked to the U.S. Department of Energy. The fresh agreement outlines commercial plans in North- and South America for the energy catalyzer – the device that seems to produce large amounts of energy via a hitherto unknown and not fully understood nuclear reaction.
AmpEnergo – U.S. E-cat Partnership Announced « nickel+hydrogen=energy
The E-Cat Buzz
Cold Fusion "Andrea Rossi" Method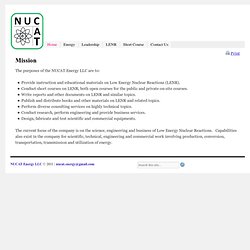 The purposes of the NUCAT Energy LLC are to: Provide instruction and educational materials on Low Energy Nuclear Reactions (LENR).Conduct short courses on LENR, both open courses for the public and private on-site courses.Write reports and other documents on LENR and similar topics.Publish and distribute books and other materials on LENR and related topics.Perform diverse consulting services on highly technical topics.Conduct research, perform engineering and provide business services.Design, fabricate and test scientific and commercial equipments. The current focus of the company is on the science, engineering and business of Low Energy Nuclear Reactions. Capabilities also exist in the company for scientific, technical, engineering and commercial work involving production, conversion, transportation, transmission and utilization of energy.
NUCAT Energy LLC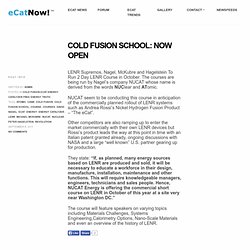 Cold Fusion School: Now Open | eCat Now! – Energy Catalyzer News
LENR Supremos, Nagel, McKubre and Hagelstein To Run 2 Day LENR Course in October. The courses are being run by Nagel's company NUCAT whose name is derived from the words NUClear and ATomic. NUCAT seem to be conducting this course in anticipation of the commercially planned rollout of LENR systems such as Andrea Rossi's Nickel Hydrogen Fusion Product – "The eCat". Other competitors are also ramping up to enter the market commercially with their own LENR devices but Rossi's product leads the way at this point in time with an Italian patent granted already, ongoing discussions with NASA and a large "well known" U.S. partner gearing up for production. They state: "If, as planned, many energy sources based on LENR are produced and sold, it will be necessary to educate a workforce in their design, manufacture, installation, maintenance and other functions. This will require knowledgeable managers, engineers, technicians and sales people.
The Secret Power Beneath (Free Energy World, Book 1) eBook: Frank Acland
Uncategorized | E-Cat News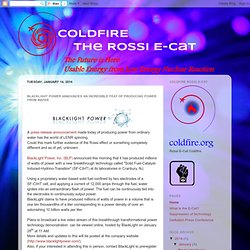 Coldfire - the Rossi E-CAT
It seems that NASA is attempting to dodge the public backlash that is going to hit them right after the masses become aware of the Rossi-Focardi Effect. In other words... "We could have had this technology 20 years ago!! What the hell have you guys been doing all this time?!? Some little guy in Italy working in his back-room developed it first!!"
LENR — 'A Dragon With Many Tails' I thought I would feature this post from ECW reader Neanderthal today as it seems to give a glimpse into the kind of thinking and discussion about LENR that may be going on behind the scenes in scientific (and other) institutions. Today Neanderthal wrote this comment in another thread: I work for one of the… Read more Lithium: The Case for an E-Cat Catalyst (Guest Post) The following guest post was submitted by Rick Allen. There are a combination of factors that make a nickel-hydrogen cold fusion system work and allow for massive energy production.
E-Cat World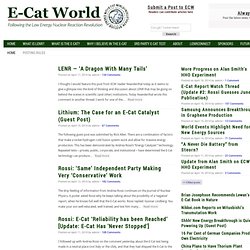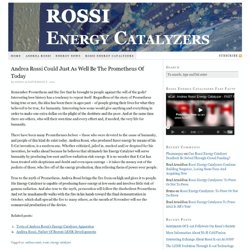 Remember Prometheus and the fire that he brought to people against the will of the gods? Interesting how history has a tendency to repeat itself. Regardless of the story of Prometheus being true or not, the idea has been there in ages past – of people giving their lives for what they believed to be true, for humanity. Interesting how some would give anything and everything in order to make one extra dollar on the plight of the destitute and the poor. And at the same time there are others, who will their own time and every effort and, if needed, the very life for humanity.
Andrea Rossi Could Just As Well Be The Prometheus Of Today - Rossi Energy Catalyzers
power energy - ecatinfo.com | ecatinfo.com
Should Google Go Nuclear? Clean, cheap, nuclear power (no, reall
eCat: Andrea Rossi Energy Catalyzer – FAST FACTS | eCat
Steam Quality in the eCAT :
NOTE: This is a working draft, and may be updated frequently. Corrections and comments are appreciated. The issue of Steam Quality greatly impacts the calculations on the actual excess energy in the Rossi/Focardi eCat.. This is extensively analyzed by Steven B. Krivit in New Energy Times Issue 37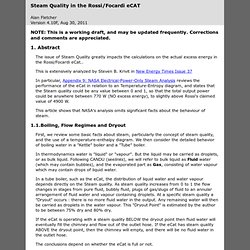 Only several days ago, Andrea Rossi stated on his blog that he had big financial problems. Now he has revealed that these problems are resolved. To acquire the funds to insure the demo of the one megawatt plant takes place as planned, he has sold his house. The personal sacrifices he has made to bring the E-Cat (Energy Catalyzer) to the market are becoming heart wrenching. by Hank MillsPure Energy Systems News Andrea Rossi has developed a game changing technology named the E-Cat or "Energy Catalyzer."
Rossi's Home Sacrificed for Cold Fusion E-Cat Launch
www.nainorwoodgroup.com/propdocs/116 South River Road Building A.pdf
116 South River Road Bedford, N.H. 03110 - USA
[Vo]:Rossi: SECOND 1MW Plant in the US !!!!
Well, well . Andrea Rossi sez: "Also in the USA we are making tests with an extremely important Customer preparing a similar plant in the USA which will be, very likely, our second job." Warm Regards, A.R.
http://leonardocorp1996.com/prodotti_eng.htmlists the address of corp. HQ as: Leonardo Corporation 116 South River Road Bedford, N.H. 03110 - USA The email address used for contact on the web site points to info@eonsrl.com so those 2 are related. EON Srl has a factory in Bodena,IT where it is claimed that a Rossi unit has been running for over a year. EON srl describes their business as: "EON srl is leader in the manufacturing of electric generators (GENSETS) fueled by vegetable oils and animal fats.
Unraveling The Mystery of Dr. Rossi's Company
TIZIANA ELENA L.
Company
Enrico Billi
AmpEnergo
Leonardo Technologies, Inc.
Calendar Jun. 7, '11 — Jun. 22, '11 Vince Brisini, of LTI, participated as a member of a panel discussion on particulate matter and mercury measurement and testing for the Council of Industrial Boiler Owners (CIBO) Technical Focus Group, Environmental & Energy Committee Meetings. He provided a presentation which highlighted perspectives and experiences associated with the installation and operation of continuous emissions monitoring systems as well as emissions testing. May 24, '11 — Jun. 22, '11 Vince Brisini, of LTI, participated in the Council of Industrial Boiler Owners (CIBO) "Fluidized Bed XXIV Conference" in Hershey, PA.
Leonardo Technologies in Morgantown, West Virginia company profile
Robert Gentile | Leonardo Technologies | Email CEO @lti-global.com CFO
Energy catalyzer gets U.S. partner
AmpEnergo is the name of the US company
Ampenergo - fusorenergy.com | fusorenergy.com
www.nyteknik.se/incoming/article3179056.ece/BINARY/Ampenergo+Certificate+of+Organization--.pdf
George Bush: Nomination of Robert H. Gentile To Be an Assistant Secretary of Energy
Biography of RICHARD P. NOCETI | energycatalyzernews.com
Swedish physicists on the E-cat: "It's a nuclear reaction"
Cold Fusion: 18 hour test excludes combustion
www.nyteknik.se/incoming/article3144960.ece/BINARY/Download+the+report+by+Kullander+and+Essén+%28pdf%29.
www.nyteknik.se/incoming/article3229673.ece/BINARY/Letter+fr+Prof+Christos+Stremmenos+%28pdf%29
www.nyteknik.se/incoming/article3166567.ece/BINARY/Report+test+of+E-cat+19+April+2011.pdf
www.nyteknik.se/incoming/article3166569.ece/BINARY/Report+test+of+E-cat+28+April+2011.pdf
Defkalion Responds in Support of Rossi
Greek Production Rights of Andrea Rossi's E-Cat Terminated
FE_updates : Message: Rossi Terminates Defkalion's E-Cat Rights and License; Better than Fire
Defkalion claims they have an Energy Catalyzer that will commercialized as planned
Energy Catalyzer
(WO/2009/125444) METHOD AND APPARATUS FOR CARRYING OUT NICKEL AND HYDROGEN EXOTHERMAL REACTIONS
Thermolytic distillation of ... - Google Patents
Thermoelectric generators - Google Patents
METHOD AND APPARATUS FOR CARRYING ... - Google Patents
Assignments on the Web
Thermoelectric generators - Google Patents
Video & Audio: Andrea Rossi's 'E-cat' nuclear reactor: a video FAQ - Metadata
energy catalyzer - Defkalion Green Technologies on NET tv HD
Italian scientists claim to have demonstrated cold fusion (w/ Video)
Rossi E-Cat Theory
E-Cat: Rossi's Cornucopia
Andrea Rossi - LENR - June 2011 Update on ECAT Cold Fusion Generator (English Subtitles) Part 3
See the E-cat run in self-sustained mode
Ecat - Steam Heat
Prof. Focardi - This is an energy revolution
Professor Stremmenos talks about the E-cat.
2011 - Andrea Rossi Interview (Energy Catalyzer) Part 1/4
eCat: Tour Andrea Rossi's 1MW Fusion Plant
A Brief Interview with Andrea Rossi, Inventor of the E cat HEB
Andrea Rossi Ecat Test Bologna October 6
2011 - Andrea Rossi Explains His Energy Catalyzer
Rossi Energy Catalyzer: Media Maintain Their Silence On Historic Discovery
2011 - Sergio Focardi Interview (Energy Catalyzer) Part 2
Giuseppe Levi goes on Record to Discuss E-cat « Cold Fusion News
LENR-CANR.org
www.physics.purdue.edu/people/faculty/yekim/Kim_BECNF.pdf
News Page
www.lenr-canr.org/acrobat/FocardiSlargeexces.pdf
www.lenr-canr.org/acrobat/BarnhartBtechnology.pdf
www.physics.purdue.edu/people/faculty/yekim/naturwis-printed-pub.pdf
Vo]:Radio24 live forum about E-cat: Focardi, Celani, Bagnasco on Ra