QR Code Online Generator
QR-Code Generator. QR Code Generator: QR Stuff Free Online QR Code Creator And Encoder For T-Shirts, Business Cards & Stickers. QR Code Generator. QR-Code-Generator - QR-Codes online erstellen [2D-Barcode, T-Shirt, Tasse, Visitenkarte, QR Code] - goQR.me. QR Code and 2D Code Generator | Kerem Erkan. This page is an online two dimensional code generator which is written in PHP.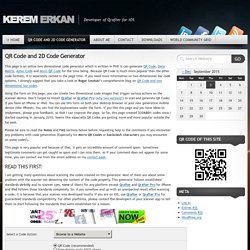 It can generate QR Code, Data Matrix, Aztec Code and Micro QR Code for the time being. Because QR Code is much more popular than the other code formats, it is separately named in the page title. If you need more information on two dimensional bar code systems, I strongly suggest that you take a look at Roger Smolski's comprehensive blog on QR Code and two dimensional bar codes. QR Code Generator - Create Your Own QR Codes - Delivr. Delivr FREE is offered for personal, non-profit, educational or limited commercial use in social, mobile, and Web-based campaigns, limited run posters and local-level print advertising campaigns.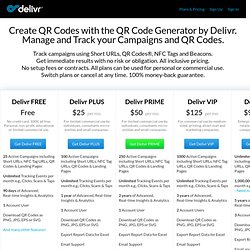 Delivr FREE can not be resold or provided as part of a commercial offering or service. If you are creating a Delivr account as part of a commercial service offered to others e.g., using Delivr to provide campaign management, landing pages, tracking or reports to a client, please select the appropriate paid plan. Create a QR Code - Unitag.fr. Create QR Code. Chart Tools: Infographics - Infographics - Google Code. You can create a QR code on the fly with a URL GET request.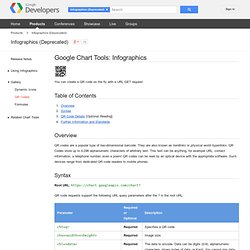 Table of Contents Overview.
---