Les 3 week 2
The Twitter Explosion   June/July preview»Whether they are reporting about it, finding sources on it or urging viewers, listeners and readers to follow them on it, journalists just can't seem to get enough of the social networking service.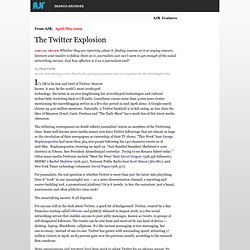 Just how effective is it as a journalism tool? By Paul Farhi Senior contributing writer Paul Farhi (farhip@washpost.com) is a reporter for the Washington Post. It's OK to be sick and tired of Twitter. Heaven knows, it may be the world's most overhyped technology, the latest in an ever-lengthening list of overhyped technologies and cultural techno-fads stretching back to CB radio. Geschiedenis van Twitter [infographic] | JWAlphenaar - Lezingen, presentaties, workshops en trainingen over Social Media en online communicatie. Social Media Academy Nederland | Maar ook over Online PR, PR 2.0, Personal Branding, Webcare, Social Media, Cr.
Zo kwam het nieuws over Bin Ladens dood de wereld in : Heleen van Lier. | May 3, 2011 | No Comments Een bij nader inzien historische tweet, een stafchef met nog geen duizend volgers die het nieuws bracht, en de eerste grappen.
Zie hoe het nieuws brak op Twitter. Interview Fast Moving Targets/ Top Names : Heleen van Lier. Journalisten op Twitter: waarom en hoe : Heleen van Lier. | January 4, 2011 | No Comments Bij mijn aantreden als sociale-mediaredacteur was een belangrijke doelstelling: de journalisten van de Volkskrant aan het twitteren krijgen.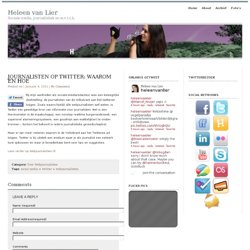 Zoals waarschijnlijk alle webjournalisten wel weten, is Twitter een geweldige bron van informatie voor journalisten. Het is een thermometer in de maatschappij, een nonstop realtime burgeronderzoek, een supersnel alarmeringssysteem, een goudmijn aan makkelijk(er) te vinden bronnen – kortom het behoort in iedere journalistieke gereedschapkist. Beta.boston.com - Tweets on a Pole: The Information Radiator By... Toggle Mayor Martin J.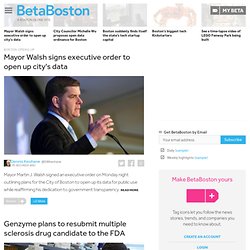 Walsh signed an executive order on Monday night outlining plans for the City of Boston to open up its data for public use while reaffirming his dedication to government transparency. Read More. Less Is More: Using Social Media to Inspire Concise Writing. Overview | How can online media like Twitter posts, Facebook status updates and text messages be harnessed to inspire and guide concise writing?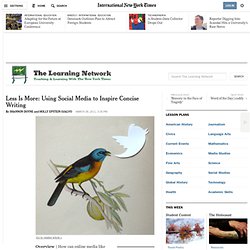 In this lesson, students read, respond to and write brief fiction and nonfiction stories, and reflect on the benefits and drawbacks of "writing short." Materials | Slips of paper with brief stories (see below; one per student), computers with Internet access Warm-Up | Before class, select six-word love stories from The Times's Well blog, in the post itself and in the reader comments, to share with students. (You can find more stories in the same vein at the Web site Dear Old Love and Smith Magazine's Six-Word Memoirs.)
To use fictional stories instead of or alongside memoirs, include the following "short short story" by Ernest Hemingway, along with stories posted on the Web site inspired by it, Six Word Stories: Liz Heron. Facebook Tells Salman Rushdie He Has to Go By His Given Name, Ahmed Rushdie - Alexis Madrigal - Technology. This is the sort of thing that makes you wonder what real names policy is all about.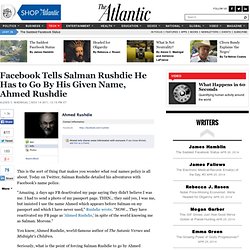 Today on Twitter, Salman Rushdie detailed his adventures with Facebook's name police. "Amazing. 2 days ago FB deactivated my page saying they didn't believe I was me. I had to send a photo of my passport page. THEN... they said yes, I was me, but insisted I use the name Ahmed which appears before Salman on my passport and which I have never used," Rushdie wrote. "NOW... Nep-minister op Twitter: Wie ben ik? Wat is nog waar in een wereld waarin de grenzen tussen virtualiteit en realiteit steeds meer vervagen?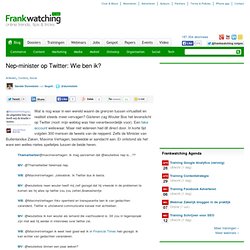 Gisteren zag Wouter Bos het levenslicht op Twitter (noot: mijn weblog was hier verantwoordelijk voor). Een fake account weliswaar. Maar niet iedereen had dit direct door. In korte tijd volgden 300 mensen de tweets van de nepperd. Raadslid Adahchour doet aangifte wegens hacken Twitter-account. Het voormalige GroenLinks-raadslid Aziz Adahchour gaat aangifte bij de politie doen wegens een fake-Twitteraccount.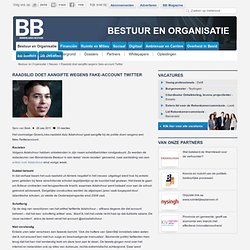 RacistenVolgens Adahchour hebben onbekenden in zijn naam scheldberichten rondgestuurd. Zo werden de redacteuren van Binnenlands Bestuur in een tweet 'vieze racisten' genoemd, naar aanleiding van een artikel over Adahchour eind vorige week. Dubbel betaaldIn dat verhaal kwam het oud-raadslid uit Almere negatief in het nieuws: uitgelegd werd hoe hij enkele jaren geleden bij twee verschillende scholen tegelijkertijd op de loonlijst had gestaan. Het bleek te gaan om fictieve contracten met terugwerkende kracht, waarmee Adahchour werd betaald voor aan de school geleverd advieswerk. Eva_Jinek_1141279q.jpg (JPEG-afbeelding, 712x720 pixels) Twitteraccount Donner is nep. 15 Fake and Funny Twitter Accounts. PVV boos over nep-twitteraccount | Westonline. Fake Twitter accounts of the Queen, Steve Hilton and Tim Shipman. Should journalists confirm information before passing it along on Twitter? On Thursday many journalists unknowingly perpetuated a hoax that CNN had suspended Piers Morgan due to the British tabloid phone-hacking scandal, sparking a conversation about whether journalists need to slow down before tweeting.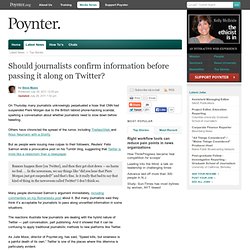 Others have chronicled the spread of the rumor, including TheNextWeb and Ross Neumann with a Storify. But as people were issuing mea culpas to their followers, Reuters' Felix Salmon wrote a provocative post on his Tumblr blog, suggesting that Twitter is more like a newsroom than a newspaper. Rumors happen there [on Twitter], and then they get shot down — no harm no foul. … In the newsroom, we say things like "did you hear that Piers Morgan just got suspended?" And that's fine. Search. Introducing... Tweetwally! | Tweetwally.
Topsy - Real-time search for the social web. Topsy: Now Searching Tweets Back To May 2008. Looking for old tweets?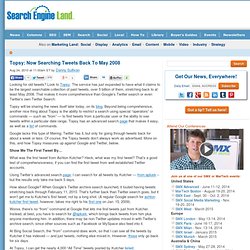 Look to Topsy. The service has just expanded to have what it claims to be the largest searchable collection of past tweets, over 5 billion of them, stretching back to at least May 2008. Snap Bird - search twitter's history. Twitter alerts via email by Twilert. For Newsrooms. Tweetwally - Create a Tweetwall to Organize and Present Tweets.
Summary of Your Social News Feeds. Social Media Dashboard for Teams using Twitter, Facebook, Linkedin. @twitterstories. Basiscursus Twitter voor journalisten | webjournalisten.nl. Geplaatst op 30 juni 2011 door Bas de Vries. Toch wel bijzonder deze week: Twitter kwam met een 'Twitter for Newsrooms'. Een soort basiscursus voor journalisten, enkele maanden nadat Facebook iets soortgelijks had gelanceerd. Nuttig? Ja, met name voor al die collega's die nog niet (erg) actief zijn op Twitter of die de microblogdienst nog niet dagelijks gebruiken. Twitter study casts doubts on ministers' post-riots plan | UK news. Analysis of more than 2.5m Twitter messages relating to the riots in England has cast doubt on the rationale behind government proposals to ban people from social networks or shut down their websites in times of civil unrest.
A preliminary study of a database of riot-related tweets, compiled by the Guardian, appears to show Twitter was mainly used to react to riots and looting. Timing trends drawn from the data question the assumption that Twitter played a widespread role in inciting the violence in advance, an accusation also levelled at the rival social networks Facebook and BlackBerry Messenger. The unique database contains tweets about the riots sent throughout the disorder, which began in Tottenham, north London, on 6 August. It also reveals how extensively Twitter was used to co-ordinate a movement by citizens to clean the streets after the disorder. More than 206,000 tweets – 8% of the total – related to attempts to clean up the debris left by four nights of rioting and looting. Government backs down on plan to shut Twitter and Facebook in crises | Media.
The government has climbed down on plans to ban suspected rioters from using social networking websites in times of civil unrest. The home secretary, Theresa May, told social networks at a meeting on Thursday that the government had no intention of "restricting internet services". Research in Motion (RIM, the maker of BlackBerry), Facebook and Twitter were summoned to the meeting with May after David Cameron signalled a clampdown on the sites following the recent riots in England. The social networks were poised to face down the government on its plans, which they warned could usher in a new form of online censorship in the UK.
The Jekyll and Hyde problem: What are journalists, and their institutions, for? Jay Rosen, in his 1999 book What Are Journalists For? , shares a story which I think is of vital importance for those trying to understand the debate about "news gurus" kicked off this week by Dean Starkman in the Columbia Journalism Review. In his book discussing the long, strange career of an idea — the idea of "public journalism," the notion journalism was better when it remembered its primary professional obligation was to public life — Rosen recounts the moment when the idea became (momentarily) corporate stunt. In 1995 the Gannett Company, then as now the largest US newspaper company as measured by circulation, took out a front page ad in Editor & Publisher, writing: "WE BELIEVE IN PUBLIC JOURNALISM — AND HAVE DONE IT FOR YEARS." The ad went on to simultaneously praise and domesticate the public journalism movement, attempting to borrow, as Rosen puts it, the movement's upstart legitimacy in service of some dubious corporate aims.
Short text messages show surprising storytelling power in Norway tragedy. Twitter, the conversation-enabler? Actually, most news orgs use the service as a glorified RSS feed. Most journalists use social media such as Twitter and Facebook as a source | Media. Boston Globe creates a Twitter board for the newsroom.
---