Digital Artist Freeware Sites
Free Avatar Maker (Web 2.0 Emoticon/Avatar Generator), Make 5,000 Custom Avatars For Your Forum/Blog Profile
Interactive humor to brighten your day (comedy for a cause ) . We offer thousands of free dynamic JPEG, GIF & PNG image creators (you can make FREE logos, blog headers, parody photos, buttons, banners, email sigs, comics, signs, blinkies/glitters, avatars, support ribbons, wallpapers, labels, celeb spoofs, animations, MySpace/TagWorld clipart, fancy 3D text, presentation clip art, magazine covers, 3D text pics, userbars, digital scrapbooks, barcodes, 3D pics, gag/hoax/prank images, title/header bars, animated GIFs, taggers, photo albums/slideshows, fake ads, photo greeting cards, newspaper frontpage, e-cards, custom gift magnets , etc)! No software needs to be installed (web based image design tools, just choose a template layout), everything is created through a web page, our server is programmed to do all the processing! Samples of public creations HERE .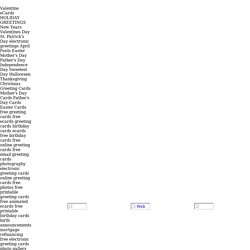 IconArt
productsIconArt v2.0 IconArt is a highly-compact cursor & icon creator. Icons are used to illustrate programs and files. One example are the shortcuts on your desktop. IconArt allows you to either draw the whole image from scratch using all common tools or to import an image to turn into a icon or cursor. Currently there have been over 90,000 copies of IconArt downloaded directly from this site.
Jans Freeware Articles
Draw, design, edit and create Use intricate vector drawing tools Turn photos into instant artwork Use professional colours Amazing shape blending techniques Paint with natural brushes So easy to use
Free Graphic Design Software – DrawPlus Starter Edition from Serif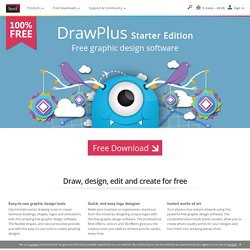 is a full-featured 32-bit Windows graphics program for image creation, viewing and manipulation. On this page you can download different versions, see what extras UP gives you compared to other paint programs, take a look at its cool plug-in effects, register the trial version and browse the tutorials.In the latest trial version all basic functionality can be used without limitations. In addition we have also introduced a new freeware version. UP supports JPEG, GIF, PNG, BMP, PCX, AVI (reading only), TGA, WMF/EMF, ICO (reading only), IFF/LBM and WAP BMP image formats and Twain compatible scanners.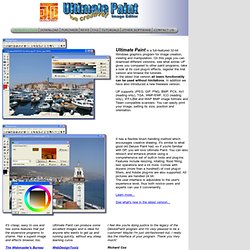 JTL Ultimate Paint Image Editor Homepage
Freeware Paint, animation and Image-editing
→ More... Requirements: Windows 95, 98, ME, NT, 2000 or XP See Also: ImageForge PRO sponsored links... ImageForge provides you with a set of powerful tools for painting and editing images, photos or other graphics.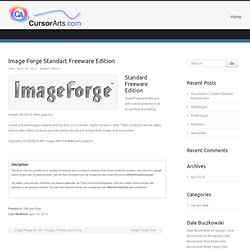 We've got free desktop publishing software, free website design software, free graphic design software, free photo editing software, free movie editing software & free panoramic photo stitching software. All our free Serif Software titles are full versions, not trial software, so once downloaded they are yours to keep forever. Just click on a link below and you'll be taken to the appropriate download page on Serif.com.
Pivot Stickfigure Animator download and reviews from SnapFiles
PixelToolbox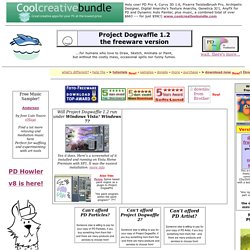 Project Dogwaffle 1.2 is a freeware version of the paint & animation program Project Dogwaffle and PD Pro Digital Painter, developed by Dan Ritchie - version 1.2 is based on a subset of version 2.0 ....... If you think this is pretty good, then you should see what you can do with the latest full commercial versions - read the user testimonials here. What can be done with Project Dogwaffle? See the user galleries and sample artwork.
Project Dogwaffle 1.2 - the Free PC Paint and Animation Program for prople who love to draw, sketch, animate and paint: digital painting, animation, special effects, filters, plugins, frames, layers, photoshop(r) alternative, digital painter, custom brush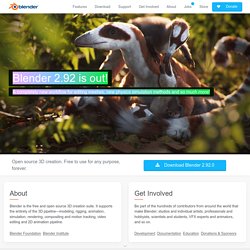 Top 20 developers in 2013 To salute and applaud the developers: here's a 2013 top-20 Blender developers page. Plans for 2014-2015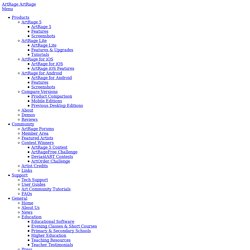 Stylish and easy to use painting software for your computer. Get creative with tools that feel just like the real thing. What Is ArtRage? ArtRage gives you real world painting tools on your computer in a stylish, easy to use environment that lets you get down to the process of creating without digital distractions.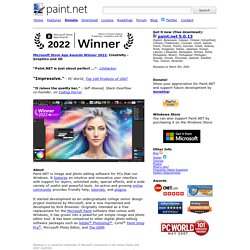 "Paint.NET is just about perfect ...
GIMP is the GNU Image Manipulation Program. It is a freely distributed piece of software for such tasks as photo retouching, image composition and image authoring. It works on many operating systems, in many languages. (more...) This is the official GIMP web site. It contains information about downloading, installing, using, and enhancing it.