Software
James Newton Howard "Having new sounds at my fingertips is always an inspiration and these new PLAY plug-ins have plenty of great sounds to choose from." - The Hunger Games, Snow White and the Huntsman, The Bourne Legacy Danny Elfman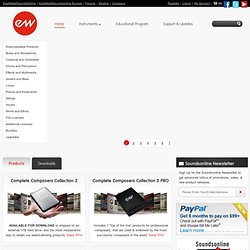 SampleTank 2
Get Right to Making Music with SampleTank. SampleTank 2.5 XL is an amazing sound workstation. Not only does it come with a huge collection of professionally recorded sound samples, instruments and loops, but it allows you to completely manipulate the sounds to truly create instruments, patterns and textures of your own. It comes with over 6 GB of sounds, more than any other sound library in the industry, and more importantly professionally recorded sounds that are truly useful in any genre of music. SampleTank 2.5 XL comes with the widest variety of sounds in all instrument categories. You immediately have access to tons of Acoustic Grand Pianos, Electric Pianos, Strings, Brass, Winds, Vocals, Orchestral sounds, Organs, Percussion, Drums, Basses, Guitars, Synths, Loops, Ethnic sample and more.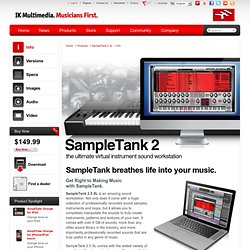 Redmatica
Synthogy
_ :: News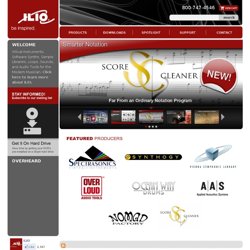 Virtual Instruments, Software Synths, Sample Libraries, Loops, Sounds, and Audio Tools for the Modern Musician. Click here to learn more about ILIO. At ILIO you'll find everything you need to make music like a Virtual Instrument master. Whether you're starting out or whether you're a working professional musician, this is the place you'll find the most incredible software instruments, sample CD-ROMS, sample libraries and even tools such as Vienna Suite and Vienna Ensemble Pro. ILIO enables you to harness the power of technology in order to create musical masterpieces that would otherwise require a full orchestra or stage full of rockers.
ILIO :: Virtual Instruments, Sample Libraries, Software Synths, Loops, Sounds
Pluggo Technology Moves to Max for Live
Effective immediately, Cycling '74 will discontinue sales of prebuilt Max-based audio plug-in packages. This includes Pluggo, Mode, Hipno, and UpMix. We will still continue to support current users as best we can, but there will be no further development on either the plug-in packages or their supporting technology. This was not an easy decision to make, and we know it will disappoint some users.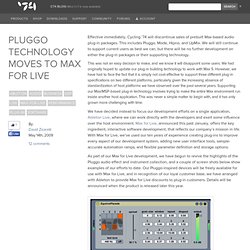 ADSR Sounds has introduced Dumb Ass Onions AH! – a sound library for Massive that they say is "sure to make you cry". Continue reading Reader Anton Maskeliade shared this music video with us, for his track Chabrec. The track was performed live in a vintage car, using Leap Motion, MPD32, Ableton Live, Resolume, Projector, ZAZ-968 Zaporozhets (old Soviet Union car), old cartoons and a fencing foil.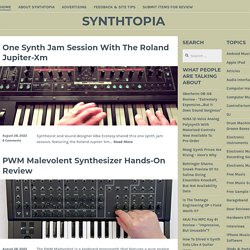 www.codamusic.com
04 Jul How To Harmonize Your Instruments Artfully Author: admin // Category: Uncategorized How To Harmonize Your Instruments Artfully With A Recording Software Program Learning About New Recording Software It seems like every week there are new technological advancements in the music industry.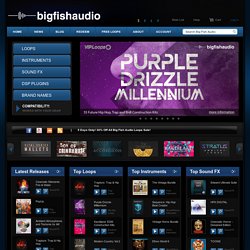 Since 1986, Big Fish Audio has consistently produced the highest quality royalty-free sample libraries from around the world. We are the world's largest distributor of loops, beats, drum loops, drum hits, construction kits, and sample libraries. We also have an extensive library of virtual instruments, VST Instruments, and plug-in instruments. We create products compatible with Sony Acid, Steinberg Cubase, Digital Performer, Apple EXS24, FL Studio Fruity Loops, Apple GarageBand, Ableton Live, Apple Logic, Steinberg Nuendo, Digidesign ProTools, Propellerheads Reason (Refills), Stylus RMX and more.