TechCrunch Disrupt May 2010
TechCrunch Disrupt Sponsors
GE + YOU = AWESOME - Google Moderator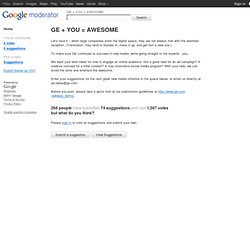 Let's face it – when large companies enter the digital space, they are not always met with the warmest reception. (Translation: they tend to blunder in, mess it up, and get torn a new one.) To make sure GE continues to succeed in new media, we're going straight to the experts - you. We want your best ideas for how to engage an online audience.
Disrupt » HACK DAY
Disrupt » PLAY
TechCrunch Disrupt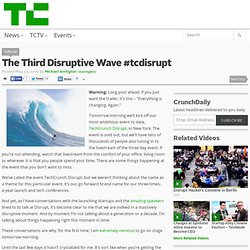 The Third Disruptive Wave #tcdisrupt
Warning: Long post ahead. If you just want the trailer, it's this – "Everything is changing. Again." Tomorrow morning we'll kick off our most ambitious event to date, TechCrunch Disrupt, in New York.
Twitter search #tcdisrupt
Battlefield at TechCrunch Disrupt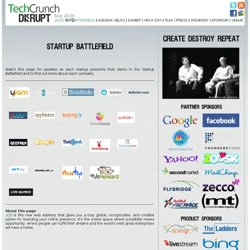 Watch this page for updates as each startup presents their demo in the Startup Battlefield and to find out more about each company. About this page : .CO is the new web address that gives you a truly global, recognizable, and credible option for branding your online presence. It's the online space where possibility meets opportunity; where people can fulfill their dreams and the world's next great enterprises will have a home.
Soluto – Anti-Frustration Software
UJAM - coming soon
Betterment
Image: Jin Wicked One way to use Fluidinfo, among many, is as a universal engine for metadata. I'll have to explain what I mean by that, especially seeing as some people got the impression from the earlier post on data vs metadata that we don't think metadata is important, or that it doesn't exist, or similar. I tried to make it clear in the post, and in responding to the comments that followed, that that's not what was meant: In fact that's one of the major initial goals of Fluidinfo – to be a metadata engine for everything. So that's how important we think metadata is!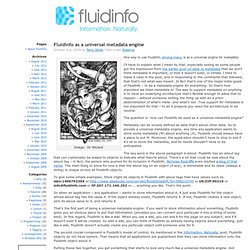 FluidDB
Off & Away | We're Launching Soon!
Appbistro's Parent, MMTG Labs, has been Acquired We are delighted to announce that we have signed a definitive agreement to be acquired by InMobi, the world's largest independent mobile advertising company! The MMTG Labs product, AppGalleries will join InMobi's growing product suite and moving forward MMTG Labs will be a wholly owned subsidiary of InMobi. Unfrotunately, as part of the acquisition, the Appbistro product will not live on. We started this company with a vision of disrupting app distribution, and we're happy to say that this vision is stronger than ever by partnering with InMobi as we solely focus on mobile apps. Appbistro's Closure
Appbistro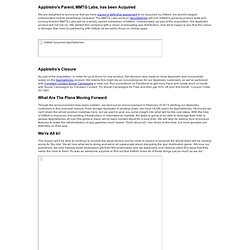 LiveIntent - Recommending the best of the social web
Video Genie
Friend borrows car, returns with puke. Hey there, when you borrow something from somebody, their property, you gotta return it in the same fucking condition, that you took it in. So I don't know if you're having a laugh, or you just don't remember.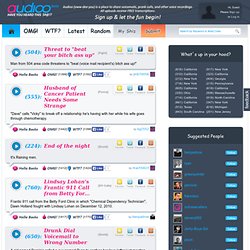 Audioo
Publish2
Textingly
Compass Labs
WeReward
Build & Launch Location-Based Promotions on Multiple Platforms With Geotoko's easy-to-use campaign creation wizard, you can create engaging location-based promotions for Foursquare, Facebook Places & Twitter within minutes. Live Visitor Tracking with Deep Engagement Analytics & Insights Get access to powerful real-time location analytics, analyze user check-in behavior and gather competitive intelligence using Geotoko's Heat Map technology. Monitor & Manage Hundreds or Thousands of Locations in One Place
Geotoko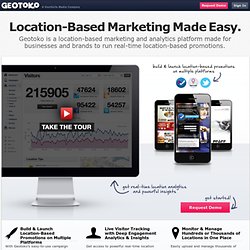 ChompOn Deals: Exclusive Local Dining and Entertainment Offers
Tickreel
Plantly
movieclips.com
keenkong
We ingest millions of finance related tweets and extract information that is consumed by hedge funds, financial institutions and professional traders. Our advanced sentiment analytics correctly predicted the market reaction to numerous key events in the past few years, in addition to providing continuous long and short term sentiment streams that correctly foresaw market trends across a broad range of sectors. The exploding volume of market-moving tweets is simply too big to be ignored and impossible to interpret without the assistance of sophisticated analytics such as those provided by iSENTIUM.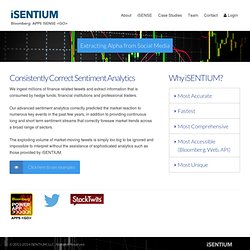 Art.sy - The place to discover and share original fine art onlin
Live Matrix: Home
NoiseToys - Music Is Meant To Be Played