TechCrunch Disrupt May 2010
GE + YOU = AWESOME - Google Moderator. Disrupt » HACK DAY. Disrupt » PLAY. TechCrunch Disrupt. The Third Disruptive Wave #tcdisrupt. Warning: Long post ahead.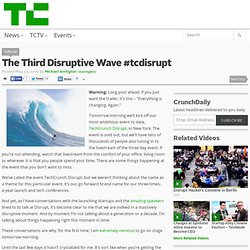 If you just want the trailer, it's this – "Everything is changing. Again." Tomorrow morning we'll kick off our most ambitious event to date, TechCrunch Disrupt, in New York. Twitter search #tcdisrupt. Battlefield at TechCrunch Disrupt. Soluto – Anti-Frustration Software. UJAM - coming soon. Betterment. FluidDB. Image: Jin Wicked One way to use Fluidinfo, among many, is as a universal engine for metadata.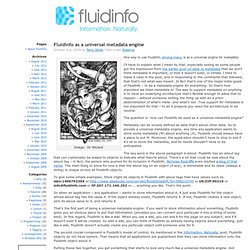 I'll have to explain what I mean by that, especially seeing as some people got the impression from the earlier post on data vs metadata that we don't think metadata is important, or that it doesn't exist, or similar. I tried to make it clear in the post, and in responding to the comments that followed, that that's not what was meant: In fact that's one of the major initial goals of Fluidinfo – to be a metadata engine for everything. So that's how important we think metadata is! Off & Away | We're Launching Soon! Appbistro. LiveIntent - Recommending the best of the social web. Video Genie. Audioo. Publish2. Textingly. Compass Labs. WeReward. Geotoko. ChompOn Deals: Exclusive Local Dining and Entertainment Offers. Tickreel. Plantly. Movieclips.com. Keenkong. Art.sy - The place to discover and share original fine art onlin. Live Matrix: Home. NoiseToys - Music Is Meant To Be Played.
---