Passwords
Make your PIN code more secure using three unique numbers – Cell Phones & Mobile Device Technology News & Updates
With half of the adults in America now owning some sort of smartphone that has access to personal information, hackers are using some simple methods to discover the PIN numbers used to unlock devices. Instead of using high-tech equipment to run an attack, they are simply looking to see where the fingerprint smudges are in relation to the phone's keypad, then entering the different permutations of the four numbers until they hit on the right one. However, by using an equally as simple method suggested by security expert, Karl Sigler, you can make it harder for someone trying to steal your information from a misplaced or stolen device.
Return to vpnc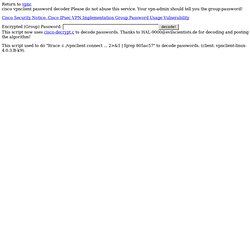 cisco vpnclient password decoder
SExpand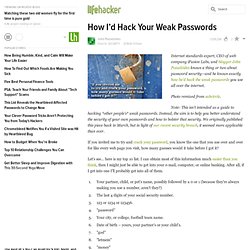 Password cracking tool instantly reveals cached passwords stored in popular applications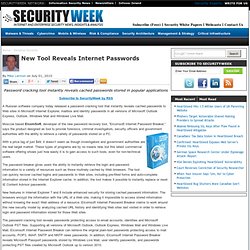 New Tool Reveals Internet Passwords
L0phtCrack Password Auditor
FilePasswords.com - File Password Search
Default Admin Username and Password list
This guest post was written by Blair Mathis from LaptopLogic.com – your premier source for the latest laptop software news and best laptop accessories. Computer passwords are like locks on doors – they keep honest people honest.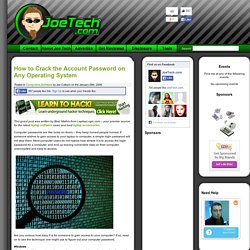 Create a password protected folder without any special software « Digital Quest
In an earlier post I had written about how to create an invisible folder. That's a method to create a merely invisible folder with no real protection. Now, here we will see how to create a folder that will not just be invisible, but also require a password to reveal it and open it.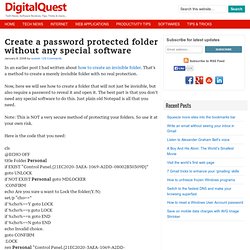 Password Cracking Wordlists and Tools for Brute Forcing
I quite often get people asking me where to get Wordlists, after all brute forcing and password cracking often relies on the quality of your word list. Do note there are also various tools to generate wordlists for brute forcing based on information gathered such as documents and web pages (such as Wyd – password profiling tool ) These are useful resources that can add unique words that you might not have if your generic lists. Also add all the company related words you can and if possible use industry specific word lists (chemical names for a lab, medical terms for a hospital etc).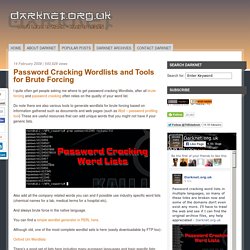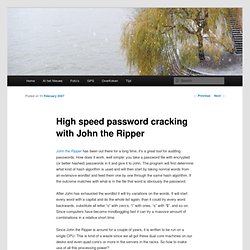 High speed password cracking with John the Ripper
John the Ripper has been out there for a long time, it's a great tool for auditing passwords.