Articles to Read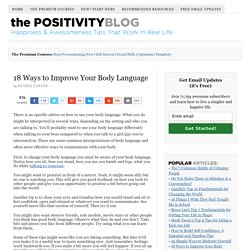 There is no specific advice on how to use your body language. What you do might be interpreted in several ways, depending on the setting and who you are talking to.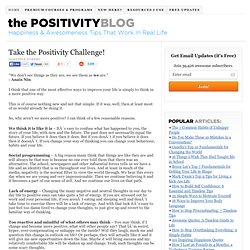 Take the Positivity Challenge!
"We don't see things as they are, we see them as we are." - Anais Nin I think that one of the most effective ways to improve your life is simply to think in a more positive way. This is of course nothing new and not that simple. If it was, well, then at least most of us would already be doing it.
(Santa Barbara, Calif.) –– Scientists at UC Santa Barbara have made a major discovery in how the brain encodes memories. The finding, published in the December 24 issue of the journal could eventually lead to the development of new drugs to aid memory. The team of scientists is the first to uncover a central process in encoding memories that occurs at the level of the synapse, where neurons connect with each other. "When we learn new things, when we store memories, there are a number of things that have to happen," said senior author Kenneth S. Kosik, co-director and Harriman Chair in Neuroscience Research, at UCSB's Neuroscience Research Institute.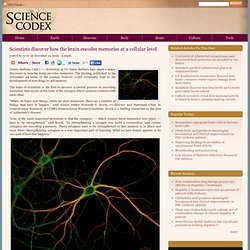 Mindfulness meditation improves connections in the brain
When I'm stressed, I listen to a 20-minute mindfulness meditation tape. It always helps me feel calmer and more relaxed. Many meditative practices can do this. But mindfulness meditation is getting a lot of attention because it seems to help with so many physical and psychological problems—like high blood pressure, chronic pain, psoriasis, sleep trouble, anxiety, and depression.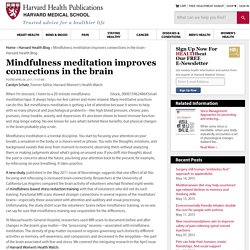 Are you a "morning person" or a "night owl?" Scientists at the University of Alberta have found that there are significant differences in the way our brains function depending on whether we're early risers or night owls. Neuroscientists in the Faculty of Physical Education and Recreation looked at two groups of people: those who wake up early and feel most productive in the morning, and those who were identified as evening people, those who typically felt livelier at night. Study participants were initially grouped after completing a standardized questionnaire about their habits.
Morning people and night owls show different brain function: University of Alberta study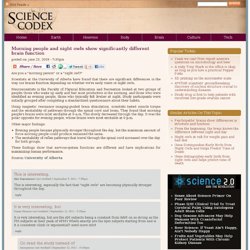 Dolphins have been declared the world's second most intelligent creatures after humans, with scientists suggesting they are so bright that they should be treated as "non-human persons". Studies into dolphin behaviour have highlighted how similar their communications are to those of humans and that they are brighter than chimpanzees. These have been backed up by anatomical research showing that dolphin brains have many key features associated with high intelligence. The researchers argue that their work shows it is morally unacceptable to keep such intelligent animals in amusement parks or to kill them for food or by accident when fishing. Some 300,000 whales, dolphins and porpoises die in this way each year. Dolphins have long been recognised as among the most intelligent of animals but many researchers had placed them below chimps, which some studies have found can reach the intelligence levels of three-year-old children.