Resources
Compfight / A Flickr Search Tool. Skeleton.png (PNG Image, 1500x1200 pixels) - Scaled (61%) RANDOM.ORG - True Random Number Service. Third eye megaupload, rapidshare, hotfile, fileserve ebook download. Art cyclopedia: The Fine Art Search Engine. Learn How | Let's Paint Nature! Pencil and Ink Drawings by Pat Perry. 33 New Collection of Photoshop Tutorials To Look Forward To.
Let's start the year with everything that's fresh and new.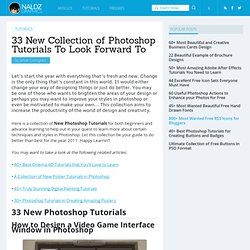 Change is the only thing that's constant in this world. It would either change your way of designing things or just do better. You may be one of those who wants to brighten the areas of your design or perhaps you may want to improve your styles in photoshop or even be motivated to make your own… This collection aims to increase the productivity of the world of design and creativity. Here is a collection of New Photoshop Tutorials for both beginners and advance learning to help out in your quest to learn more about certain techniques and styles in Photoshop. Why Designers Should Practice Being a Perfectionist. Designers and artists are often perfectionist.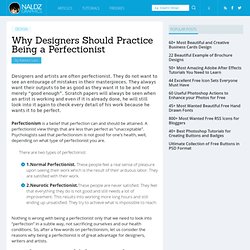 They do not want to see an entourage of mistakes in their masterpieces. They always want their outputs to be as good as they want it to be and not merely "good enough". 15 Tips on How to Retain Designer's Creativity. An artist, whatever genre you are passionate of, would always experience a "Creative Block".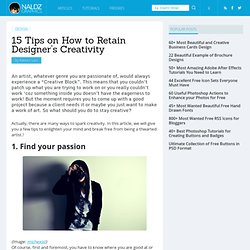 This means that you couldn't patch up what you are trying to work on or you really couldn't work 'coz something inside you doesn't have the eagerness to work! But the moment requires you to come up with a good project because a client needs it or maybe you just want to make a work of art. Visualizing Music.
---