Misc.
Must Luvv Shoes
Last night at #nwc36 we were talking about evodevo, and one of the topics that came up was the importance of Drosophila reasearch in providing the foundation for comparative genetic analysis…which led to Sarah Palin. Remember Palin's ignorant mockery of fruit fly research ? This is what we get from the Republican party.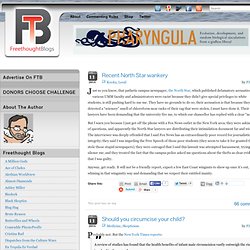 Bookish Staff Blog | Inside our offices you will find our favorite books.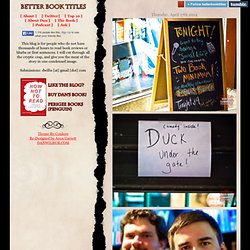 Today's Love, Sex, Death, and Books podcast features Kambri Crews , author of Burn Down The Ground. Kambri had enough material to write her memoir before moving to NYC: the child of two deaf parents, she spent much of her childhood living in a tin shack in Texas. Then, her father was sent to prison for 20 years for attempted murder. We try to keep the talk light (we talk about married life, strip clubs, dildos) but we do land on some tough issues about prisoner rehabilitation and the right to die peacefully. If you would like to see one of the articles Kambri mentions it's here .
Better Book Titles