Misc.
Must Luvv Shoes
Probably not. But the New York Times reports: A review of studies has found that the health benefits of infant male circumcision vastly outweigh the risks involved in the procedure.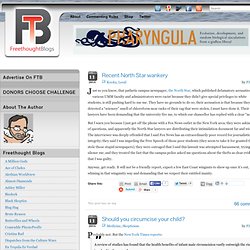 Pharyngula
The Consumerist
Our Friday Reads for March 7, 2014 Here are the Bookish/Zola Books staff's personal weekend reading recommendations; have you read any of them? Tell us in the comments, or tell us what you'll be reading this weekend! My Notorious Life by Kate Manning The Black-Eyed Blonde: A Philip Marlowe Novel by Benjamin Black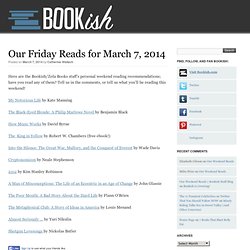 Bookish Staff Blog | Inside our offices you will find our favorite books.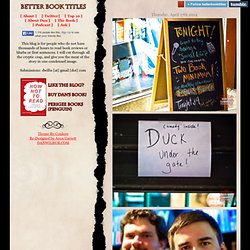 The next Two-Book Minimum is on Friday, April 25th at 9:00 PM! Join a pair of writer-comedians as they invite their favorite writer-comedians into a closed bookshop for a free night of stand-up, stories, and a few drunken ramblings about their favorite books. Every last Friday of the month, Dan Wilbur (Better Book Titles creator, author of "How Not to Read") and Ross Hyzer (New Yorker contributor) close down the Community Bookstore in Park Slope for a show like no other! This month's lineup includes: Roger Hailes (Comedy Central)
Better Book Titles
Damn You Auto Correct!
FAIL Blog
Home