Feminism
The Pursuit of Harpyness - As narrated by the most charming and vicious women on the internet
Zelda Lily, Feminism in a Bra
The Sexy Feminist — The no-guilt guide to being a modern feminist
Feminist Fatale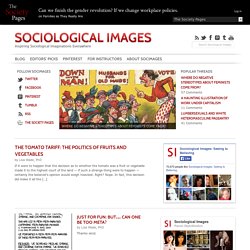 Cross-posted at Montclair SocioBlog . In the Pittsburgh of my youth many decades ago, Rolling Rock was an ordinary, low-priced local beer – like Duquesne ("Duke") or Iron City. ("Gimme a bottle of Iron," was what you'd say to the bartender. And if you were a true Pittsburgher, you pronounced it "Ahrn.").
We Heart: Said To Lady Journos Tumblr by Anita Little · March 28, 2013 · Leave a Comment As a lady journo myself, I've experienced my fair share of sexist, ignorant remarks when I was out reporting. "They let you carry around that big Nikon?" "You sure you should be out here by yourself?"
Ms Magazine Blog
The Scavenger
AnyBody
Feminists with Female Sexual Dysfunction
NOTE: This is a sexually explicit piece and may not be what some readers want to read. I originally wrote this for the magazine Body Talk, and it appeared in their October 2011 issue. I retained rights to it, and repost a revised version now. Shooting Tape What's hotter? The sex we have, or the sex we remember having?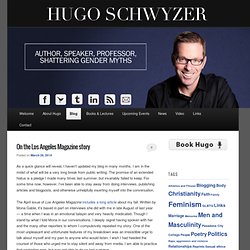 Blog | Hugo Schwyzer | Author, Speaker, Professor, Shattering Gender Myths
The title of this column may seem misleading to my regular readers. So, let me be clear from the beginning: this column is not my attempt to apologize to men for their difficult, horrible lives. I have said this before in many columns and I'll say it again: it is a great privilege to be a man in our culture. Male privilege is alive and well.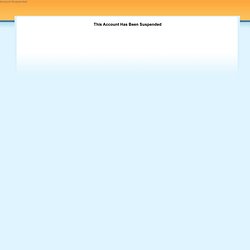 The Current Conscience | Here to challenge your ideas about everything from politics and the personal, culture and relationships
The Raw Story | Archive | Pandagon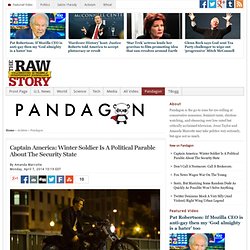 Why Is Gay Marriage Different Than Abortion? By Amanda Marcotte Tuesday, March 26, 2013 10:22 EDT The Supreme Court is hearing arguments about DOMA and Prop 8 today, and there's a lot of anticipation now, especially since they could truly use this opportunity to not only strike down these laws but also to make same-sex marriage a right held by all Americans. Unsurprisingly, same-sex marriage opponents are grimly warning pro-gay people that a win in the courts is going to backfire, an argument I find asinine on many levels.
Amplify