Feminism
Feministing | Young Feminists Blogging, Organizing, Kicking Ass. The Pursuit of Harpyness - As narrated by the most charming and vicious women on the internet. Zelda Lily, Feminism in a Bra. The Sexy Feminist — The no-guilt guide to being a modern feminist. Feminist Fatale. Sociological Images » Seeing is Believing. Ms Magazine Blog. President Obama Takes a Stand for Women on Equal Pay Day by Lindsey O'Brien · April 8, 2014 · Leave a Comment Women in the U.S. make roughly one-third less than men doing the same jobs, which means it would take a woman from January 1 to April 8 the following year (or more than 15 months) to earn what a man does in 12 months.
That's why workers across the country recognize today as Equal Pay Day—a reminder […] NEWSFLASH: Fast-Food Workers Protest Wage Theft. The Scavenger. Jezebel: Celebrity, Sex, Fashion for Women. Without Airbrushing. Celebrity Gossip, Relationship Advice, Beauty and Fashion Tips @ The Frisky. AnyBody. Feminists with Female Sexual Dysfunction. Blog | Hugo Schwyzer | Author, Speaker, Professor, Shattering Gender Myths. I wrote nearly two weeks ago that I'd be taking a break from online writing.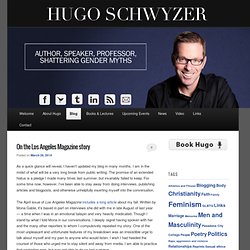 I intend to continue to do so. I want to be a bit more specific as to why. For one, the toxicity of take-down culture is exhausting and dispiriting. The cheapest and easiest tweets and articles to compose are snarky and clever dismantlings of what someone else has worked hard to create. The defenders of this culture of fierceness call it intellectual honesty, but it is an honesty too often edged in cruelty. The Current Conscience | Here to challenge your ideas about everything from politics and the personal, culture and relationships. Power, privilege, and everyday life.
Feminist Frequency. The Raw Story | Archive | Pandagon. Captain America: Winter Soldier Is A Political Parable About The Security State By Amanda MarcotteMonday, April 7, 2014 10:19 EDT Well, since Scott handled Game of Thrones, I guess that gives me the go to write about Captain America: The Winter Soldier, which I saw on Friday.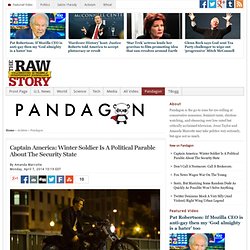 Go see this movie! Women's eNews.
---