Visualizations
A_decade_later.gif (800×12864) Should data.gov Visualize? Probably Not. A few days ago, the Sunlight Labs blog put a post up, titled "Should data.gov Visualize?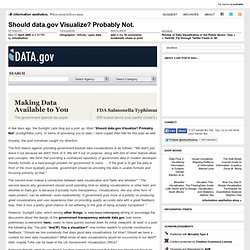 Probably Not" [sunlightlabs.com]. In terms of provoking you to read, I have copied their title for this post as well. 10 Best Data Visualization Projects of the Year – 2010. Data visualization and all things related continued its ascent this year with projects popping up all over the place.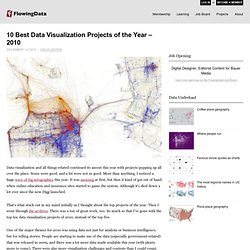 Some were good, and a lot were not so good. More than anything, I noticed a huge wave of big infographics this year. It was amusing at first, but then it kind of got out of hand when online education and insurance sites started to game the system. Although it's died down a lot ever since the new Digg launched. Data Visualization: Who are today's leading data visualization companies. Gapminder: Unveiling the beauty of statistics for a fact based world view. - Gapminder.org. Gov 2.0 for Providers of Official Statistics. Information Graphics. "If you can't explain it simply, you don't understand it well enough."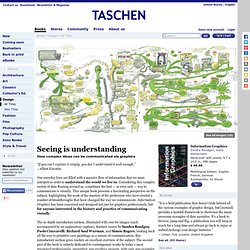 —Albert Einstein Our everyday lives are filled with a massive flow of information that we must interpret in order to understand the world we live in. Considering this complex variety of data floating around us, sometimes the best — or even only — way to communicate is visually. The Don'ts of Infographic Design. Written by Amy Balliett of Killer Infographics, the post in question is basically tips for how to create linkbait that doesn't work.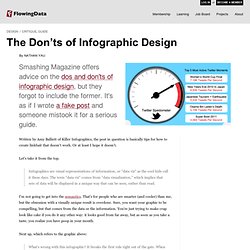 Or at least I hope it doesn't. Let's take it from the top. Infographics are visual representations of information, or "data viz" as the cool kids call it these days. The term "data viz" comes from "data visualization," which implies that sets of data will be displayed in a unique way that can be seen, rather than read. I'm not going to get into the semantics. Business - Megan McArdle - Ending the Infographic Plague. Now that Obama's dog has won the War on Christmas, or something, it's time to get down to a war that really matters: the war on terrible, lying infographics, which have become endemic in the blogosphere, and constantly threaten to break out into epidemic or even pandemic status.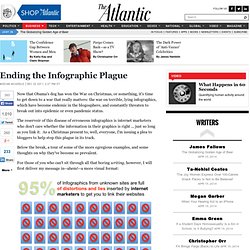 The reservoir of this disease of erroneous infographics is internet marketers who don't care whether the information in their graphics is right ... just so long as you link it. As a Christmas present to, well, everyone, I'm issuing a plea to bloggers to help stop this plague in its track. Below the break, a tour of some of the more egregious examples, and some thoughts on why they've become so prevalent. For those of you who can't sit through all that boring writing, however, I will first deliver my message in--ahem!
--a more visual format: Infographics – the Long and the Short of It – Defining the [infographic] A New and Important Content Marketing Tool: The Video Infographic. 9 Powerful Free Infographic Tools To Create Your Own Infographics - DATA VISUALIZATION. Powerful Free Infographic Tools To Create Your Own Infographics A Do-It-Yourself Guide to Infographics Infographics are everywhere, and we can't get enough of them!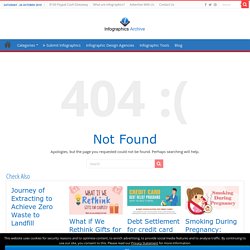 By presenting information in a compact and creative format, infographics are able to quickly convey knowledge and engage its viewers. Piktochart. Why "Infographic Thinking" Is The Future, Not A Fad. We get a lot of infographic pitches.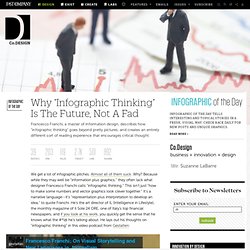 Almost all of them suck. Why? Because while they may well be "information plus graphics," they often lack what designer Francesco Franchi calls "infographic thinking. " This isn't just "how to make some numbers and vector graphics look clever together. " It's a narrative language--it's "representation plus interpretation to develop an idea," to quote Franchi. Day-in-the-internet.jpg (800×7247)
Kill This Infographic (infographic) | There's a growing backlash against that form of content known as the infographic.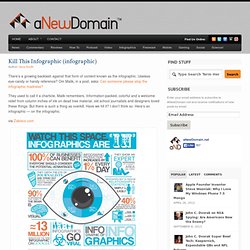 Useless eye-candy or handy reference? Om Malik, in a post, asks: Can someone please stop the infographic madness? Journalism in the Age of Data. In the words of Terrell Owens, get your popcorn ready, because this video (below) is awesome.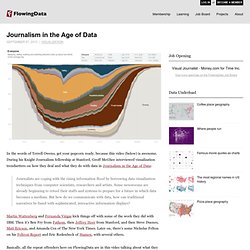 During his Knight Journalism fellowship at Stanford, Geoff McGhee interviewed visualization trendsetters on how they deal and what they do with data in Journalism in the Age of Data: Journalists are coping with the rising information flood by borrowing data visualization techniques from computer scientists, researchers and artists. Some newsrooms are already beginning to retool their staffs and systems to prepare for a future in which data becomes a medium. But how do we communicate with data, how can traditional narratives be fused with sophisticated, interactive information displays? Martin Wattenberg and Fernanda Viègas kick things off with some of the work they did with IBM. Period Table of Social Media. Infographics Are Broken. We Can Do Better. | Erick Schonfeld: TechStream.
Infographics on the web are so bad and so broken.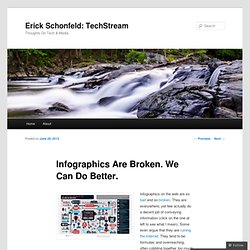 They are everywhere, yet few actually do a decent job of conveying information (click on the one at left to see what I mean). Some even argue that they are ruining the Internet. Correlation or Causation? Layar Creator - Welcome to Interactive Print. Eulerian Video Magnification. Eulerian Video Magnification for Revealing Subtle Changes in the World Abstract Our goal is to reveal temporal variations in videos that are difficult or impossible to see with the naked eye and display them in an indicative manner. Our method, which we call Eulerian Video Magnification, takes a standard video sequence as input, and applies spatial decomposition, followed by temporal filtering to the frames. The resulting signal is then amplified to reveal hidden information. Sauber cutaway car > F1 News > Grandprix.com.
Sauber cutaway car The Sauber team has come up with an interesting way to show a Formula 1 car from a new angle - by cutting it in half down the middle. "Formula One is all about cutting-edge technology," says Chief Designer Matt Morris in the film. "We've all seen countless pictures of racing cars, but wouldn't it be great to really explore inside it - as if peering into the core of an apple?
" The team has put out the following video: InformationDataProcessVisualization. Livehoods – Use-based urban analytics. In conceptualizing and exploring the city we rely a range of smaller areas—neighbourhoods, boroughs, wards and districts—in order to make urban space intelligible. While we can readily discuss how neighbourhoods are shaped by physical geography (topography, adjacency to lakes or rivers, etc.), ordinance (zoning, access to public transit) and economics (real estate prices, average resident income), machine learning does not really spring to mind when we are considering how we might define 'a neighbourhood'.
Livehoods is a new project hatched within the School of Computer Science at Carnegie Mellon University that leverages 18 million Foursquare check-ins to draft up new urban 'activity zones' based on the patterns of frequent visitors. m4cpnwEe0A1qb2cg0o1_1280.jpg (1280×853) Create Infographics | Data Visualization Tools | Visual.ly. Data visualisation DIY: our top tools | News. The Wikileaks war logs: every death recorded. Get Bigger version What data visualisation tools are out there on the web that are easy to use - and free? Here on the Datablog and Datastore we try to do as much as possible using the internet's powerful free options. Subversive Cartographies. What are subversive cartographies? This issue is addressed a series of presentations organized by Chris Perkins (University of Manchester) and Jörn Seemann (Louisiana State University) for the upcoming 2008 Association of American Geographers meeting (Boston, April 15-19 2008).
"To be subversive, is to wish to overthrow, destroy or undermine the principles of established orders. As such subversive cartographies offer alternative representations to established social and political norms. Robert Plutchik's "Wheel of Emotions" Nightingale's Rose. What David Lynch Can Do With a 100-Year-Old Camera and 52 Seconds of Film. About ChartsBin.com. A Nice List of Data Visualization Tools — Search Marketing Wisdom. The Best Tools for Visualization. Am I an Alcoholic? – Alcohol Abuse Facts | Screening for Mental Health. Gamers Get Girls | Visual.ly. Dossier | Life of a Hashtag. Wind Map.
---