Sites/Blogs
cARTlotta
Remember Summertime Scrap Tires Sailing Hay Bales Summer Toboggan Run Isar Nuclear Power Plant Stock of Wood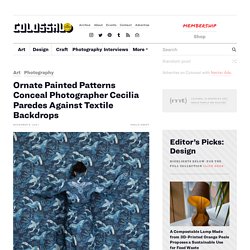 Our annual Open House offers prospective applicants the opportunity to meet students and staff and learn more about the diversity of research at the Piet Zwart Institute. There will be guided tours through workshops, facilities and studios, and our postgraduate students will be presenting works in progress throughout the day. About the Piet Zwart Institute The Piet Zwart Institute is an international postgraduate programme dedicated to study and research in the fields of art and design. Named after the pioneering Dutch designer, Piet Zwart, who worked experimentally across different media and contexts, our institute offers a rich combination of in-depth specialisation and interdisciplinary exchange in an intimate learning environment.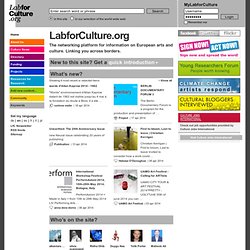 The networking platform for information on European arts and culture. Linking you across borders. New to this site?
Où trouver, entre tous les hommes d'art, quelqu'un dont on ait fait plus de compte que du peintre ? On rapporte les prix incroyables de certains tableaux. On dit que Rhodes ne fut pas incendiée par le roi Démétrius, afin de sauver un tableau de Protogènes, et nous pouvons affirmer que cette même ville fut rachetée au prix d'une seule peinture. On a colligé bien d'autres récits afin de démontrer que les bons peintres ont toujours été louangés et honorés extrêmement par tous, de même que de très nobles citoyens philosophes et rois se sont délectés non seulement à la vue, mais à la pratique de la peinture.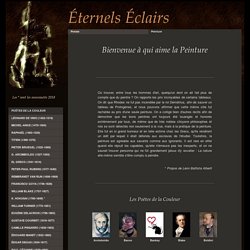 BizArt, BizArt, vous avez dit BizArt ?
Arts Professional : the UK's leading Arts Management Magazine
Last call for applications for Ch.ACO 2014 Ch.ACO, the Contemporary Art Fair of Chile, is proud to announce its sixth edition at Mapocho Station Cultural Centre, a cultural reference in the city of Santiago. Ch.ACO is the most important platform of visual arts in the country; it is held in the city of Santiago, known nowadays as a booming city in Latin America. Ch.ACO is offering a new market place for galleries from Latin America, Europe, USA and Pacific Coast, bringing in five days... continue reading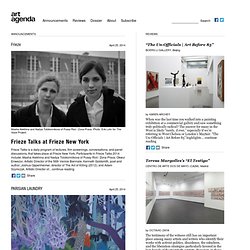 Art Agenda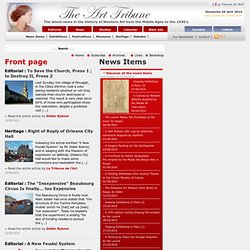 The Art Tribune
Editorial : To Save the Church, Press 1 ; to Destroy It, Press 2 Last Sunday, the village of Plouagat, in the Côtes d'Armor, held a vote asking residents whether or not they wanted their church destroyed or restored. The result is very clear since 80% of those who participated chose the restoration, despite a predicted cost (...) Read the entire article by Didier Rykner12/09/2013 Heritage : Right of Reply of Orleans City Hall
Fotografia Il regista statunitense espone una quarantina di scatti in bianco e nero alla Maison Européenne de la Photographie di Parigi Parigi. Innanzi tutto, si sa, è un regista di fama mondiale. Ma David Lynch è anche artista plastico, designer, musicista, nonché fotografo.
Il Giornale dell'Arte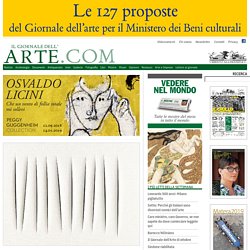 Artjob.it - IL PORTALE SUL LAVORO NELL'ARTE E NEI BENI CULTURALI
Tafter
Cultunet
Dal Magazine Vita, l'opinione di un under 40 d'eccezione. Parola a Gianluigi Ricuperati Tra i modi stupidi di presentarsi a uno sconosciuto, ecco il più stupido e vanesio: 'sono l'unico scrittore pubblicato da Gallimard negli ultimi dieci anni a fare il manager.' Il guaio è che è vero. Da un anno circa dirigo una bella istituzione scolastica internazionale, ... Ai Musei San Domenico di Forlì una grande mostra sull'Art Nouveau: 150 artisti per 330 opere tra dipinti, sculture, arazzi, vetri, arredi, abiti e merletti
Il Giornale delle Fondazioni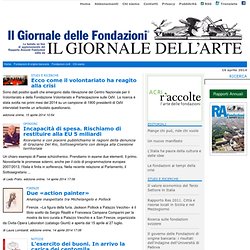 Art'ilt | Le blog de votre plateforme d'art contemporain.
Après une première édition 2012 entièrement virtuelle, la seconde édition de ce prix satirique dédié au monde de l'architecture a été cette année l'occasion d'une « vraie » cérémonie. Architectes, journalistes et politiques, mais aussi blogueurs ou « twittos », ils étaient nombreux à rejoindre vendredi dernier la péniche Louise-Catherine, amarrée quai d'Austerlitz à Paris, sur l'invitation de Jérôme-Olivier Delb, architecte et créateur du blog L'Abeille et l'Architecte, et de quelques autres de ses complices. Il y a l'Equerre d'Argent ou le Pritzker Price, mais le monde de l'architecture devra désormais aussi compter sur les Parpaings d'Or !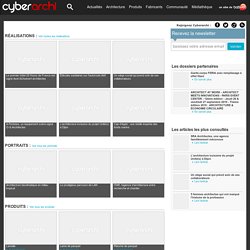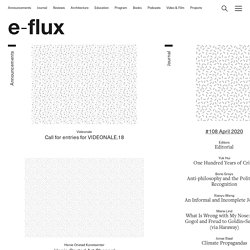 Deimantas Narkevičius's "Cupboard and a Play"By Laura McLean-Ferris Archetypal pretty boys with guitars play a gig in a second-hand bookshop. T-shirts hang off their limber bodies, their pale skin wrapped tightly around their cheekbones. An audience, primarily made up of young people, occupies the space, nodding their heads, smoking and clambering over one another while the band bounces,... continue reading