Physics
Welcome to YouTube! The location filter shows you popular videos from the selected country or region on lists like Most Viewed and in search results.To change your location filter, please use the links in the footer at the bottom of the page. Click "OK" to accept this setting, or click "Cancel" to set your location filter to "Worldwide".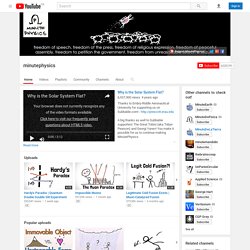 Space :: Features :: February 10, 2012 :: :: Email :: Print An excerpt from physicist Lawrence M. Krauss's new book explains why we are not the center of the universe By Lawrence M.
A Universe from Nothing: Einstein, the Belgian Priest and the Puzzle of the Big Bang
Physics - Academics - Resources for Instruction - Interactive Ph
How to make a nuclear reactor at home
Stephen William Hawking , CH , CBE , FRS , FRSA (born 8 January 1942) is a British theoretical physicist , cosmologist , and author. Among his significant scientific works have been a collaboration with Roger Penrose on gravitational singularities theorems in the framework of general relativity , and the theoretical prediction that black holes emit radiation, often called Hawking radiation . Hawking was the first to set forth a cosmology explained by a union of the general theory of relativity and quantum mechanics . He is a vocal supporter of the many-worlds interpretation of quantum mechanics. He is an Honorary Fellow of the Royal Society of Arts , a lifetime member of the Pontifical Academy of Sciences , and a recipient of the Presidential Medal of Freedom , the highest civilian award in the United States. Hawking was the Lucasian Professor of Mathematics at the University of Cambridge between 1979 and 2009.