Creatividad
TwistedSifter - The Best of the visual Web, sifted, sorted and summarized. 30 Most Funny Advertisements. July 20th, 2011 Neo Now a days Advertising Companies are making the most amazing advertising campaigns with interesting sculptures or paintings.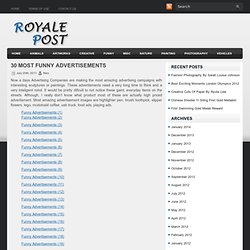 Some of the Best Print Advertisments of 2011. Advertisements is a form of communication used to persuade an audience to take some action with respect to products, ideas, or services.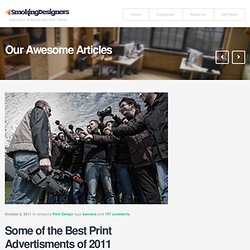 Advertising messages are usually paid for by sponsors and viewed via various traditional media; including mass media and Print Ads such as newspaper,magazines, television commercial, radio advertisement, outdoor advertising or direct mail; or new media such as websites and text messages. Advertisers have realized it well and thus have created numerous clever ads featuring personified common objects.It's quite true about the saying There's no second chance at making a good first impression. 10 Great Magazine Ads That Don't Just Sit There Looking Pretty. Steve Jobs: 10 Presentation Tactics for Ad Agency New Business.
Steve Jobs has something to teach small to midsize advertising, digital, media and PR agencies about pitching for new business.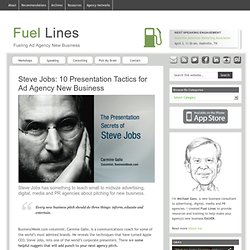 Every new business pitch should do three things: inform, educate and entertain. BusinessWeek.com columnist, Carmine Gallo, is a communications coach for some of the world's most admired brands. 40 Minimalist Print Ads That'll Catch Your Eye. While print advertising always seems like a marketer's dream when compared to online ads, it's yet another field where it's getting more and more difficult to cut through the noise and deliver the client's message.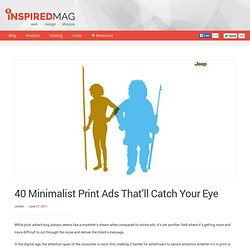 In the digital age, the attention span of the consumer is razor thin, making it harder for advertisers to secure attention whether it's in print or on the web. To combat this, we're seeing advertisers reach for a minimalist approach, using little copy and sparse imagery to convey a message simply that gets attention more for what's not there. Below is a showcase of 40 creative and beautifully designed minimalist print ads. Most creative and interesting advertisements for 2011. It is always said that first impression is the best impression so to grab public attention towards their products the agencies and the large conglomerates stick to the creative advertisements.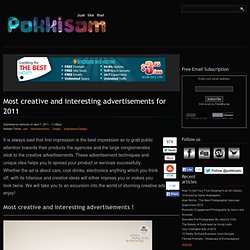 These advertisement techniques and unique idea helps you to spread your product or services successfully. Whether the ad is about cars, cool drinks, electronics anything which you think off; with its hilarious and creative ideas will either impress you or makes you look twice. We will take you to an excursion into the world of stunning creative ads enjoy! About the author. Retrospective and Evolution of Apple Ads. Apple Computer Inc. was established on April 1st, 1976 and incorporated on January 3rd, 1977.
Apple first started advertising its products in the late 1970s. Here's a amazing compilation of some of Apple's most notable advertisements from the 70s until the 2002. It's amazing how much the Apple product line and technology in general has evolved in such a relatively short period of time. In the 80s ads were text-heavy and light on images, as were many computer and technology ads from that era. With the launch of the iMac in the late 90s, Apple ads became much more artistic and focused much more on showcasing the product and used very little text compared with earlier ads.
---