Linner
Roasted Yams and Carrots | cHow Divine… Roasted Yams are one of my sister-in-law's specialties.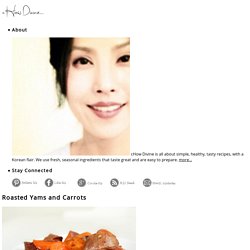 She made them twice over the course of the week our families were together for Thanksgiving. Each time was delicious. They were kind of like Lay's potato chips: you couldn't just have one. 40 Amazing Grilled Cheese Sandwich Recipes. A 200 Calorie Skinny English Muffin Asparagus Bake. Aug.17,2010 Posted by The 100 Calorie Girls Skinny English Muffin Asparagus Bake 1/4 Cup Vegetable Broth 1/4 Teaspoon Dijon Mustard Pinch Lemon Pepper Seasoning Pinch Curry Powder Pinch Sea Salt ¼ Cup Vegetable Broth 4 Thin Asparagus Spears, Trimmed ¼ Cup Sweet Bell Peppers, Chopped 1/4 Cup Sugar Snap Pea Pods 1/4 Cup Cherry Tomatoes 1/2 English Muffin 1 Ounce Parmesan or Mozzarella Cheese Fresh Basil Leaves Preheat oven to 375 degrees.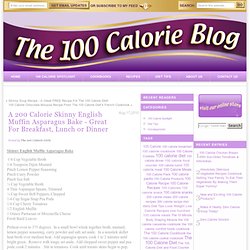 Chicken and Red Wine Sauce Recipe. Food and Whine: Baked Chicken Nuggets with Quinoa. These nuggets are made with ground chicken and cooked quinoa for added nutrition.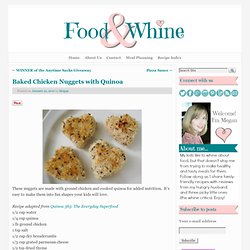 It's easy to make them into fun shapes your kids will love. Recipe adapted from Quinoa 365: The Everyday Superfood 1/2 cup water 1/4 cup quinoa 1 lb ground chicken 1 tsp salt 1/2 cup dry breadcrumbs 1/3 cup grated parmesan cheese 1/2 tsp dried thyme 1/2 tsp dried basil 2 egg whites Add water and quinoa into a small saucepan and bring to boil. Reduce heat and simmer covered for 10 minutes. Food and Whine: Lazy Cabbage Rolls. This casserole tastes just as good as (if not better than) cabbage rolls without the hassle. 1 1/2 lb ground beef2 medium onions, chopped1 clove garlic, minced1 14 oz can crushed tomatoes1 can water1 can condensed mushroom soup1/2 cup uncooked long grain rice1 tsp salt1/4 tsp pepper1/2 tsp nutmeg1 tsp worchestershire sauce4 cups cabbage, shredded Brown beef, onions, garlic.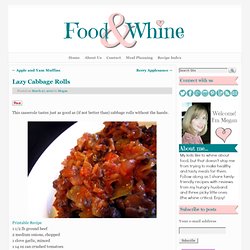 Add crushed tomatoes, water, and soup and bring to boil. Food and Whine: Quinoa, Sweet Potato and Chickpea Stew. I wasn't expecting to win anyone over with this recipe.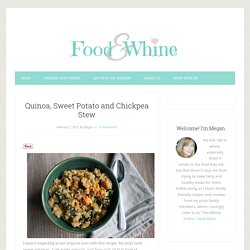 My boys hate sweet potatoes, Cole hates spinach, and Tony isn't all that fond of quinoa. I made it anyway because I love all of those things. Surprisingly, everyone ate this stew without complaint. I think it was the chickpeas that did it, or as Cole would call them, "Chickadees. " Both kids seem to like chickpeas a lot, so in the process of eating the chickpeas they inadvertently ate some of the other ingredients they normally wouldn't eat and discovered it wasn't so bad.
Figs with Ricotta, Pistachio, and Honey Recipe : Ellie Krieger. Garlic Potato Chips Recipe : Ellie Krieger. White Bean and Roasted Eggplant Hummus Recipe : Giada De Laurentiis. White Chicken Chili - lightened up. Good morning.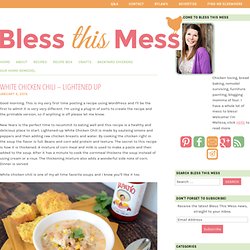 This is my very first time posting a recipe using WordPress and I'll be the first to admit it is very very different. I'm using a plug-in of sorts to create the recipe and the printable version, so if anything is off please let me know. New Years is the perfect time to recommit to eating well and this recipe is a healthy and delicious place to start. Lightened-up White Chicken Chili is made by sauteing onions and peppers and then adding raw chicken breasts and water. By cooking the chicken right in the soup the flavor is full. Best Steak Marinade in Existence. The Fig Tree: Roasted Sweet Potatoes with Apples + Cranberries. Hello and happy Thanksgiving weekend to my fellow Canadians!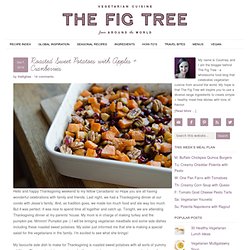 Xo Hope you are all having wonderful celebrations with family and friends. Last night, we had a Thanksgiving dinner at our condo with Jesse's family. And, as tradition goes, we made too much food and ate way too much. But it was perfect. Serena Bakes Simply From Scratch: Skinny Mashed Yams. Skinny mashed yams!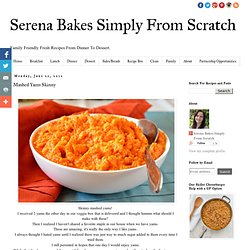 I received 2 yams the other day in our veggie box that is delivered and I thought hmmm what should I make with these? Then I realized I haven't shared a favorite staple in our house when we have yams. Shrimp & Vegetable Quinoa Fried Rice | Queen of Quinoa | Gluten-free + Quinoa Recipes. It's been a while since I posted a quinoa recipe.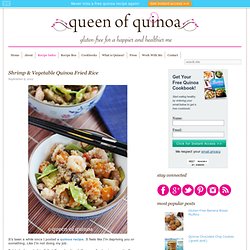 It feels like I'm depriving you or something. Like I'm not doing my job. But to be honest, it isn't that I'm not eating it (because I eat quinoa practically everyday), it's more that admittedly, I've been a little lazy. Instead of whipping up fun, new quinoa recipes, we've been by having rerun dinners lately. And by rerun dinners, I mean that we've been turning to some our of favorites, like Korean Bibimbap and Summer Squash & Currant Quinoa Salad and Cajun Quinoa Stuffed Cabbage, not brainstorming and creating like we should be.
White Chili Recipe. Recipage. Maple Glazed Roasted Acorn Squash recipe. If you're not convinced that acorn squash is all that delicious then at least love it for the fact that it's called "acorn squash" because it looks like a big acorn…now that's just cute. xx Jenny Maple Glazed Roasted Acorn Squash Serves 4 to 6 Ingredients:1 acorn squash, seeded and sliced3 tablespoons extra virgin olive oil3 tablespoons light brown sugar¼ cup maple syrup, warmedsalt and pepper to tastegarnish:fried sage leaves, optional Directions: 1.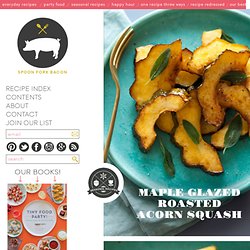 Preheat oven to 375°F. 2. Mushroom & Gorgonzola Pressure Cooker Polenta Lasagna | hip pressure cooking - pressure cooker recipes & tips! This lasagna is layer, upon layer of decadent flavor. The polenta itself is infused with lemon thyme who's fresh bright flavor contrasts with the woody mushrooms and the salty , yet sweet, gorgonzola. For a surprising crunch, toasted pine nuts finish this dish. A change of pace from my usual recipes that are cooked 100% in the pressure cooker. Spinach Quiche Recipe. I love the simplicity of dishes like quiche; especially when you use a great store bought dough. This is one of my favorite quiches, mainly because anything with spinach and goat cheese is fine by me!
What's YOUR favorite kind of quiche? Xx Jenny Spinach Quiche Makes one 10 inch quiche. Gnocchi with Gorgonzola and Walnuts - Simply Delicious. The very first time I ever had Gnocchi was at a small Italian restaurant in Pretoria and I had absolutely no idea what I was ordering. All I knew was that I liked the sound of the Gorgonzola sauce that came with it. I think I must've been about 14 or 15 at the time and I know that I was probably the only teenager who was willing and eager to eat rotten cheese. Espresso and Cream: Salmon Salad Pizza. Hey everyone! How was your weekend? Joe and I had friends over on Saturday night to watch the Broncos game and eat chili. Market Matters- Conchiglioni with Balsamic Glazed Sweet Onions & Gorgonzola. Bring a large pot of water to a boil. Add 1 tablespoon salt.
Add pasta, and cook for about 10 minutes or until al dente; drain. Be sure and check as this pasta can take a bit longer than most to cook. As the pasta cooks heat 2 tablespoon oil in a medium-sized skillet set over medium-high heat. Gorgonzola Two Ways. Meatless Monday Spinach, Ricotta and Asiago Quiche. Healthy salad with orzo, feta and dill. Asparagus and pea frittata. Energizing Protein Power Salad. I Breathe...I'm Hungry...: Roasted Baby Eggplant. My Favorite Lunch… EVER. - Food Practice. Grilled Pesto and Mozzarella Sandwich for a Garage Painter. Walnut and Rosemary Oven-Fried Chicken. Pizza with Hoisin Sauce. Easy Parmesan Knots. Asian Glazed Drumsticks. Lasagna Cupcake Recipe. Honey garlic slow cooker chicken. Pearl Couscous Salad » Foodiddy. Hot Buttered Fluffy Pretzels. Grilled lamb chops with Meyer lemon risotto and arugula...and a GIVEAWAY, courtesy of McCormick! Baked Parmesan Garlic Chicken Wings Recipe.
Sweet Potato Garlic Knots for the Narcs | Kohler Created. Baked Parmesan and Herb Chicken. Easy stuffed chicken breasts with parmesan and basil filling. Southern Skillet Corn.
---