Learningdesign
Cloudworks. Center for History and New Media » Teaching Learning. Teachinghistory.org Teachinghistory.org, funded by the U.S.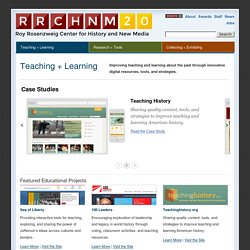 Department of Education, is the central online location for accessing high-quality resources in K-12 U.S. history education. Learn More | Visit the Site. Contemporary Approach to Writing Non-Linear Online Learning Resources. Responding to learners: a guide for practitioners. Responding to Learners Pack. Download the PDF version of this pack1 This resource pack synthesises the outcomes from the Learner Experiences of e-Learning theme of the JISC e-Learning Programme which funded a total of ten projects from 2005 to 2009, and had the sustained involvement of over 200 learners and more than 3000 survey respondents to explore learners' perceptions of and participation in technology-enhanced learning in a digital age.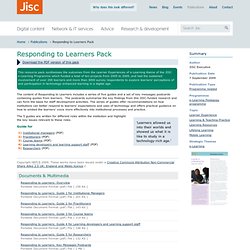 The content of Responding to Learners includes a series of five guides and a set of key messages postcards containing quotes from learners. The postcards summarise the key findings from this JISC-funded research and can form the basis for staff development activities. Responding to learners: a guide for learning developers and learning support staff. The Design Studio / Curriculum Lifecycle: DUCKLING's alternative diagram.
The Design Studio / FrontPage.
---