Primary Sources
IntraText Digital Library. Project Gutenberg - free ebooks online download for iPad, Kindle, Nook, Android, iPhone, iPod Touch, Sony Reader. WORLD HISTORY SOURCES. Ancient History / Biblical Studies. The primary purpose of this site is to provide on-line text documents from archaeologists and ancient writers, and some tools for Bible study.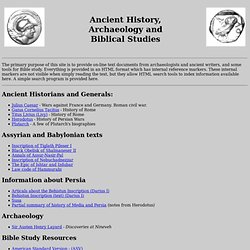 Everything is provided in an HTML format which has internal reference markers. These internal markers are not visible when simply reading the text, but they allow HTML search tools to index information available here. A simple search program is provided here. Ancient Historians and Generals: Browse by source. Internet Modern History Sourcebook: Full Texts.
Halsall Home | Ancient History Sourcebook | Medieval Sourcebook | Modern History Course Other History Sourcebooks: African | East Asian | Indian | Islamic | Jewish | LGBT | Women's | Global | Science Links to full texts of books available at this and other sites will be listed here.
The texts are also integrated within the overall structure of the Sourcebook . This listing is to aid compilers of web guides to online books, etc. Perseus Collections/Texts. Word Counts by Text Collection (68,123,283 words) (5,646,735 words) (955,696 words) (58,332,095 words) (7,774,358 words)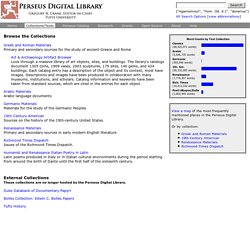 Primary Source Sets - For Teachers. Internet Archive: Digital Library of Free Books, Movies, Music & Wayback Machine. CARRIE: An Electronic Library. Reference Special Collections belonging to the Carrie network: AMDOCS: Documents for the Study of American History EuroDocs: Primary Historical Documents From Western Europe maintained by Richard Hacken at Brigham Young University's Harold B.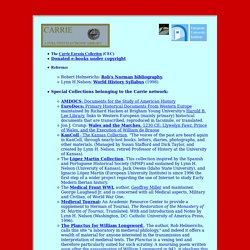 Lee Library, links to Western European (mainly primary) historical documents that are transcribed, reproduced in facsimile, or translated. Jon J. Electronic Texts and Images. Using Primary Sources on the Web. Before relying on the information provided by a website, examine and understand the purpose of the website.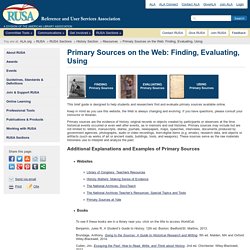 While the purpose might not affect the accuracy of the primary source material it contains, it might indicate that the material has been altered or manipulated in some way to change or influence its meaning. Sometimes sites use primary source material to persuade the reader to a particular point of view, distorting the contents in obvious or subtle ways.
Also, sites can use primary source material haphazardly, without appropriately choosing, inspecting, or citing the work. In general, look for websites with a non-biased, balanced approach to presenting sources. Websites produced by educational or governmental institution often are more reliable than personal websites, but government sites may be subject to propaganda. Medieval History Texts Online - Index. Public domain etexts here at the Medieval History site These online texts are provided by your Guide here at the Medieval History site.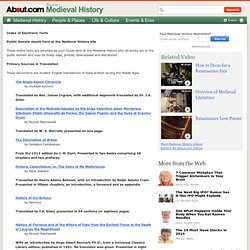 All works are in the public domain and may be freely read, printed, downloaded and distributed. Primary Sources in Translation These documents are modern English translations of texts written during the Middle Ages. The Anglo-Saxon Chronicle by multiple authors Translated by Rev. Histor eSearch.com Comprehensive History Resources. Samuel Wilberforce: On Darwin's Origin of Species, 1860. Modern History Sourcebook: Samuel Wilberforce: On Darwin's Origin of Species , 1860 He who is as sure as he is of his own existence that the God of truth is at once the God of nature and the God of revelation, cannot believe it to be possible that His voice in either, rightly understood, can differ, or deceive His creatures.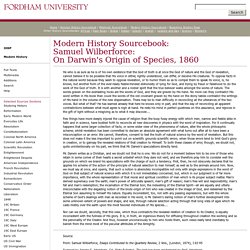 To oppose facts in the natural world because they seem to oppose revelation, or to humor them so as to compel them to speak its voice, is, he knows, but another form of the ever-ready feeble-minded dishonesty of lying for God, and trying by fraud or falsehood to do the work of the God of truth. It is with another and a nobler spirit that the true believer walks amongst the works of nature. The words graven on the everlasting rocks are the words of God, and they are graven by His hand.
---