Baking Goodies
Pull-Apart Cinnamon Sugar Pumpkin Bread
Thanks to Walgreens for sponsoring my writing. Help Walgreens help others! Visit their Facebook page here to learn about their charitable partners and decide which cause Walgreens will donate to with a quick vote. My tactics for getting my family to be healthier probably wouldn't be approved by child protective services.
Peanut Butter Honeycomb Pie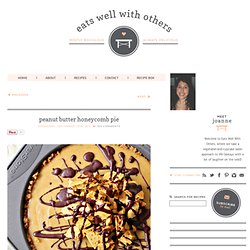 It's Passover season again. It's one of my favorite holidays. I like the seder service, the story of escape and freedom, and gathering around a table with friends and family sharing in a centuries-long tradition. What I don't like is the dessert options!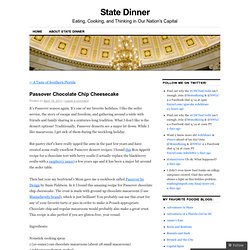 Passover Chocolate Chip Cheesecake | State Dinner
Homemade Mounds Bar
I made these the day before Halloween, which made them perfect for gobbling up the next day. Honestly, these aren't too sweet, which is exactly what I like about them. I don't love a candy that's pure sugar because it's so unsatisfying and I'm bouncing up a wall for the next hour; instead, these get their flavor from rich dark chocolate and nutty coconut. Homemade Mounds Bars Prep time: 20 minutes Cook time: 0 minutes
Homemade Snickers Candy Bar Recipe
I'm giving these ingredients by both weight and volume where relevant. Weighing is much easier, but if you don't have a digital kitchen scale yet* the volume measurements will do. Ingredients: 14 oz milk chocolate (about 2 cups chips, or coarsely chopped bar) divided in half 3.5 oz (1/2 cup) butterscotch chips, divided in half 192 g (3/4 cup) creamy peanut butter, divided into 3 parts (1/4 cup, 64g each) 5.5 tablespoons butter (divided: 4 Tbsp and 1.5 Tbsp) 1 cup sugar 1/2 cup evaporated milk, divided in half 156 g (1.5 cups) marshmallow fluff 1 teaspoon vanilla 1.5 cups salted peanuts, chopped (or substitute nuts of your choice) 1 pound chewy caramels Optional: (if coating the sides of your bars) 7oz milk chocolate 1.75 oz butterscotch chips 64g creamy peanut butter Materials: one 9x13 pan waxed paper or plastic wrap microwave-safe bowl small (1 quart) pot heat-proof spatula sharp knife cutting board microwave stove *No really, you should get a kitchen scale NOW!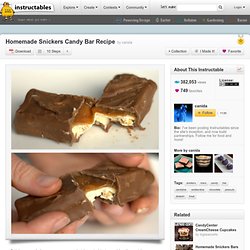 I don't eat a lot of candy, but I l♥ve Butterfingers. When I saw this recipe on the Taste of Home forums, I knew I had to give it a try. Everyone on the board said it tasted just like a real Butterfinger. The best part - this recipe only has three ingredients! How can you make a Butterfinger with only three ingredients??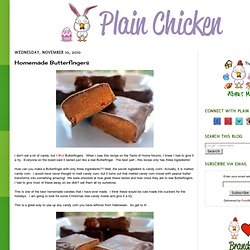 Homemade Butterfingers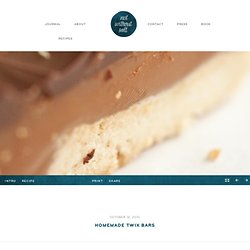 Intro If you don't want gaggles of children beating down your door on Halloween night then look no further. If you'd rather not be the most popular house on the block then continue on your Internet search.
Last week, we offered you a peek at our ModHatter Tea Party, which overflowed with stylish ensembles and eye-catching hors d'oeuvres. While the party may be over, there's still time to make these miniature Oreo and peanut butter-filled pies! These two-bite treats were a hit at the tea party, and are guaranteed to "take the cake" at any event! OreOMG Mini PiesMakes approx. 18 pies. Recipe from Picky Palate.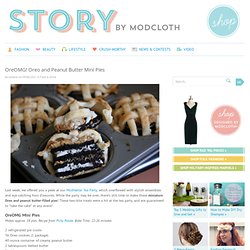 OreOMG! Oreo and Peanut Butter Mini Pies
Cinnamon Roll Cake | My Perfect Mess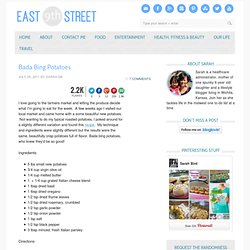 Food For Thought Friday – Bada Bing Bada Banged Potatoes
2.2K Flares Twitter 0 Facebook 3 Google+ 12 Pin It Share 250 StumbleUpon 1.9K 2.2K Flares × I love going to the farmers market and letting the produce decide what I'm going to eat for the week. A few weeks ago I visited our local market and came home with a some beautiful new potatoes.
Today is July 18, which means that my son is one month old. This seems nearly impossible to me – I cannot believe he has been with us for a whole month now! I decided to make some cupcakes to celebrate this special day (and also, just because I wanted cupcakes :-) ) even though he will only get to enjoy them in the form of breastmilk.
Vanilla Cupcakes » Annie's Eats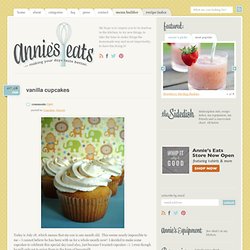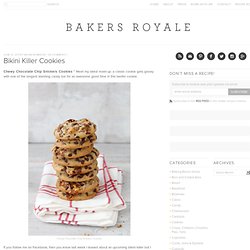 Chewy Chocolate Chip Snickers Cookies ~ Meet my latest mash-up: a classic cookie gets gooey with one of the longest standing candy bar for an awesome good time in this twofer cookie. Chewy Chocolate Chip Snickers Cookies If you follow me on Facebook, then you know last week I teased about an upcoming bikini killer but I really should have mentioned it's gonna be a glut fest this week. I know some of you may have your hesitations with the caloric count doubling over your local mercury reading, but trust me—don't.
Chewy Chocolate Chip Cookie Snickers Cookies
Easy OREO Truffles recipe
How to Melt Chocolate Place chocolate in microwaveable bowl. Microwave on HIGH 2-1/2 min. or until chocolate is completely melted, stirring every 30 sec. How to Easily Dip Truffles
I never had a Pop-Tart until college. I realize that for some people this may cause a shocked reaction on par with my husband's the time I told him I've never watched Goonies before (or Jacob's, upon discovering the internet). Obviously I grew up under a rock, right?
Reeses Stuffed Peanut Butter- Chocolate Chip Cookies | recipegirl.com
If you haven't met Jenny and her Picky Palate blog yet, you should make it a point to do so. Jenny is a genius. Specifically, she's a cookie genius. Jenny has been stuffing her chocolate chip cookies with things like Oreos and Brownies.
Baked by Joanna
By Joanna Leave a Comment Photo courtesy of Trevor Smith Spring is such a wonderful time in the Valley. Right now, Phoenicians are enjoying brisk mornings, warm afternoons and cool evenings. Our doors stay open practically all day, which I love.
I'm back!
Crock Pot Recipe Exchange
San Francisco And Magical Coconut Bars
Candy Corn Cupcakes
Mini Maple Pancake Muffins