brandilinn
Get flash to fully experience Pearltrees
SELF REFLECTION: Bodily illusions teach neuroscientists about the sense of self. Image: crimfants, flickr.com Where are you right now? Maybe you are at home, the office or a coffee shop—but such responses provide only a partial answer to the question at hand.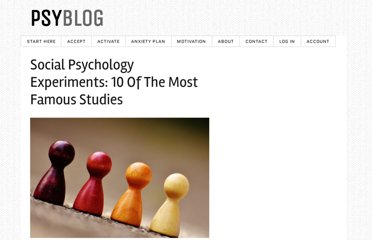 Ten of the most influential social psychology studies. "I have been primarily interested in how and why ordinary people do unusual things, things that seem alien to their natures. Why do good people sometimes act evil? Why do smart people sometimes do dumb or irrational things?" --Philip Zimbardo Like eminent social psychologist Professor Philip Zimbardo (author of The Lucifer Effect: Understanding How Good People Turn Evil ), I'm also obsessed with why we do dumb or irrational things.
by Kim Falconer The designers of the zodiac denoted (ARIES) by the symbol of the ram, noted for the 'directional force' of its headlong charge. Yet curiously in some old zodiacs the ram is shown not charging, but with its head turned to look back on itself, and the direction from whence it has come. This gesture seems to tell us something important about the relationship of consciousness and self-awareness to the forward movement of the universe, namely that awareness is oriented in the reverse direction to the thrust.
Type Four in Brief
Divinities, Mythologies, Theologies